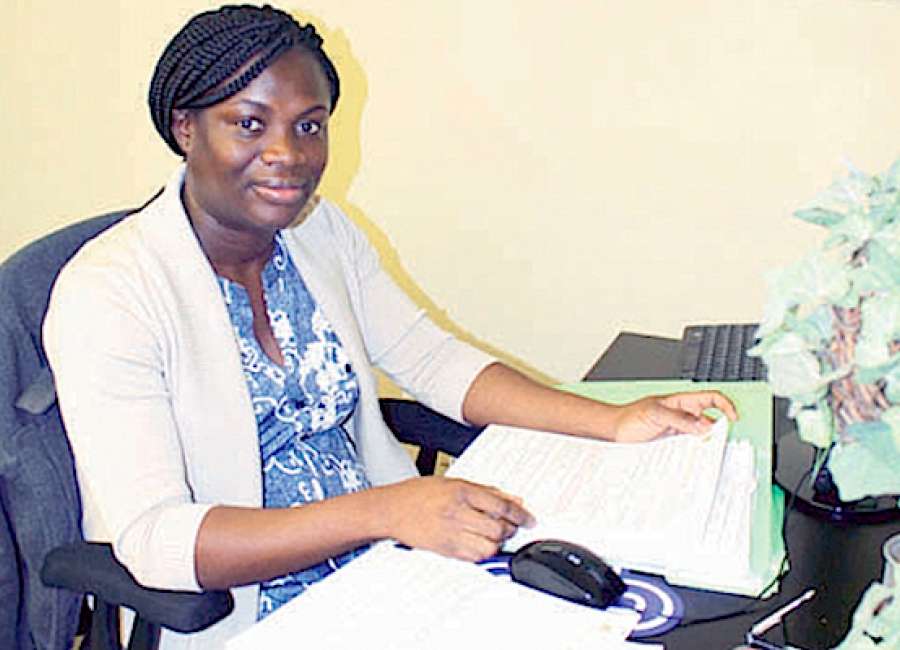 A University of West Georgia student has been able to earn money for college while learning about the nonprofit world in Coweta County thanks to a federal program in which she was partnered with the Coweta Community Foundation.

Rita Bansah, who is originally from Ghana, is a nursing student at UWG. After getting married in Ghana, she and her husband, an IT auditor, moved to the United States.  Bansah originally began her college studies at Georgia Military College in Fairburn. She was accepted into the nursing program at UWG in 2016 and, after a semester of study, became eligible for the Federal Work Study Program there.
Bansah said she had been looking for a way to use her free time and earn money when she learned about the opening at the Coweta Community Foundation.
"I had an email that there was a job opportunity here," she said.
She's been impressed with what she's learned about the organization so far. "For instance, they raise funds to donate to people,"  Bansah said.
She also likes what she's learned about partner groups like Keris Kares, which the future nurse noted has helped lots of pediatric cancer patients.
A nice byproduct of her work for the foundation is that she's improved her typing skills, Bansah said with a smile, calling her newly improved typing "one thing that I'm happy about."
"It's a wonderful, wonderful program," said Student Employment Manager Mary Beth Phillips of UWG's Department of Career Services.
She said that students' pay is split between the program and the organization employing the student, with the federal government paying 75 percent and the remaining 25 percent billed to the partnering organization.
While students in the program do not receive any academic credit for the work, "they gain valuable skills," Phillips said, and the "real-world experience" is invaluable.
The University of West Georgia's president also recognizes the value of the work study program.
"Students learn theory and the latest practices in the classroom, but they also must have the chance to apply what they learn to fully comprehend how it fits within the day-to-day tasks of the jobs they are seeking," said UWG President Kyle Marrero. "Federal Work Study provides that opportunity."
"They gain experience, develop new skills and earn money to meet their educational and living expenses. For those wanting to go to work for or grow within nonprofits like the Coweta Community Foundation, we now offer a graduate certificate in nonprofit management and community development. Students receive additional training through courses on grant-writing, program evaluation and data analysis techniques, further preparing them to lead nonprofits in our region and beyond."
"The University of West Georgia's Work Study Program has been a tremendous help for us," said Lisa Bullard, office manager for CCF. "It has allowed us to have additional support and manpower that was necessary and given us the opportunity to expose students to the nonprofit world. Rita has been a blessing to me."
Ginger Queener, board chair of the foundation, said she couldn't be more pleased about having a UWG student working at the foundation's office in Newnan.
"With the Newnan campus of the University of West Georgia located right across the street from us, it is wonderful that we can support UWG since they have done so much to support Newnan and Coweta County."