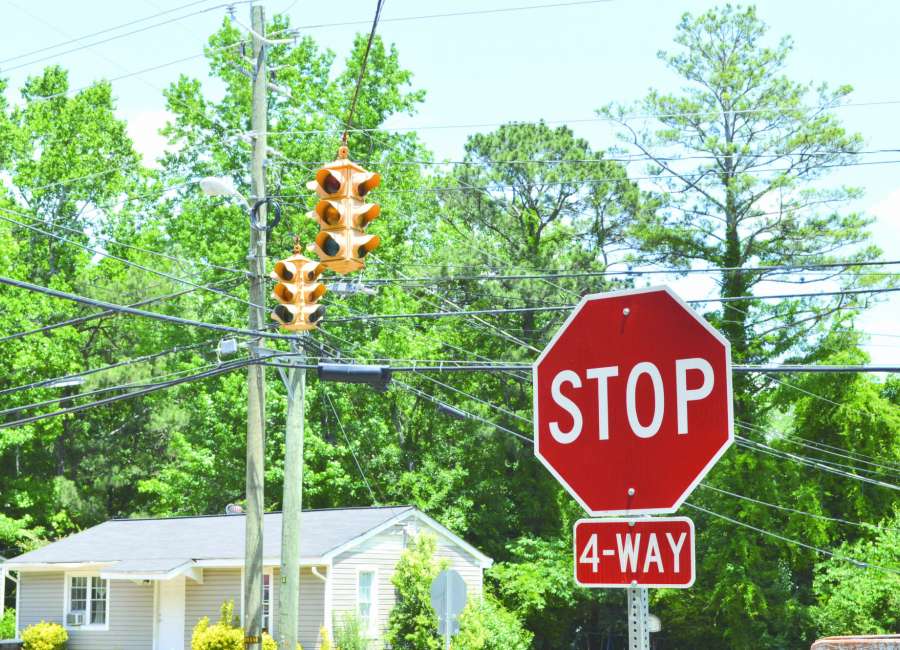 Traffic lights are coming down at two intersections in Newnan, and the intersections will become four-way stops.
The four stop signs were already in place this week at the intersection of Farmer Street and Glenn Street, at C.J. Smith Park.
The traffic light is now flashing red in all directions. The lights will remain flashing for a short time to help motorists adjust to the new traffic pattern.
The light will also be coming down at Salbide Avenue and Thompson Street, at the railroad bridge.
The conversion of the two traffic signals to four-way stop is part of a project to upgrade and modernize several intersections in the city, said City Engineer Michael Klahr.
"There are several older traffic signals, located primarily in the downtown area, that still utilize mechanical technology," Klahr said. "Maintaining these has become difficult. Even if we can find replacement parts, they are expensive."
Some signals don't comply with modern standards, such as lens size, and there may only be one signal head, Klahr said. Ideally, there are at least two signal heads to provide redundancy.  
Wilburn Engineering worked on plans for signal upgrades and when they did warrant studies for each intersection, they determined four-way stops would be safer and more efficient at Farmer and Glenn and Salbide and Thompson, Klahr said.
The other intersections will get minor upgrades, including new pedestrian signals and possibly technology that will allow the signals to be controlled remotely.
"In addition to allowing us to actively manage the signals in real time, we would be able to collect data, perform surveillance, and improve safety," Klahr said. "The Georgia Department of Transportation has indicated that they would assist in funding for software – possibly at no cost to the city – if we agree to incorporate our signals into their Intelligent Transportation System. Newnan would still maintain control of our signals under this proposal."
Several years ago, the city of Newnan removed the traffic signals at the intersection of College Street and Temple Avenue, and at College Street and West Washington Street. It was decided to keep the light at Brown Street and West Washington Street.