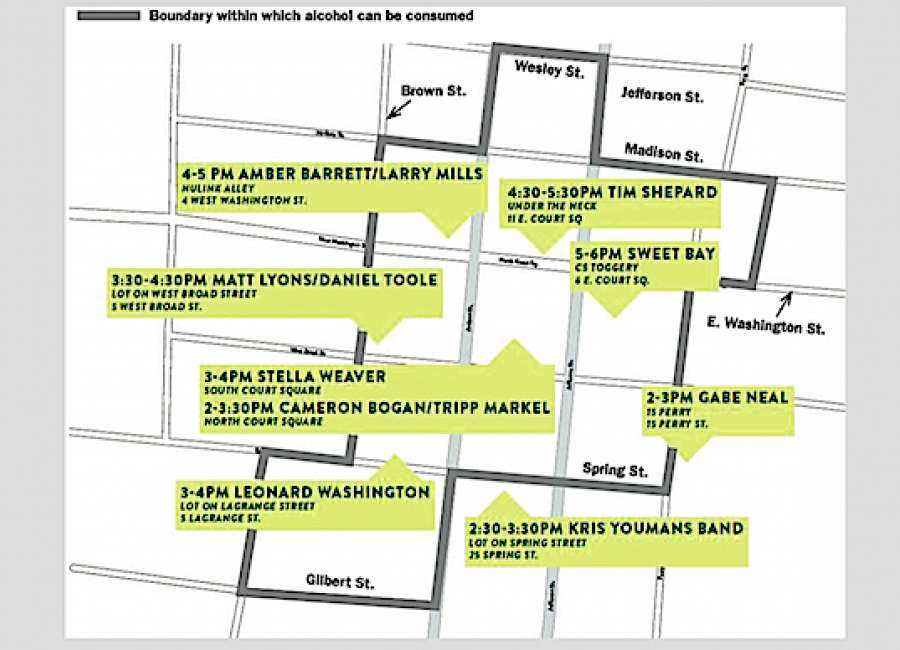 Music fans attending Saturday's performances around downtown will be the first to enjoy sipping beer, wine and mixed drinks on the street at the inaugural event under Newnan's relaxed public-consumption rules.
The Tucked Away Music Concert Series marks the first time alcohol can be consumed outside of restaurants or bars following the passage of the city's new alcohol ordinance in March.
Starting at 2 p.m., local musicians will perform in nine locations located throughout downtown and "tucked away" in alleys, side streets and backdoor spaces. Attendees of the festival will be allowed to bring their own coolers, lawn chairs and even carry their drinks from location to location in the designated zone.
Or, they'll be able to buy them at restaurants and bars in the zone to take with them as they walk around the zone during the four hours of the event, and 30 minutes beforehand and afterward.
However, glass containers are prohibited.
"The name 'Tucked Away Music Day' came about because we wanted to showcase some of our hidden gems in the downtown area by using our amazing local talent," said Paige DeWeese, special-events coordinator.
Recently, the Downtown Development Authority voted to recommend four events for on-street alcohol consumption: Tucked Away Music, Art Walk, Summer Wined-Up and Oktoberfest.
Casey Smith, DDA chairman, praised the city council for passing the ordinance. "It was a big step for the city," he said.
****
Clay Neely: clay@newnan.com, @clayneely