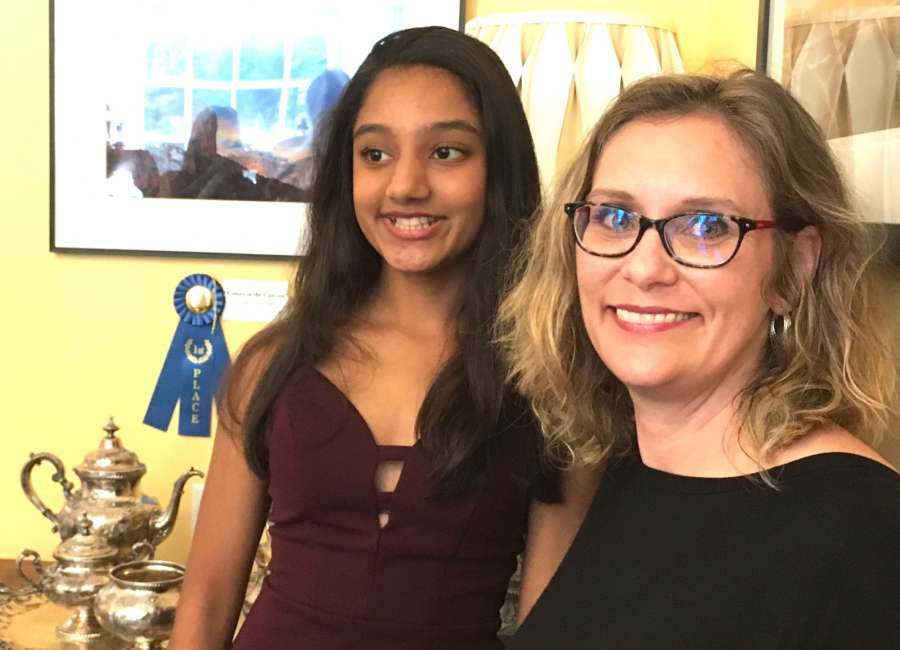 A snapshot by a 14-year-old from Sandy Springs claims the top honors at a juried photography contest sponsored by the Newnan-Coweta Historical Society, beating out more than 70 adult entries.
Arya Vishwanath was on a family vacation over spring break when she snapped several photos that she later turned into her teacher for a class project. He submitted the best to the historical society's Simple Pleasures: the Nature Show, and the judges selected two of hers for display at the organization's McRitchie-Hollis Museum.
Saturday, Arya and her parents were among the roughly 30 artists represented at a reception where last year's winner, Julie Wynn, announced the judging. Wynn, an Alabama-based photography instructor, chose Arya's for its vivid colors.
"We took lots of pictures, and our teacher submitted them," Ayra said.
The winning shot was taken after a rain and captured the contrasting clouds and colors of the soil. The aspiring veterinarian used a consumer Cannon camera with the 35mm lens that came with it, not even relying on a tripod and extended shutter exposure time.
The annual contest required that no man-made object be in the photograph.
"That is very difficult to do," said Jessie Merrell, the society's curator.
The reception wrapped up a month-long exhibit of the contest entries. The fall version of the contest will feature everyday simple pleasures which can include man-made objects and people. Many in the past were of children, Merrell said.