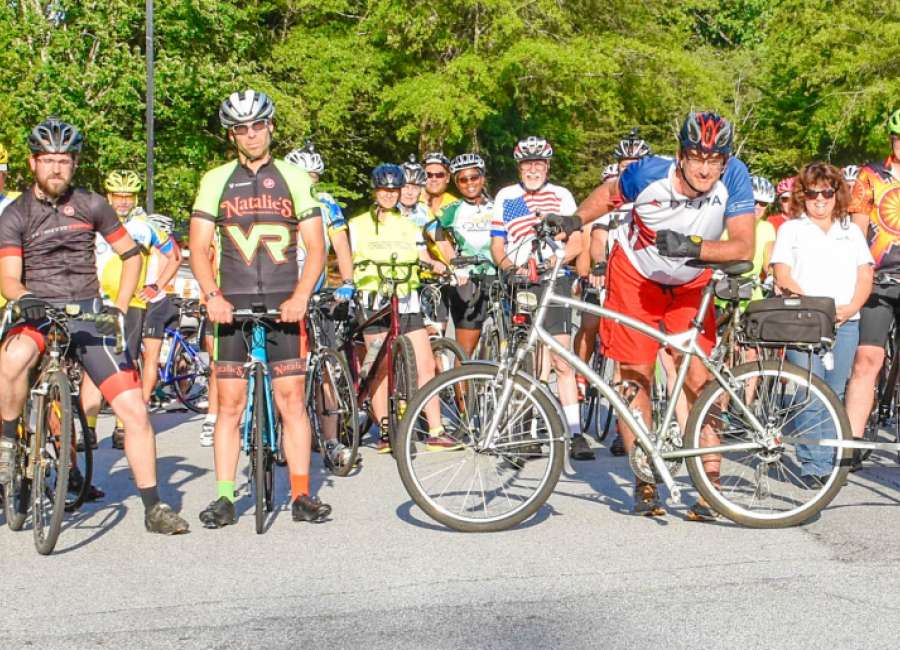 Cyclists from across the south metro Atlanta area gathered to honor riders injured or killed while riding a bicycle.
The 10th annual Ride of Silence was held in Peachtree City on Wednesday evening, with nearly 100 riders participating in the local observance of the worldwide event.
Riders wore red or black armbands, signifying their personal association with someone who was either injured or killed while riding.
The recent incident of an angry motorist striking a cyclist during a ride in Senoia was fresh in many riders' minds.
Local rider Tony Miles was struck by a driver last April while riding, but managed to escape without serious injuries.
The driver was later charged with aggravated assault, felony hit-and-run, failure to report an accident and failure to keep a safe distance while passing.
Many cyclists had their own personal accounts of experiences dealing with angry, distracted or impatient motorists on the road. For them, the annual ride is a way to not only bring awareness of the dangers on the road for cyclists, but to encourage a "coexistence" between riders and motorists.
"We're all concerned with safety. That's why we're here," said rider Timothy Knighton. "As a cyclist, you're often dealing with people who believe you have no right to be on the road whatsoever. I think there needs to be a greater emphasis placed on people knowing the laws of the road."
Literature was readily available for many riders prior to the ride. A quick reference guide for Georgia laws regarding cycling addressed many of the common questions regarding riding.
Sidewalk riding is illegal in the state of Georgia for anyone over 12 years of age, and cyclists are encouraged to take the whole travel lane when there are poor road conditions such as debris or potholes or if the road is too narrow share safely.
But for many riders, the law requiring a 3-foot buffer is a starting point for educating all drivers. According to Georgia law, all motorists are required to provide at least 3 feet of  safe passing distance when following or overtaking a cyclist on the road.
"The 3-feet law isn't just a suggestion; it's the law," said John Dunbar, another cyclist participating in the evening ride.
However, Dunbar sees things both ways – citing many cyclists often riding without regard for those same laws.
"I think if we want to see changes in attitudes toward cyclists from drivers, we have a responsibility to uphold our end of that bargain," he said.
The cyclists traveled 11 miles through the city. Dan Christensen, a former president of the Southside Cycling Club, christened the ride in advance by reading the same poem read across the world.
"Tonight's ride is to make others aware the road is there for all to share. To those not with us, or by our side, may God be with your partner on your final ride," he said.   
****
Clay Neely: clay@newnan.com, @clayneely