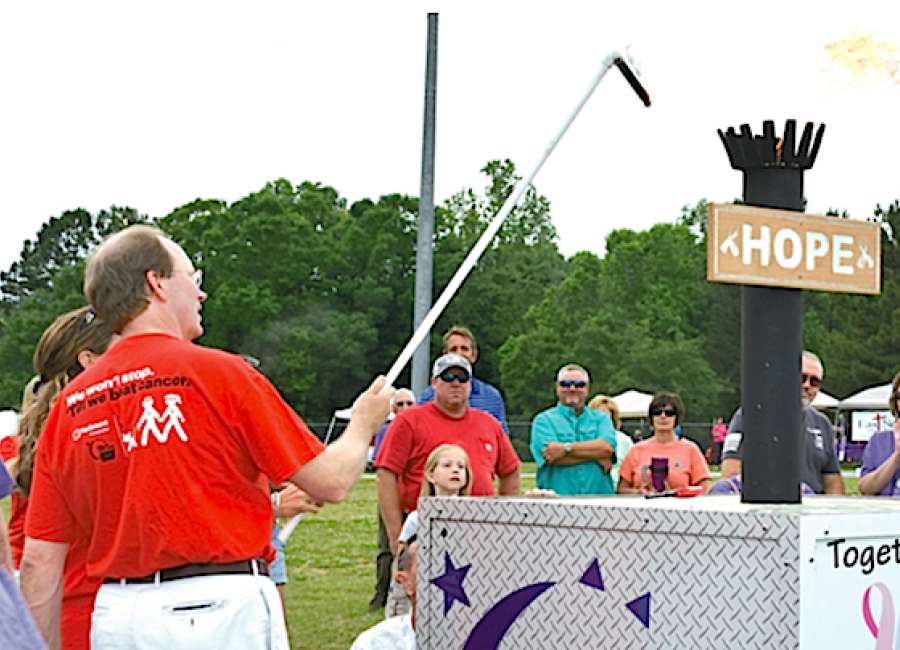 A memorable celebration was held this weekend in Newnan to honor the many cancer survivors, families and friends of survivors, and caregivers in Coweta County.

Relay for Life, the largest annual fundraiser benefitting the American Cancer Society, took place at the Coweta County Fairgrounds Friday evening. Hundreds of locals participate in the event, which focuses on celebrating life, honoring caregivers and funding cancer research through the American Cancer Society.
Local resident Jessica Pope has served as team captain, representing participants from Atkinson Elementary School in Newnan.
"I walk for many friends and family members who have had cancer, as well as in support of loved ones who have lost someone very dear," Pope said of her commitment to participating in the event.
According to the team captain, the local community is steadfast in their support of the faculty, families and friends affected by cancer at the area elementary school, and forming a team to be a part of Relay for Life Coweta is their way of honoring those supporters and giving thanks.
"Raising money is a part of Relay for Life," Pope added. "But, more importantly, the event surrounds survivors, fighters, caregivers, family members and friends with a circle of hope and love."
Each relay event follows a similar path across the nation, usually beginning with an opening ceremony to welcome participants. Following the welcome, survivors, and if possible, those undergoing cancer treatment, make their way around the track to be cheered and supported by onlookers. This "survivor lap" is, according to Pope, the most memorable portion of the event.
"It gives me goosebumps every time I watch the survivors take that first lap and everyone cheers them on," Pope explained. "The support is so incredibly powerful."
Caregivers are then given the opportunity to walk, followed by friends, family, and team members or supporters who take turns walking throughout the event in order to symbolize the ongoing fight against cancer.
Activities offered throughout the evening vary by state and by city, and may differ each year depending on local sponsors, themes and participant requests. This year's Relay for Life Coweta included a survivor dinner, luminaria ceremony, a silent auction, lighting of the Torch of Hope and a closing prayer.
The Coweta event also welcomed special guests including Superman, played by local Brett Owens, and Captain Chemo played by Josh Winkles.  
Like Pope, hundreds of locals join the Relay for Life celebration each year in Coweta, and each have their own fighter to support, caregiver to honor, or life to remember.
"I walk for myself and my mom," offered Marie Emory Seals of Newnan.
Seals added that she also participates in support of many friends affected by cancer and for the many who have passed.
"Relay for Life has touched my heart," Pope said. "I'll always be proud to be a part of it."