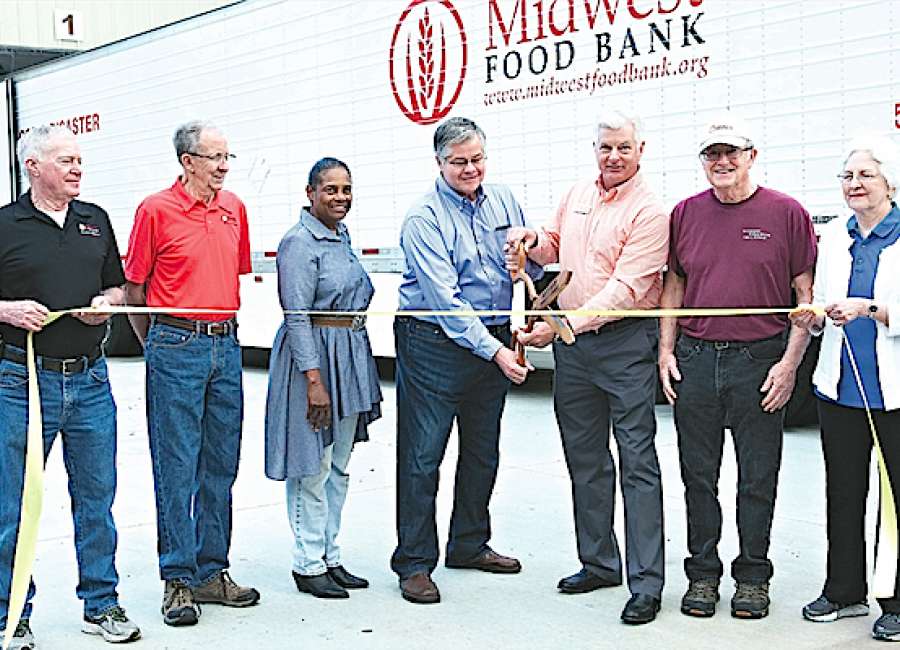 Midwest Food Bank, which provides food for several local ministries and programs, is expanding.
Midwest Food Bank Georgia held a ribbon-cutting ceremony for the expansion on the Peachtree City facility on March 31. Two loading docks and an additional 8,000 square feet were added to the 34,000-square-foot distribution center.
More than 100 people attended the event, including Peachtree City Mayor Vanessa Fleisch, Fayetteville Mayor Ed Johnson, Fayette Chamber of Commerce President Carlotta Ungaro and numerous food bank volunteers and donors.
Midwest Food Bank Georgia currently provides food for 292 nonprofit organizations from 44 counties in four states. The expansion will allow MFB to begin serving some of the 48 agencies on the waiting list for services. Food given away from the Peachtree City facility in 2016 totaled a value of more than $12 million.
Bridging the Gap in Newnan is one of the organizations that distributes food from Midwest.
"Midwest is an essential partnership for BTG," said Alison Wallace, the ministry's executive director. "They work with extreme professionalism and supply much-needed items to our community. There is no cost to nonprofits, and yet they are able to serve so many."
Coweta resident Michael McFarlin knows about Midwest's impact through his work as pastor of Luthersville United Methodist Church. The Luthersville congregation has had a food ministry for several years.
"Midwest Food Bank provides Luthersville UMC with free food and – occasionally – other items, such as paper products and bottled water, each month," he said. McFarlin explained the church "distributes these items to persons in the community who are registered in our food outreach program."
"Our goal when we broke ground was to continue to be debt-free, and we reached 65 percent of the needed funds," says Will Garner, Midwest's executive director. "I know the remaining funding will come. God is faithful and so is this community."  
Midwest Food Bank is ranked in the top 1 percent of all charities in the United States, according to Charity Navigator, an independent charity watchdog. More than 99 cents of every dollar goes toward services.