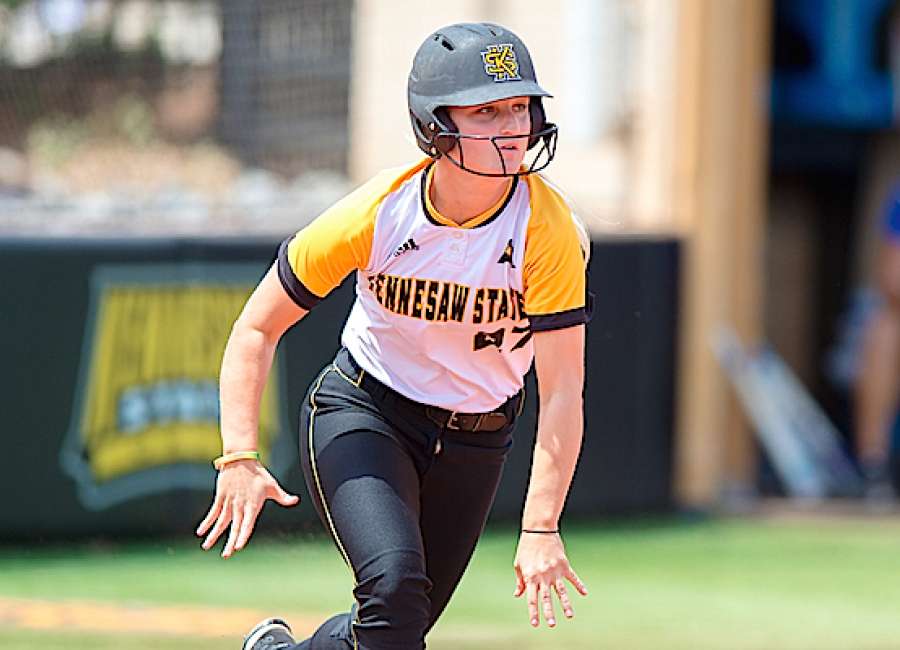 When it comes to describing former East Coweta and current Kennesaw State softball player Katey Lynch's on- and off-the-field personality, her high school coach Franklin DeLoach might just say it best.

"She has so much perseverance, it's amazing," DeLoach said.
Lynch has overcome personal obstacles to realize her goal of playing Division I softball.
Early in her high school career, her father, Steve, who was one of her biggest supporters, lost his battle with cancer.
Lynch never thought about giving up. "She just kept going and playing hard," DeLoach said.
She's also had to battle through a shoulder injury requiring surgery. The injury might have slowed down the start of her college softball career, but it didn't derail it.
There was no way Lynch was going to let that happen.
So despite having to redshirt to start her college career last season, she has bounced back this year and produced some eye-popping offensive numbers for the Owls.
Lynch, who was the designated hitter for the Owls this season, has been named to the Atlantic Sun All Freshmen team.
She earned the honor after putting up some solid offensive numbers, including batting .313 with 18 runs scored, six doubles, two triples, four home runs and 27 RBIs during her first collegiate season.
She enters the postseason with a .481 slugging percentage and a .359 on-base percentage. Lynch also had seven multiple-hit games and six multiple-RBI games.
She also had a seven-game hitting streak and reached base in 12 consecutive games.
Today, Lynch and her Kennesaw State teammates open, playing the Atlantic Sun softball tournament on the campus of Lipscomb University in Nashville.
The Owls finished the season with a 35-16 overall record and a 11-6 conference mark and earned the No. 2 seed in the tournament.
Kennesaw State plays the winner of Wednesday's game between North Florida and Jacksonville game at 11 a.m to open tournament action.
The double-elimination tournament runs through Saturday.
Lynch says she is looking forward to playing in her first college conference tournament.
"It am really excited about it," she said. "Hopefully, we can go out there and win it all."
Her impressive numbers have come while she still hasn't recovered fully from shoulder surgery.
"I am not 100 percent, but I am getting better," she said.
The shoulder injury was the reason she was red-shirted last season. Sitting out a year was not easy for the competitive softball player who is used to being on the field and contributing to her team's success.
Still, she benefitted from just observing and learning as much as she could about the college game.
"One of the things I tried to do was just be there and encourage my teammates," she said.
Lynch made her way to Kennesaw after a stellar high school career with East Coweta, where she was a three-time Newnan Times-Herald All-Coweta County selection.
She also helped lead the Lady Indians to the region title four years in a row. 
Before she was done, she set school records for a season with 15 doubles, 40 RBIs and a .408 batting average.
During her junior year, she earned the team's Slugger Award after smacking six homers, including a grand slam and hitting a .467.
After playing four years for DeLoach and East Coweta, she said she was prepared for college. 
"He taught us a lot about the game," she said. "He taught us to work hard, staying focused and to enjoy the memories."
DeLoach isn't surprised his former player is reaping the benefits of her hard work and dedication.
"She always worked hard in practice," he said. "She never gave a half-hearted effort."
DeLoach said Lynch made her teammates better players, too.
Current LSU softball player Shemiah Sanchez was one of Lynch's teammates at East Coweta, and together the duo made up a potent offensive punch in the Lady Indians' lineup.
"Teams couldn't just pitch around Shemiah, because then they would have to face Katey," DeLoach said.
Now, in addition to getting her own college career started, Lynch is keeping a close watch on her little sister, Kelley, who just finished up her sophomore season at East Coweta. The younger Lynch pitches for the Lady Indians and is already getting recruited by several Division I colleges.
"I just try and be there for her, and let her know I am supporting her," Katey Lynch said.
Katey's mother, Jan, has been there to help her daughter through both the good and bad times, often posting accomplishments on social media sites.
"This family has such a strong faith," DeLoach said. "It's easy it to see in everything they do."