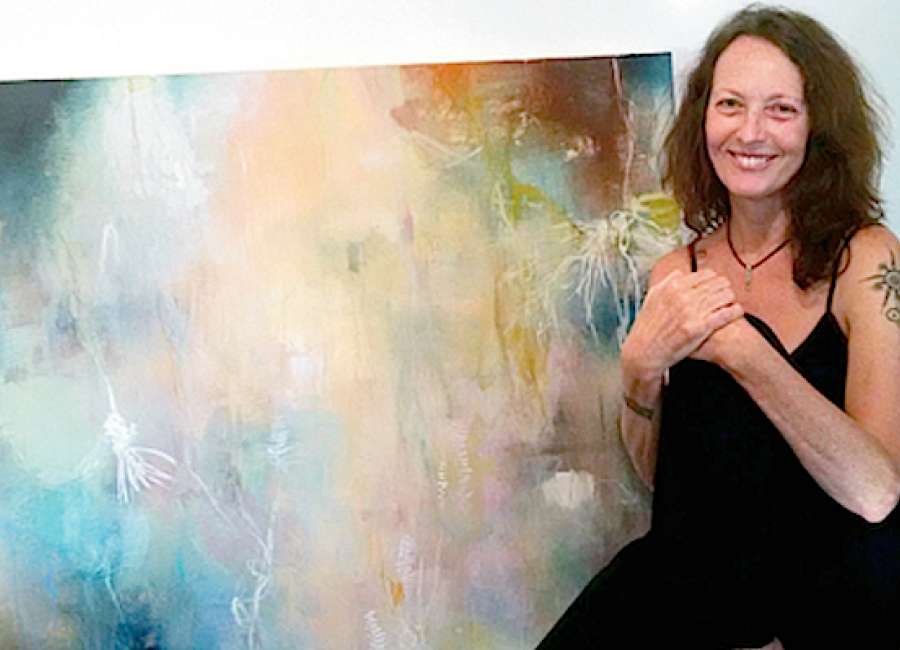 Newnan's latest artist-in-residence, sponsored by the local ArtRez program, which offers emerging and career artists a retreat to pursue studies in downtown Newnan, seems as adaptive as her nature-inspired mixed media paintings.

The artist blends in seamlessly in downtown Newnan and finds inspiration everywhere – including nearby parks and woodlands that were a part of the county long before its residents. Deedra Ludwig describes her work as "environmental," noting that each piece she creates "captures a fragment of the landscape's character."
"Art has the ability to make one see things in a new light," Ludwig said of her work. "It allows us to develop a love for places and natural objects that we may not have noticed or appreciated."
Working at Gray Cottage in Newnan through June 12, she doesn't simply paint a reflection of her surroundings onto the canvas, but incorporates bits of each location literally — usually by adding the very soil and plant life found in the area to the paint itself. Ludwig has been enjoying Chattahoochee Bend State Park throughout her short time so far. She visits the nature center daily, taking inspiration from the natural landscape figuratively and literally.
"There are heaps of inspiration here in Newnan," Ludwig said. "I have been working every day and have been going to the Chattahoochee Bend and working there, even adding a bit of red clay to the pigments of the paints."
The combination of each of Ludwig's works are mostly oil and acrylic, with a bit of soil and ground up plant material.
Several paintings line Gray Cottage's studio walls, nearly all unfinished. The artist seems to be working on multiple paintings all at once, moving freely through the studio to touch on one piece or another, paintbrush in hand. This is her usual process, Ludwig noted.
She works on up to a dozen pieces concurrently in a method that she described as "telling a story."
"One piece leads into the next," Ludwig explained. "Each is a chapter of a larger story." It's a story that tells of the overall surrounding environment. This multi-tasked plan allows her to create a cohesive body of work from each unique place of inspiration she visits.
Ludwig begins with establishing a clean slate. She prefers to have no specific idea in mind for her work upon arriving in a new place and noted that she wants "no preconceived ideas of where the pieces should go."
Ludwig often takes time to observe her surroundings, particularly green areas with woodlands or other, more natural settings.
"I then begin to develop my palate using colors I found here in nature," Ludwig said.
Her works range in size from around 20 x 20 inches to 48 x 48 inches, each with several layers of paint. Ludwig often uses metallic hues in both the gesso (canvas primer) and in the underpainting and additional layers (glazes) so that the finished work has a luminescence similar to that of Renaissance-style portraits.
"The painting then begins to tell its story and it sort of shows me where to go," Ludwig said. "My process is somewhat intuitive. I keep going until the painting feels complete."
The work then, depending on size, can take a bit of time, up to a year for some larger works.
Ludwig comes from a family of artists, though the extent of her family's art history was largely unknown to her until recently.
"My grandmother and great-grandmother were both painters," Ludwig said. "I found out only in the past few years that my great-grandmother, who immigrated with her family from Switzerland, painted tiny portraits."
The portraits, often created to fit into a locket or other small, wearable pieces, were depictions of other immigrants travelling through the port of New Orleans in Louisiana.
"I started tracking her through the census in New Orleans after their arrival," she said. "It turns out that she and my great-grandfather, Dr. Charles Ludwig, lived in a large household on Magazine Street in New Orleans."
The home, which once housed nearly seven families, is now an art gallery and includes a studio space in which Ludwig still paints.
"It is amazing to think that my great-grandmother likely stood there painting, just as I do today."
Ludwig has made her home in Louisiana where so much of her extended family once resided, but she spends significant time in Georgia as well, and lived in Atlanta for some time as a child.
In fact, Ludwig traveled often before finding and settling with her roots in New Orleans. She was born in Chicago, lived in Atlanta as a child, visited Louisiana often and spent time in New York. She attended college in Brighton, England and was a founding member of Eye Level Acme Studios in Brighton.
"I definitely feel like Louisiana is my true home," she said. "That is where my family history is."
Ludwig is represented by a number of galleries including TEW Galleries, located at 425 Peachtree Hills Ave., Suite 24, in Atlanta and at LeMieux Galleries in New Orleans, La. Her work can also be found in galleries in New Mexico and multiple locations in Florida.
For more information on Deedra Ludwig and to see more of her works, visit www.deedraludwig.com