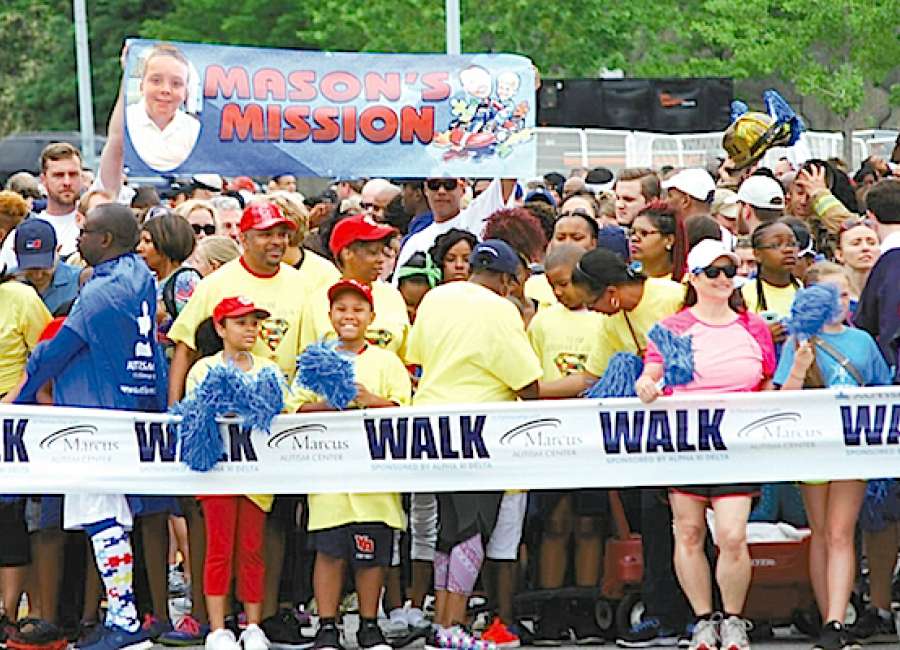 On a recent Sunday morning, hundreds gathered in Atlanta to raise awareness and funding to help improve the lives of those across the U.S. diagnosed with autism or autism spectrum disorder. 
Each participant, many of which call Coweta County home, attended the world's largest autism fundraising event benefitting autism research and support, on behalf of a friend or loved one. June Harris of Newnan walked for Mason, who joined Harris, along with his parents, at the event on April 20. 
The Atlanta event, held at Turner Field, is one of several sponsored by Autism Speaks, an organization founded in 2005 by Bob and Suzanne Wright, grandparents of a child diagnosed with the condition. 
Autism refers to a broad range of developmental disabilities characterized by challenges with social skills, repetitive behaviors, speech and nonverbal communication, according to the organization's website, www.autismspeaks.org
Funds raised at events such as the recent Atlanta walk are dedicated by the Autism Speaks organization to advancing further research into the cause of autism along with more and better treatments. The group also hopes to increase awareness of autism spectrum disorders and increase the range of support and resources for families of children diagnosed with the condition.
Harris arrived at Turner Field in Atlanta on the morning of the event and met 9-year-old Mason and his family before the walk. Harris offered her thoughts about the event she shared with her special friend. 
"The morning was a crisp one with a slight breeze and was overcast. It was perfect for a walk – a special walk for Autism Speaks. Several passengers were riding the bus, which carried participants from the parking area to event. Excitement erupted as the tents and canopies came into view from the bus windows. Mason stood up and announced, 'You have now arrived at Mason's Mission!'" 
Harris reflected on the support for Mason and other participants.
"I could feel the love and care from all. We were ready to walk for Mason and the many others with autism," she said. "Our team was excited to be there and to offer support to Mason and this great cause."
Mason was diagnosed with autism at four. More recently, he was diagnosed with epilepsy, or seizures. This secondary diagnosis is not uncommon in children with autism. Yet Mason continues on. 
His parents, Andy and Andrea Stewart Hinesley, say that despite epilepsy, he has never misplaced his sweet spirit and excitement for life. His outgoing personality is contagious and he is loved by everyone he meets. 
"This year we walked for Mason. After arriving home, I was told that Mason said to his parents, 'I will never forget this day. Thank you,'" Harris said.
For more information on Autism Speaks, and how to participate in nearby fundraising events, visit www.autismspeaks.org