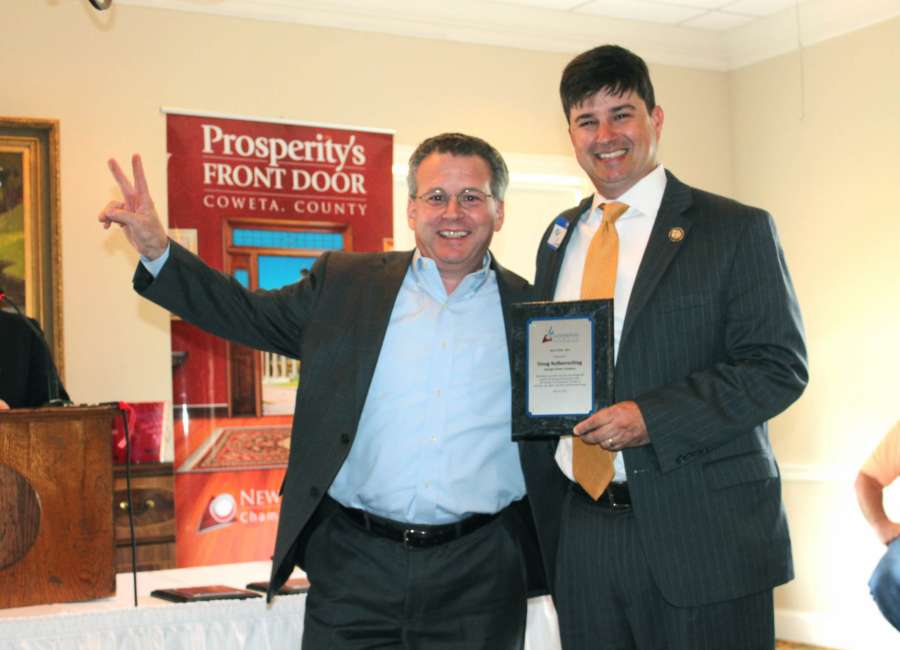 Twenty-one Coweta professionals graduated from Leadership Coweta on Thursday afternoon at the Newnan Country Club.

Sponsored by the Newnan-Coweta Chamber of Commerce, Leadership Coweta aims to provide existing and emerging leaders with unique opportunities to enhance their civic knowledge of Coweta County and to sharpen their leadership skills and to network with leaders from across the community.
Nine sessions were held between September 2016 and May, where participants worked together to learn more about the community and leadership skills. They also worked on a group project, which was putting more Little Free Libraries across Coweta.  
Little Free Libraries hold books for adults and children, and anyone is welcome to borrow a book or leave a book.
For more than 20 years, Leadership Coweta has provided participants a better understanding of how this community works, the opportunity to build relationships with the region's leaders and inspiration to use their talents to serve the community.
Leadership Coweta participants represent a diverse group in terms of race, gender and occupation. Individuals represent areas such as business, social services, government and cultural and educational organizations.
Class members must live and/or work in Coweta County at the time they submit their application. No more than two representatives from any one organization can be selected to participate in a class.
Derek Waugh, president and CEO of the Georgia Sports Hall of Fame in Atlanta, was the guest speaker. Waugh has also participated in Leadership Georgia.
Sen. Matt Brass, R-Newnan, said he hopes the graduates will get involved in alumni programs and become more active in the chamber and take on leadership positions in the chamber.
"Leaders help build this county and this community," Brass said. "We understand the importance of passing this torch along.  The leaders we're building today will be our leaders tomorrow."
Leadership Coweta graduates include: Buck Anderson, Laura Benz, Cristina Bowerman, Patrick Brown, Jamie Brownlow, Dr. Joya Carter Hicks, David Cleveland, Joe Crain III, Amanda Fields, Courtney Harcourt, Earl Hines, Doug Kolbenschlag, Amy Lane, Monica Millians, Ben Norman, Pastor Tangela Reese, Martin Riggs, Dr. Scott Ross, Christine Swanson, Shelby Tidwell and David Watts.
For the full story, read the business section of the Sunday, May 28 edition of The Newnan Times-Herald.