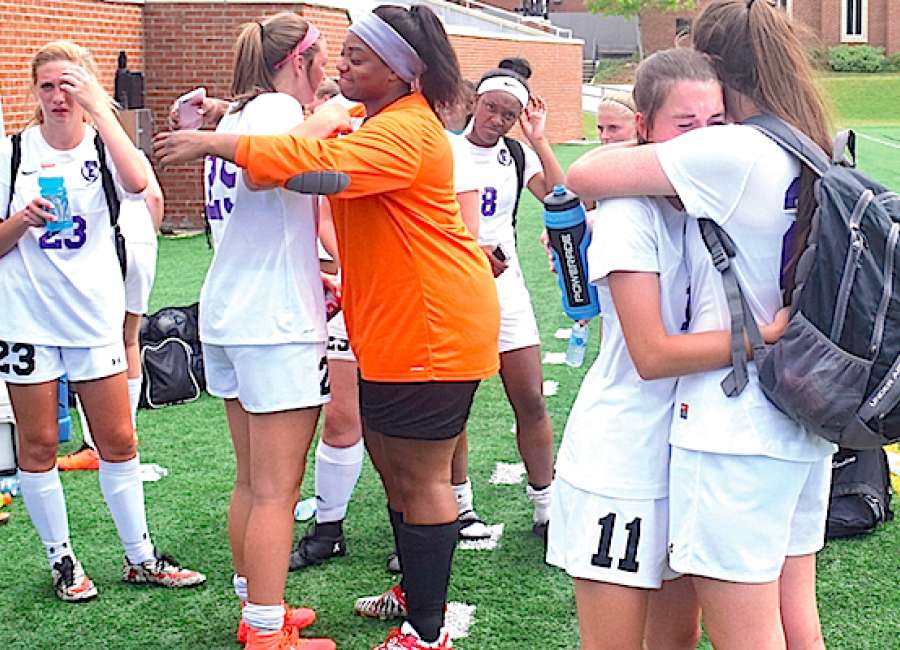 MACON — The First Presbyterian Christian Academy Lady Highlanders were as hot as the midday sun in the second half, burning the Trinity Christian Lady Lions 5-1 Friday afternoon in the GISA girls state soccer semifinals held at Mercer University's Five Star Stadium.
The win helped FPCA remain undefeated at 20-0 and advance to the state soccer finals while also ending the season for the Lady Lions (17-2-1). Both losses for Trinity this season were to the Lady Landers; they defeated Trinity 6-4 in the regular season.
The temperature was 86 degrees at the start of the match, but it felt hotter on Five Star's astroturf field. Despite the sweltering heat, Trinity came out blazing on offense and defense early. The Lady Lions moved the ball downfield well, leading to a missed shot from Abby Bragg. Lady Landers senior Auset Gibbs did her best to score minutes later, but Trinity keeper Cheyenne Teems made the first of several saves in the half.
Trinity finally put enough pressure in FPCA territory and Chandler Hendrix scored on a header to give the Lady Lions the 1-0 lead at the 28:37 mark. FPCA tried to score again, but Trinity defender Shannon Stewart was the thorn in its side, stopping shots and booming the ball downfield to her teammates. If the ball somehow got past Stewart, M.K. Taylor or Regan Lohlein, Teems was there to make the save. Trinity kept the 1-0 lead at halftime.
The only bad news of the first half for Trinity was senior Brea Barentine getting hurt at 11:16. She didn't return.
The matched turned in the second half. Trinity was called for a penalty and on the ensuing kick, Cecilia Graham of FPCA booted the ball over Teems' head and into the net at 22:06 to tie the match at 1-1.
Gibbs took over the match once the score was tied. She consistently got behind the Trinity defense and made plays, passing the ball to teammate Mercedes Buckley for two more goals and the 3-1 lead. Buckley's last goal was at the 19:15 mark, which meant FPCA scored three goals in three minutes.
The momentum shifted to the Lady Landers after the last Buckley goal. Gibbs scored exactly 10 minutes later for the 4-1 lead and Cassandra Ruff scored with 6:40 remaining for the final 5-1 margin.
The best season in Lady Lions history ended without a state championship appearance, but Trinity head coach Stephen Sylvia said he was extremely proud of his players.
"We had an awesome season, the best in team history, and that's a great thing," Sylvia said. "Today, we had to scramble with Brea out and that hurt our rotations. Luck wasn't on our side at all. But the girls fought hard and played the best they could've played, especially in this heat. Things just didn't go our way today."