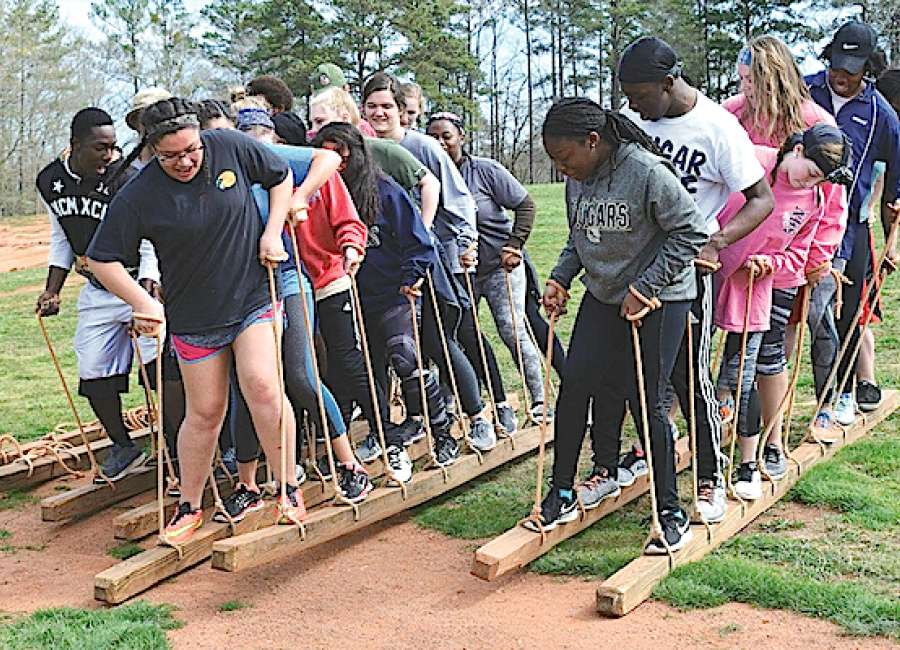 Students from Newnan High School's Jobs for Georgia Graduates and Ambassadors programs recently attended a leadership retreat at the FFA/FCCLA Camp in Covington.

Those selected to participate in the retreat contributed to volunteering more than 3,000 hours of service to the Coweta County community over the course of a single semester, according to Gaines Coker, Newnan High's Jobs for Georgia Graduates sponsor.
Jobs for Georgia Graduates and the Newnan Ambassadors first joined forces last fall at the Georgia Power Rivers Alive cleanup. Since then, the two groups have jointly participated in CAN-Struction on Newnan's Court Square to benefit the Coweta County Food Pantry; Halloween Trunk or Treat at Newnan High; the Peanut Poll at the Georgia State Fair; and mentoring opportunities at Ruth Hill Elementary School. Students also collected trash while hiking up Stone Mountain.
"We are very fortunate to have the Ambassador program and Dr. Allison Hurston heading it up at NHS because of all the community service opportunities it provides for other clubs and organizations," Coker said.
On the retreat, students maneuvered their way through the low-ropes course, participated in team-building exercises and navigated the mud obstacle course. They also took advantage of recreational activities like basketball, billiards, tennis, foosball and table tennis. 
Guest speakers for the weekend were Mack and Ria Story of Top Story Leadership; Brett Smith, field representative for Congressman Drew Ferguson; and Daryle Smith from the Fellowship of Christian Athletes.