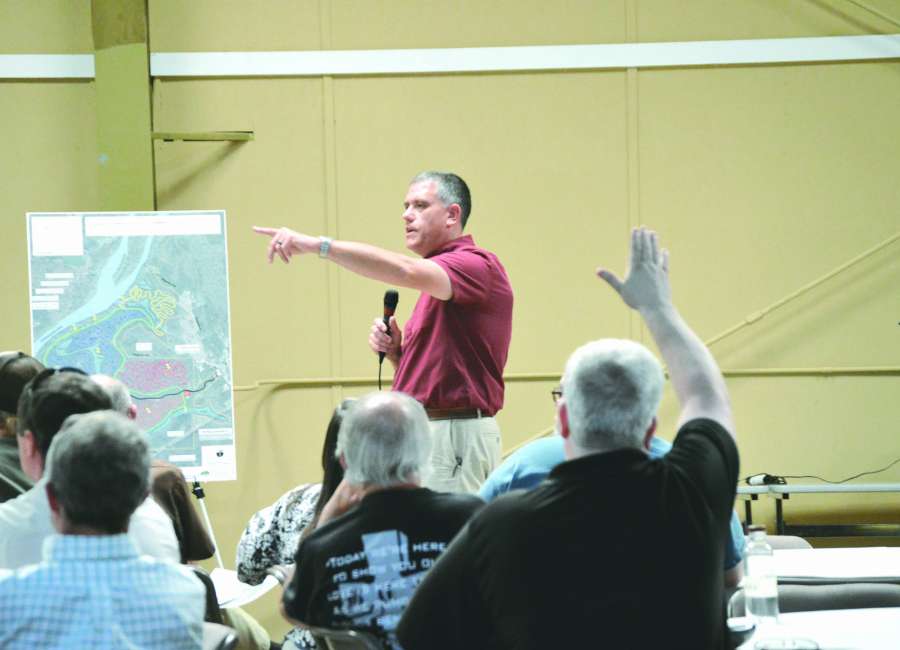 Plans for an "ATV Adventure Park" on the Bush Head Shoals State Park property in Heard County were opposed by Heard County residents at a public meeting Tuesday night.
The meeting, at the Heard County Extension Office in Franklin, was the first chance members of the public had to voice their feelings about the project.
The roughly 700-acre Bush Head Shoals property is located just off Ga. Highway. 34 West, a few miles from the Coweta County line. The Georgia Department of Natural Resources has received a $1.1 million federal grant for motorized trails and wants to build approximately 14 miles of trails for all-terrain vehicles.
Heard County Sheriff Ross Henry expressed concern about the burden the park could put on the county's emergency services, both in manpower and finances.
There are two houses that are nearly on the property line of the state park property.
Eric Bentley, regional manager for Georgia State Parks and Historic Sites said the state will be working directly with those property owners to keep riders from coming onto their property.
Several of the approximately 60 people attending the meeting said that Bush Head Shoals is the wrong place for an ATV park.
"My question is why. Why would you pick the most pristine part of the Chattahoochee River in this county, maybe even south of Atlanta?" said David Barker. "I live on Bush Head. I know how pretty it is. I do not want to see that destroyed by ATVs."
"I don't think anybody in this room is against rafts, canoes and kayaks, a campground and a boat ramp," Barker said. "But why destroy this place with ATVs and the noise?"
"Find another place where there's nobody there and it's not the most beautiful place on the Chattahoochee," Baker said, sitting down to loud applause.
Approximately 200 acres of the park property wraps around Baker's land, and trails won't be built on that section, Bentley said.
One woman said there are mounds of rocks on the property that are believed to be Indian burial grounds.
"This is sacred ground. It's not just an open field that doesn't matter. This matters, and we only get it one time. We can't get it back. God gave it to us one time," she said.
She estimated it would take 100 years to return the land to its current state if the ATV park were built and then closed.
Others expressed skepticism about how much money the park might bring to Heard County.
Bush Head Shoals will be managed by the staff at Chattahoochee Bend State Park, in Coweta County, and there will be no camping in phase one at Bush Head, so visitors are expected to camp at Chattahoochee Bend.
"Coweta County – that is where  your revenue is going to go," said Scott Berry.
"They're going to be shopping in Coweta County," said another man.
Everyone at the meeting was invited to fill out comment cards, and there will be a comment period through June 30.
The plans for the ATV park are preliminary. Archeological and environmental studies still have to be done, and public input will be considered.
"It is not a done deal by any means," Bentley said. "We need to hear from everybody – do you want it, or not?"
To submit your comments, send an email to gastateparkscustomer.service@dnr.ga.gov