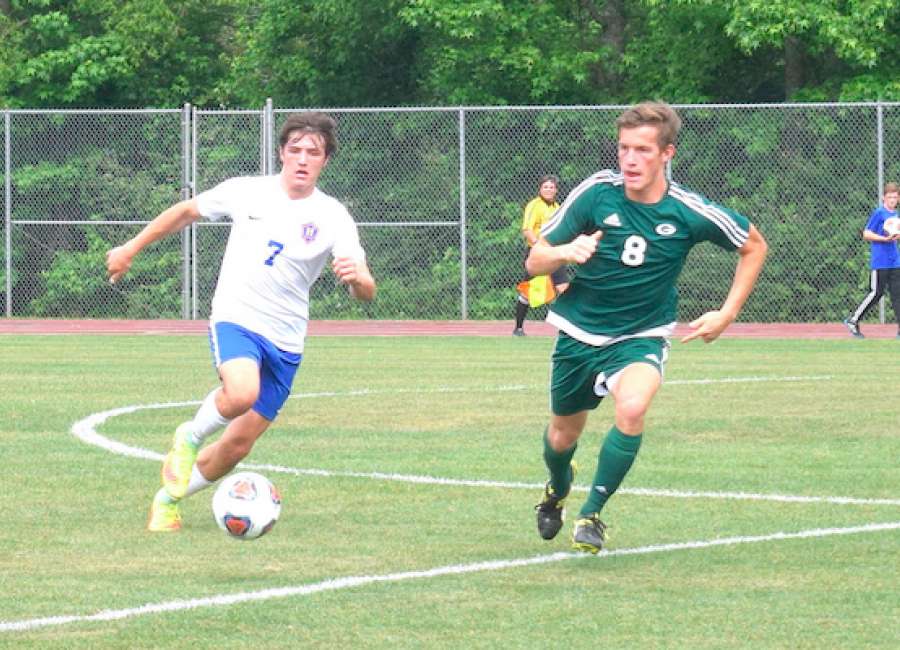 Andrew Vazquez scored a first-half goal and goalkeeper Ryan Grant made several good saves to lead The Heritage School Hawks soccer team to a 1-0 victory over the Gatewood School Gators in GISA Class AAA state playoff action at Heritage.

The Gators made strong scoring runs late in the second half, but the Hawks' defense was just too strong and they held on for the win Friday.
The Hawks will advance to the state Final Four, where they will play the Frederica-Augusta Prep winner May 19 at 5 p.m. at Mercer University in Macon. It's the first Final Four berth for the Hawks in three years. The loss ended the season for Gatewood.
After a scoreless defensive standoff early on, Heritage got downfield and ultimately scored when sophomore Andrew Vazquez hit a shot that scooted through the arms of Gator keeper Jack Harty and into the net for the 1-0 lead.
"I saw the ball and made contact, and I was upset because I thought their keeper caught it," Vazquez said. "But the next thing you know, the ball went right through his arms for the goal and we were ecstatic. Our attitude changed after that; we knew it was time to play."
Both teams did play — defense, that is. Gatewood and Heritage had several shots on goal but Harty and Grant both kept the ball out of the net. The score remained 1-0 at the half.
Defense ruled the day in the second half. The Hawks and Gators moved the ball downfield, but neither could dent the scoreboard. Despite the lack of scoring, Heritage players Harrison Geerlings, Jack Hunt, Will LaGuardia, Hays Burns, Zach Robinson and Daniel Wellons made good plays in the game. 
Gatewood stayed in Heritage territory late in the second half, thanks in part to great individual play from junior Cole Williams, but Grant made several leaping saves to keep the Gators at bay. The senior Grant — who was the kicker on the Heritage football team this past fall — showed he has great hands to go along with his strong football leg.
"I've been playing goalie my whole life, so I made a point to work on my hands and catch the ball," Grant said. "Our defense played great today, shutting down Williams as best they could. All I wanted to do was catch the ball high so it didn't bounce in the center of the box and lead to scoring chances for Gatewood."
Gatewood made a run in the waning seconds of the match, but the Gators' final shot sailed over the net as time expired. A happy and relieved Heritage head coach Nathan Watts said he was happy with his team's effort Friday.
"It's great that we qualified for the Final Four with only three seniors on the roster," he said. "I'm hoping this will be the start of a tradition here. (Assistant coach) Mike Johnson has done a great job working with the guys on defense. Plus, these guys have played 35 straight games together so they know where to go and where they need to be at all times. I'm very proud of them."