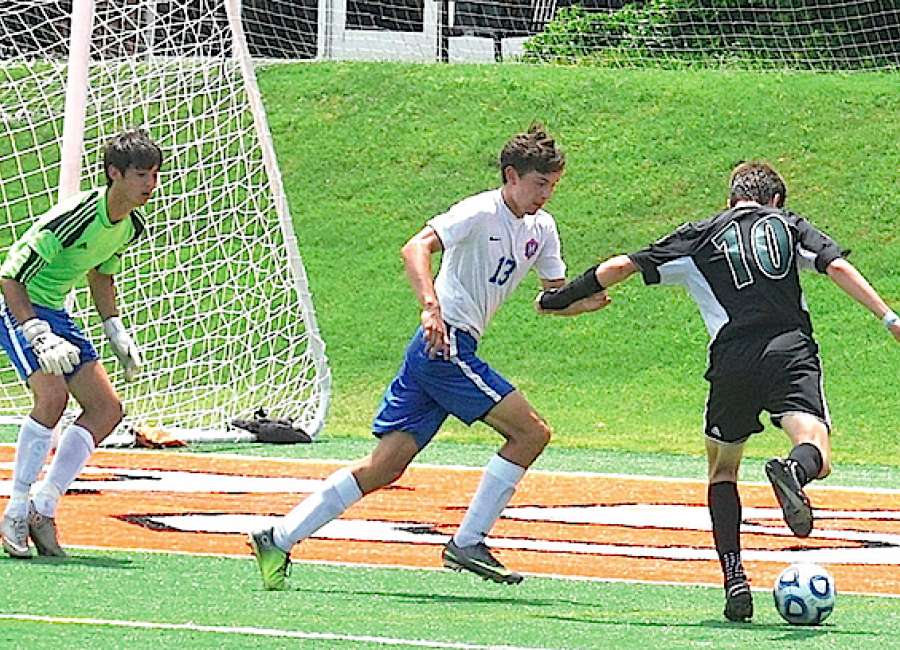 MACON — The Heritage School Hawks soccer team fought till the very end, but a few missed opportunities cost them in a 2-1 loss to the Frederica Academy Knights Friday morning in the GISA boys state soccer semifinals held at Mercer University's Five Star Stadium.

With the win, the Knights advanced to GISA state soccer finals while the season ended for the Hawks.
The first match of the day on a hot Friday morning was a thrilling contest. Heritage's Zach Robinson scored to give the Hawks the lead at 1-0, but Frederica scored minutes later to tie the match at 1-1. The score stayed that way all the way to the end of the match. Both teams had chances to break ahead late in the second half, but neither could dent the scoreboard.
Jack Hunt and Will LaGuardia missed shots for Heritage and Hawks keeper Ryan Grant made a huge save on a Frederica shot with 49 seconds left in regulation. Heritage's Hays Burns received a pass with 10 seconds left and he raced downfield, but the buzzer sounded before he could sink a shot and the match headed to overtime.
GISA rules dictate that soccer teams tied after regulation will play a 10-minute overtime period. If a team leads after 10 minutes, it will win the match. If both teams are still tied, they go to another 10-minute OT period. If the match is still tied after a full 20 minutes, then it goes to penalty kicks.
The Knights had a shot to take the lead with 3:00 left in the first OT period. Frederica's Ryan Steilen had a chance to score in front of a charging Grant, but Grant's teammate Gridley Pendergrast played great defense on Steilen, stopping his shot and then kicking the ball out of bounds. Frederica didn't score after that sequence.
Heritage nearly won the game with seconds left in the first overtime. LaGuardia boomed a high shot that bounced off the crossbar and somehow fell straight down in the field of play, allowing Knights keeper John Mitchell Brock a save as time expired.
Neither team scored in the second overtime period, so the match came down to penalty kicks. Both teams made their first penalty kicks, but Heritage missed its next two and Frederica made three straight penalty kicks to win the match and advance to the state finals.
"I can't say enough good things about my guys," Heritage coach Nathan Watts said. "I coach a bunch of high-character young men who gave it their all today. Soccer is a funny sport. We just didn't get the right bounces today and Frederica did at the end. I told the guys I was proud of them and thanked the seniors for their efforts this year."