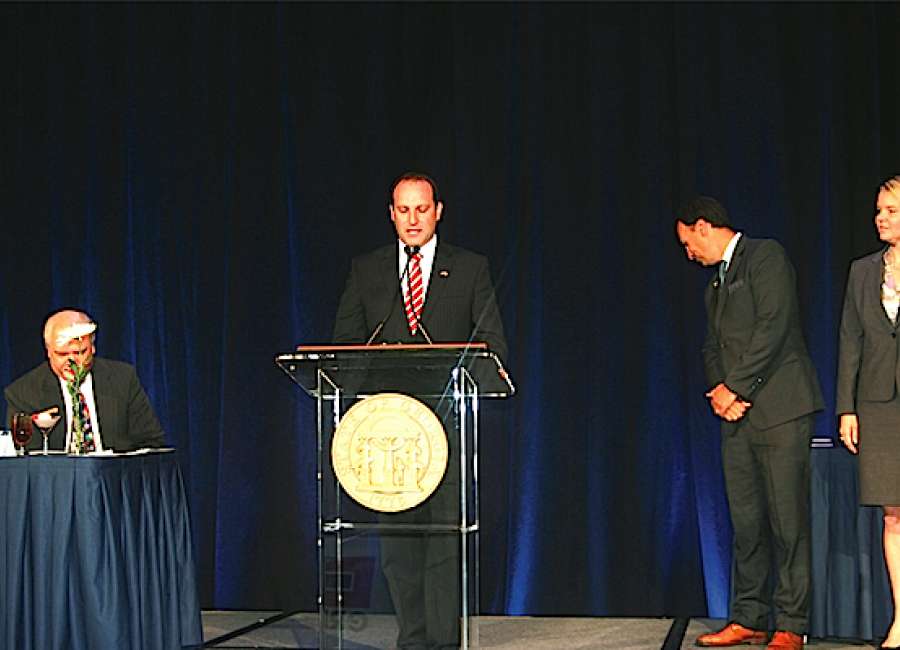 Gov. Nathan Deal named Newnan manufacturer Grenzebach Corporation the winner of the 2017 Manufacturer of the Year award in the category of Small Manufacturer, those with fewer than 150 employees.

The award ceremony is part of Manufacturing Appreciation Week (MAW), which was developed by the Technical College System of Georgia and the Georgia Department of Economic Development and celebrated April 24-28. The awards ceremony was held April 27 at the Georgia International Convention Center in College Park. 
Grenzebach earned the title of Manufacturer of the Year because of its continued excellence in manufacturing and its commitment to educational partnerships with the community, particularly the GA CATT apprenticeship program, a carefully constructed replica of the German apprenticeship system that has supplied a pipeline of skilled workers for that country's businesses and industry for more than a century.
The manufacturer has operated in Coweta for more than 20 years and specializes in building materials, glass and wood technology, process engineering and additional industries.
The apprenticeship program kickoff was in August. The program is the United States' first German-style apprenticeship program 
 
"We are here to acknowledge and honor those manufacturers who have won this award," Deal said. "I want to thank our manufacturers for being part of what has made Georgia the best state in the nation in which to do business for the fourth consecutive year."
  
"It's a great honor to accept this prestigious award today," said Martin Pleyer, CEO at Grenzebach. "We at Grenzebach are humbled to be recognized today. In order to survive in the global economy that we are in, we took on this apprenticeship program to educate the best talent for our future workforce. I am a firm believer that this is the game changer in addressing the skills gap."
Pleyer thanked and applauded the Coweta community for supporting the apprenticeship program, as well Georgia legislators for helping bring the apprenticeship program to reality.
"We are blessed with a school system and a college and career academy and a technical college that work tirelessly on supporting local industry," Pleyer said.
 Grenzebach was nominated for the award by West Georgia Technical College, which was supported other Coweta business leadership and many elected officials.
In his nomination letter, Coweta County Development Authority President Greg Wright said "many of Grenzebach employees have been with the company for more than 20 years. This loyalty proves that they are providing a safe, caring and reliable workplace for local citizens."  
"Grenzebach is a recognized leader within its industry and within the local community," said State Rep. Lynn Smith.
"In addition to providing quality jobs for our community, Grenzebach has been a key supporter of both Central Educational Center and the new Georgia Consortium for Advanced Technical Training (GA CATT), which are helping prepare the workforce for the future," Smith said.
Other award recipients include Great Dane in Stateboro and King's Hawaii in Hall County.