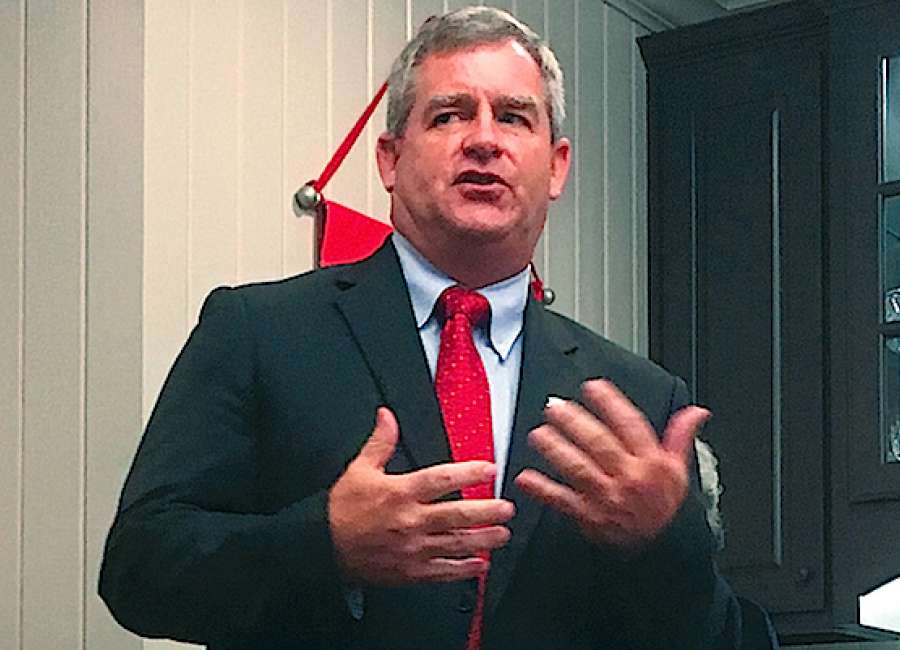 The new head football coach at the University of West Georgia is already looking forward to the end of summer.
That's because David Dean is eager to field his first team since taking over the Wolves in January.
"August 1, which is our reporting date, can't get here fast enough," he said Thursday during an athletic department fundraiser at the Newnan home of Jim and Jennifer Thomasson. 
Dean took over for Will Hall, who left West Georgia to become offensive coordinator at the University of Louisiana-Lafayette. Hall was 31-9 at UWG, claiming a share of the Gulf South Conference championship in 2015, the first at West Georgia since 2000.
"You never know how the transition is going to be with guys, especially if they had a successful coach that leaves, how they're going to take to a new guy," Dean said.
But Dean is a successful coach himself. He led the Valdosta State Blazers to the 2007 NCAA Division II national championship as a first-year coach, repeating in 2012. 
The transition to UWG was smooth, Dean said. 
"I can't say enough in bragging about our players and how they have accepted me with open arms, listened to what I've said and logged into the things we are trying to teach them now," he said.
Support from players is one thing. UWG needs greater backing from the public, especially here.
University officials can't quantify the support they get from Newnan and Coweta County, but they say it's growing. Events like Thursday's small fundraiser, a family fun day last weekend, lectures and growing enrollment at the Newnan campus all raise awareness about the university and its teams.
Community leader Dennis McEntire said local football fans have a unique chance to experience a high-caliber program just 30 miles away, with access to coaches and good seats that's not as readily available at the University of Georgia, Auburn or other universities these days.
"What a great opportunity we have in our community to be involved with a national football team," McEntire said.