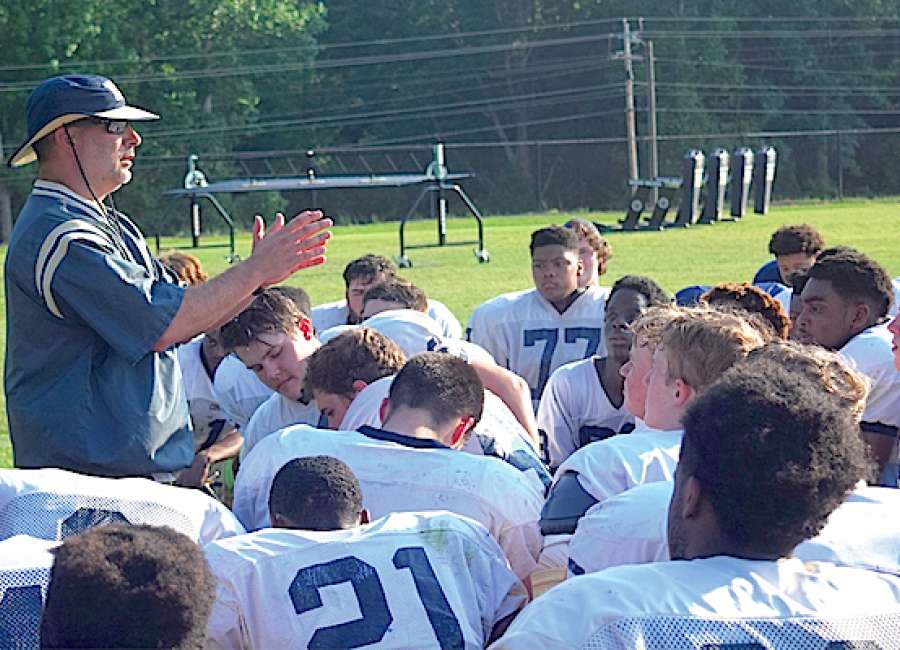 Spring football practice began at Newnan High last week, and first-year head football coach Chip Walker says he has been pleased with his new team, even when they didn't perform at their best.

"The first two days of practice were great days; the third day, not so much," said Walker, who came to NHS from Sandy Creek High. "But I'll tell you what, these kids have worked their tails off and I love their eagerness to do well and their desire to do good things. I couldn't be more pleased with a group of players."
Walker, who won three state football championships at Sandy Creek (2009, 2010, 2012), said he expected the players to hit a few snags since they are learning a new system and a new tempo.
"The main thing I want to establish here is a baseline for what we want to be. I think that's important," said Walker, who replaced head coach Mike McDonald. "We want to be physical, hard-nosed and aggressive, and I believe the guys are working hard to be that type of team. They have done what we've asked them to do on the field and in the weightroom."
Walker said he's been pleasantly surprised to see how well the kicking game has been in the spring.
"Snapping and kicking has been great – I'm definitely happy with how that facet of our game has turned out so far," he said.
The Cougars will need every facet of the team to perform well this week, as they host the Lovejoy Wildcats in the spring practice finale at 7 p.m. Friday at Drake Stadium.
Walker said the Wildcats did lose a lot defensively but they return some offensive linemen and their veteran running back.
"Lovejoy will field their usual athletic and good group of players despite whatever they've lost," Walker said. "We'll have to be ready to play on Friday."
Walker said Monday's practice was the last one where the Cougars focused on themselves – the rest of the practices this week will consist of game-prepping for Lovejoy.
"On defense, we will be working on knowing Lovejoy's offensive formations and plays while on offense. We want to work on our blocking techniques against their defensive line," Walker said. "As a coaching staff, we want to see our guys compete and get after it Friday. We also want to see how our guys respond to any adversity that may arise in the game."