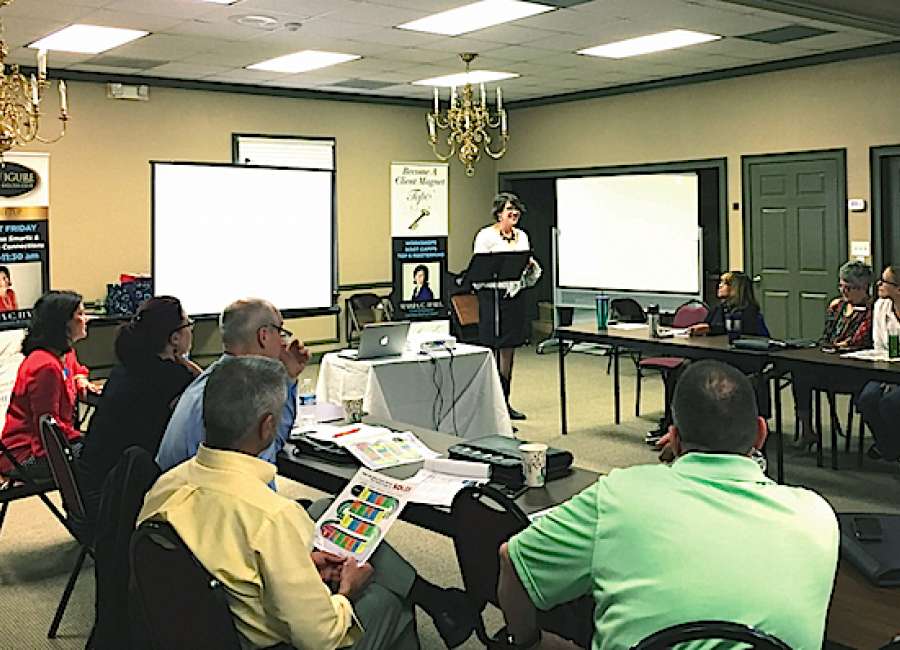 Case studies surveying client/customer experiences were the topic of discussion at the Six Figure Success Club Meetup.
The goals of this program, which is a partnership between the Newnan-Coweta Chamber and Ignite Business Coaching, are to showcase, motivate, educate, inspire and support entrepreneurs in Coweta, Fayette and Carroll counties – both chamber members and non-members; to grow chamber membership by increasing visibility with the local and surrounding business community; and to provide an opportunity for Newnan-Coweta Chamber members to be presenters at the monthly "Six Figure Success Club Meetup."
The month's meetup was held at the Newnan-Coweta Chamber on May 5 from 9:30-11:30 a.m. The meetup is held the first Friday of each month at the same time and location.
This month's topic was "Sweet Steps to Sold," which was presented by Ellie White-Stevens, marketing guru and creative director of Dirt1x, which stands for "Do it right the first time."
Stevens shared her secrets of why you need to have a case study for your business and how to get the best one.
She said a good case study should start with a good testimonial, but she said case studies and testimonials are different because testimonials usually only describe the person and not the solutions that a company or individual provides. 
Stevens said selecting the right clients to interview is simple. Pick the client(s) you would like to multiply, but she said not to badmouth any clients, either.
"I always ask for a backstory when interviewing for a case study," Stevens said. "It's a dual win, because it shares that client's experience, and also your expertise and how you provided a solution to them."
Stevens said case studies should include industry-specific knowledge and terms to further establish credibility.  She also asks specific questions about how the client's life or situation was helped by using a business' solutions or services.
She said case studies are also beneficial to use on flyers and other marketing materials.
As far as follow-ups, Maria Hall, owner and chief empresaria (entrepreneur) of Ignite Business Coaching, said implementation and consistency are key.
"Use a system that works for you," Hall said. "Chunk time on your calendar to work your system."
Hall said professionals should use a variety of touches to follow up, such as visual or face-to-face.
She said 80 percent of clients need five or more contacts before they make a decision to do business with someone, but 48 percent of competitors never make a second contact.
Twenty-five percent of competitors follow through, but make the follow-up all about them.
"Set yourself apart," Hall said. "Make all your follow-through about them."
"Don't Get Hacked!" will be presented by David Jennings, senior partner, ORPA Consulting in Carrollton. He will discuss cyber security and what small-business owners need to know before they get hacked at the June 2 meetup.  
For more information, visit https://www.meetup.com/6-Figur...