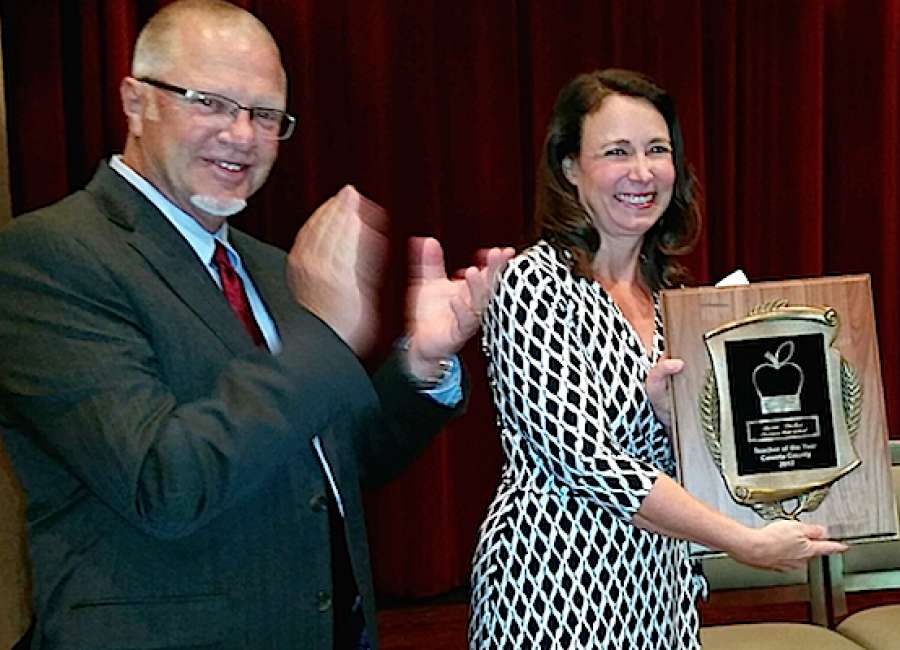 Coweta County Teacher of the Year Susan Barber kept her acceptance speech short for a good reason.

"As much as I've enjoyed this evening, I promised my AP students who are testing this week breakfast," Barber said. "I'm going home to cook a breakfast casserole."
Barber, who has taught Grade 11-12 American literature and AP literature at Northgate High School since 2008, was recognized at the Nixon Centre Tuesday along with fellow finalists Anne Graner, Ruth Hill Elementary School's media specialist, and Mindy Baker, a sixth-grade math teacher at East Coweta Middle School. Teachers of the Year from each of the Coweta County School System's 31 schools were honored at the event.
Northgate Principal Bill Harrison, who introduced Barber, said of all the accolades Barber has received, her first love still is the classroom.
"She said, 'The thing I'm most proud of the is the work I do daily in Room 128,'" Harrison said.
Barber first made her way to Room 128 when she was hired by then-principal Therese Reddekopp. She said she prayed for two things as she was led to her new classroom: To not hyperventilate at the thought of returning to teaching after a long hiatus, and to "find favor" with her students and colleagues.
"God answered both prayers," Barber said.
Barber, a first-generation college graduate, majored in English and psychology before taking her first teaching job in 1987.
"I spent four years in a Texas high school getting a first-hand education in education," she wrote in her Teacher of the Year biography. 
She took time off to raise children and support her husband's ministry, but wound up again answering the call of the classroom, earning MEd and EdS degrees, ESOL and Gifted certification, and AP training to better equip her for her career.
"I have never looked back or second-guessed my decision to enter the noblest of professions, and from the day I stepped into Room 128 at Northgate nine years ago, my life has never been the same," Barber wrote. "The greatest untapped resource in today's world is sitting in our classes every day waiting to be prepared for the future."
Teachers of the Year are selected by certified teachers from each of the Coweta County school based on the quality of the candidates' teaching, professional development, teaching philosophies and methods, community involvement and contributions to education. 
As Coweta's Teacher of the Year, Barber will serve as the school system's nominee for 2017 Georgia Teacher of the Year.