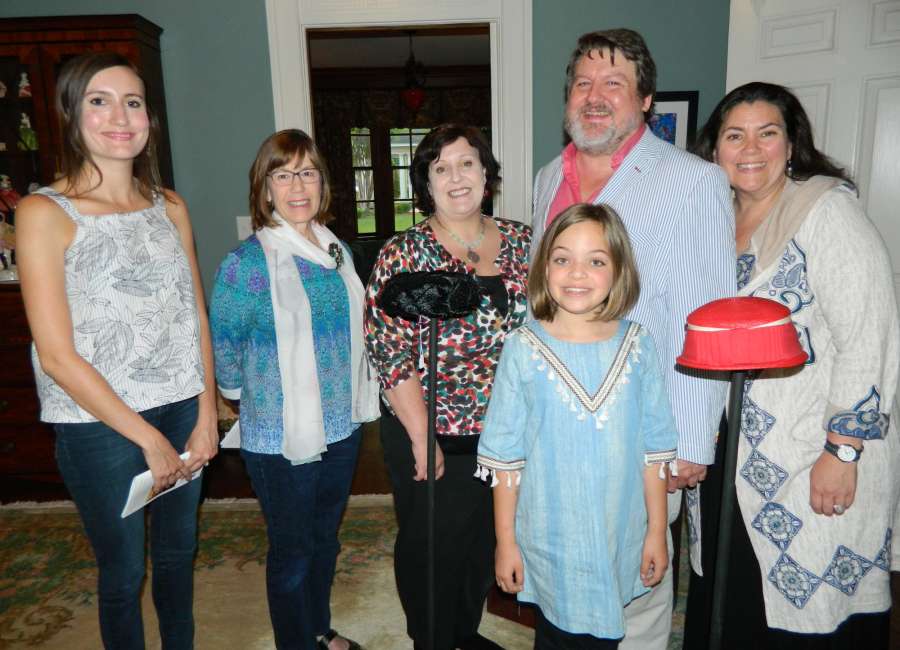 BY MARIANNE THOMASSON
Top this: Lawmaker's lids lauded in lyric.
The Newnan-Coweta Historical Society (NCHS) is celebrating Rep. Lynn Smith's hat collection and National Poetry Month with reading poems and displaying about one-fourth of Smith's collection.
Fittingly, all of the poems were about hats.
Smith has nearly 500 ladies' hats that she has collected from family and friends representing styles from the 1920s onward. A portion of them is on display at the society's McRitchie-Hollis Museum.
To have a little fun during April's poetry month, NCHS officials invited area writers and poets to an evening reception April 27 for readings of the variety of verse throughout the ages about toppers.
Laura Beasley read "The Magic Hat," which she wrote. "When I was good, my mother would say, 'Close your eyes,' and I'd feel its weight. Was it green or blue felt? She'd take my shoulders and we'd spin until she slipped a piece of chocolate under the brim…." She also read "Easter Bonnet," by Marian Carcache, and "I Tie My Hat – I Crease My Shawl," by Emily Dickinson.
Barbara Bishop read "Drat! I Can't Wear Hats," by Karin Gillispie and "Tea Party," by Kristina Bain. "Tea Party" sets the scene with, "And here we are, somehow, on the front lawn of the Governor's Mansion. Hats are required, white gloves also. If you happened to forget your gloves at home, the hostess has provided a lovely, gleaming stack at the side gate entrance…."
Ten-year-old Anna Frances Blackburn presented, "There Once Was a Lady Named Sharon," by Jessica Lentz, "What Is It About Hats That Makes Them Like That?" and "Why Knowing Is (& Matisse's Woman with a Hat)" by Martha Ronk. The poem by Ronk is an exceptionally long, single sentence. A passage of "What Is It About Hats," states, "If the hat is for wealth and the statement it makes, make sure the materials are real and not fakes. The feathers must surely be bright as a flower and the flowers must shine like morning's first hour. If you wear it inside, you are bound to get looks. Unless you are female or read Jewish books…."
"Le Kepi" by Johnny Summerfield, "The List of Hats" by James Tate and "How to Make a Hat" by Melissa Dickson Jackson were read by Dickson Jackson. Part of her poem states, "Hats, one suggests, are merely ideas. Another says they get in the way. One cannot have a hat without acknowledging the absence of a hat. He tips his chapeau knowingly. They all nod."
Bette Hickman's "Black Straw Hat" essay and "Mad Hat History" by Hester L. Furey were read by Artist in Residence Christina Lauren. Hickman said that she rode on the Long Island Rail Road when she was 16 and "my aunt warned me I would not be given a seat by the male commuters. She said the would hide behind their newspapers and ignore the Southern Belle with the big (straw) hat! She was wrong. I was given a seat, and I know it was because of my HAT!"
Jeff Bishop read "The Death of a Hat" by Billy Collins and Scott Wilkerson's  "Chattahoochee Epistemology." Wilkerson's poem of regret says, "Sunday, after church, chastened by slow years, I drive down one last time to the river with fried egg sandwiches in tin foil, a thermos of Smirnoff, and apology letter I spent two weeks writing. The oracle rows across, receives my gifts and drifts back to his camp: exactly five minutes each way. Standing in black mud on the shore, I watch him take communion, bite into the sandwich, sip the vodka, and with my letter, light the kindling for his fire."