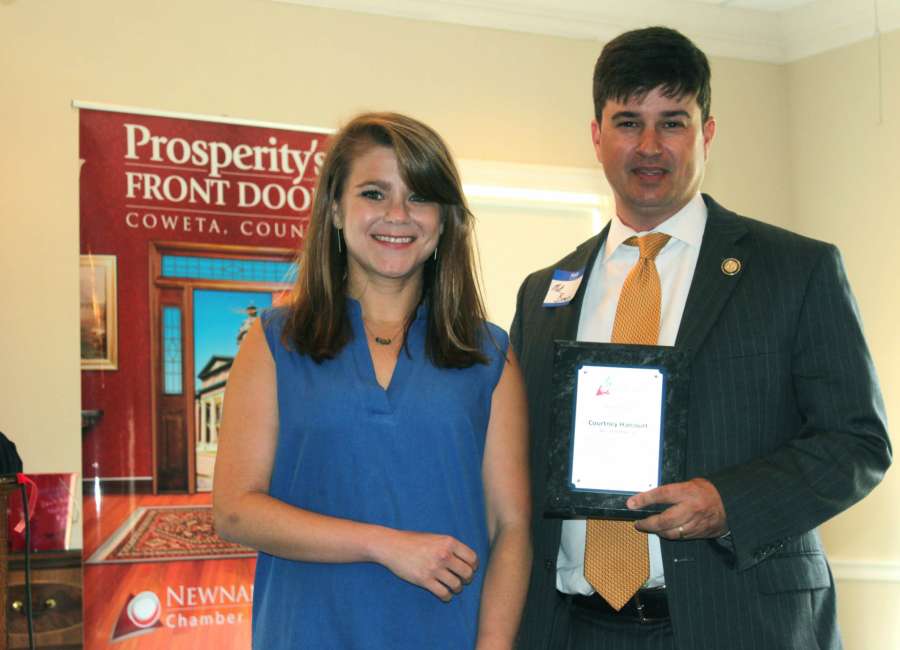 Twenty-one Coweta professionals graduated from Leadership Coweta during a celebration lunch at the Newnan Country Club.

The graduation was held May 18. Sponsored by the Newnan-Coweta Chamber, Leadership Coweta provides existing and emerging leaders with unique opportunities to enhance their civic knowledge of Coweta County and to sharpen their leadership skills and to network with leaders from across the community.
Leadership Coweta graduates include Buck Anderson, Laura Benz, Cristina Bowerman, Patrick Brown, Jamie Brownlow, Dr. Joya Carter Hicks, David Cleveland, Joe Crain III, Amanda Fields, Courtney Harcourt, Earl Hines, Doug Kolbenschlag, Amy Lane, Monica Millians, Ben Norman, Pastor Tangela Reese, Martin Riggs, Dr. Scott Ross, Christine Swanson, Shelby Tidwell and David Watts.
Nine sessions were held between September 2016 and May 2017, and participants worked together to learn more about the community and leadership. They also worked on a group project, the installation of several Little Free Libraries across Coweta County. Little Free Libraries operate on the honor system in that anyone can take a book or leave a book, and all kinds of books are welcome. According to www.littlefreelibrary.org , millions of books are exchanged each year through this network of neighborhood book exchanges. The most common form is a small wooden box, and the boxes hold books for both adults and children.
For more than 20 years, Leadership Coweta has provided participants a better understanding of how the local community works, the opportunity to build relationships with the region's leaders and inspiration to use their talents to serve the community.
Leadership Coweta participants represent a diverse group in terms of race, gender and occupation. Individuals represent areas such as business, social services, government and cultural and educational organizations.
Derek Waugh, president and CEO of the Georgia Sports Hall of Fame in Atlanta, was the guest speaker. Waugh is also a 2016 graduate of Leadership Georgia.
"I hope this class gets involved in alumni programs and becomes more active in the chamber and takes on leadership positions in the chamber," said Sen. Matt Brass, R-Newnan. "Leaders help build this county and this community. They understand the importance of passing this torch along. The leaders we're building today will be our leaders tomorrow."
Brass and Garnet Reynolds, Leadership Coweta co-chair, said the group of classmates bonded from day one and each year, the classes are getting better and better and are creating better leaders.
Martin Riggs, a Leadership Coweta graduate, said it was "great to be around the chamber and the staff."
"I wonder, 'What if I had not been able to participate?'" Riggs said. "My life would be much less fulfilling and not as enriched as it is today."
Riggs and many of the other graduates reminisced about reading "The Energy Bus," by Jon Gordon, which outlines steps to facing life, work and relationships with positivity. The class also zip-lined at Banning Mills in neighboring Whitesburg.
"I've made so many new friends," Riggs said. "These are outstanding individuals who rise up to meet any challenge with a smile. I urge my classmates to continue learning, serving and growing."
Waugh said the 2017 leadership class was "the best leadership class of Coweta of all time," according Candace Boothby, chamber president and CEO.
Waugh said he was always concerned with making a difference and leaving a legacy.
"We all have the ability to change our community," Waugh said.
Waugh encouraged the graduates to never give up, despite what the situation looked like. He referenced a season during his coaching career in which his team had the worst losing streak, but the team changed their routine and ended winning 12 games in a row, despite their horrible start and even after cutting their best player from the team.
"Surround yourself with good people," he said. "People who are positive and who will have your back. If they're not on board, move in the other direction or ask them to."
"'With great power comes great responsibility,' as said by Spiderman. Go out and be special. You were chosen for a reason. I look forward to seeing all of the great things coming through Newnan."