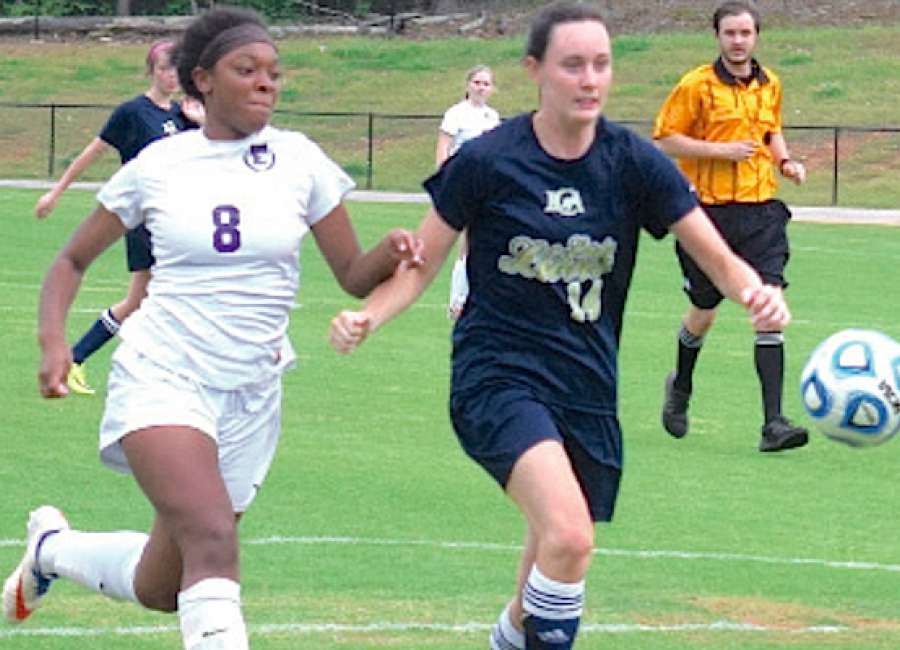 Abby Bragg and Chandler Hendrix scored three goals each to lead the Trinity Christian Lady Lions to a huge 9-1 win over the Loganville Christian Lady Lions Tuesday evening in GISA Region 1-AAA action at Trinity Christian School.
Trinity's Lady Lions won their sixth straight match to improve to 11-1-1 overall and 4-0 in the region.
This battle of Lady Lions was a one-sided affair in favor of homestanding Trinity Christian. Trinity passed the ball very well to each other, finding many holes in LCA's defense. Bragg and Hendrix had their respective hat tricks (three goals scored) in a matter of minutes in the first half and went into halftime leading 6-0.
It was more of the same for Trinity in the second half. The Lady Lions of Sharpsburg scored very quickly, starting with a goal from Caitlin Ledford 22 seconds in the second half to lead 7-0. Five minutes later, Trinity's Cassidy Conrey scored for the 8-0 lead, and one minute after that, Sarah Taylor's rebound goal made the score 9-0.
LCA's Jolie Sewell scored with 1:59 remaining in the contest for the final 9-1 margin.
"When you pass the ball around the pitch, it moves the defense and opens up holes," said Hendrix, a junior. "We did that very well tonight and got another region win."
Bragg said she likes the way the Lady Lions have been playing this season and hopes this continues throughout the playoffs.
"If we keep practicing and working hard, I think we can go pretty far. We made the Elite Eight last season, and I hope we can do even better this year," said Bragg, a junior.