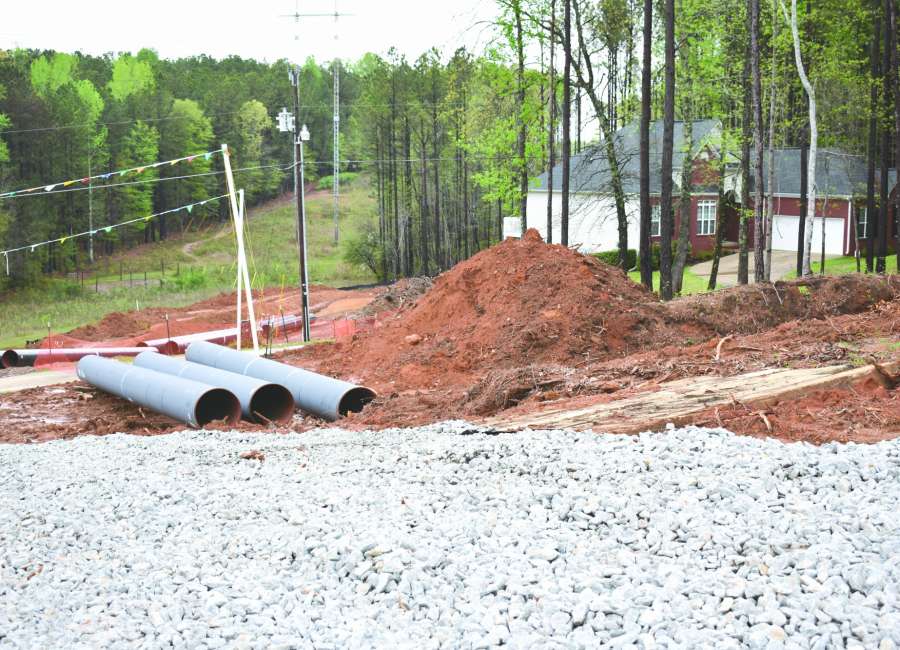 Though it's not a stop-work order, the company building a 115-mile natural-gas pipeline from Coweta County to north Georgia has suspended some construction activities.

"They can no longer dig trenches – that is how it was explained to me by the EPA," said Cowetan Tim Glenn, whose property on Wagers Mill Road has been affected by the pipeline project.
Glenn has been speaking over the phone with both the federal Environmental Protection Agency and the Georgia Environmental Protection Division, and he said representatives from the EPD are coming out next week to inspect the pipeline construction in Coweta.
"They've had so many complaints in Coweta County they're going to probably come down for a couple of days next week," Glenn said Tuesday.
Opponents of the pipeline say the contractor pumped water from recent heavy rains out of the trench and dumped it without permission onto privately owned wetlands, allegedly in violation of state and federal wetlands-protection laws.
A Bartow County newspaper reported over the weekend that a stop-work order had been issued for the entire length of the Dalton Expansion pipeline project as a result. But the reporter who wrote it said Monday the story overstated things.
Christopher Stockton, spokesman for pipeline owner Transco, said in an email Monday that the company had not been mandated by state regulators to stop construction.
"We have voluntarily suspended certain construction activities on our Dalton project as we work diligently with our construction contractors to resolve environmental-compliance issues following a severe weather event which occurred in the project area a week and a half ago," Stockton said.
Kevin Chambers, spokesman for the state environmental agency, confirmed that there is an investigation, but said he couldn't give any details. Chambers said he might be able to provide more information in a few weeks.
"They basically had an agreement that they would not do any more, and the EPA and EPD said, 'You will not do any more until you fix what you have already done,'" Glenn said an EPA representative told him.
Glenn said it's his understanding that Transco can still lay and weld pipe, cover up pipe, and plant grass.
"We're fixing to get into the season where you can't get grass to grow, and they know that," Glenn said.
"We are committed to promptly correcting these issues and completing constructing of this important project in a safe and environmentally responsible manner," Stockton said in the email.
Stockton stated that the project is about 90 percent complete and approximately 70 percent of the right-of-way has been restored. The pipeline is set to be completed this summer.  
Because the pipeline project is permitted through the Federal Energy Regulatory Commission, there is some question about how much say state and local environmental and safety regulators have, according to attorney Harry Camp, who is representing property owners in Coweta and Bartow counties.
"They haven't put up silt fencing or adequate safety fencing," he said last week.
Some of the trenches dug as part of the construction are up to 15 feet deep. Camp said one client has the trenches running through the yard where his children play – with no safety fencing.
Camp said last week that Transco is supposed to abide by some stormwater guidelines, but the company is using compliance monitors it hires.
"They come out and take notes, and nothing gets done," he sad last week. "We did just this week finally get some folks at EPD focused on it."
Glenn said there is some silt fencing along the pipeline construction site that runs through his property was only recently installed.
"I didn't have it until I called FERC, that is when I finally got silt fence put out," he said.
He said the fencing only covers about half his property and isn't adequate, noting the torrential rains on April 5 carried trash into his yard that the fencing was designed to prevent.