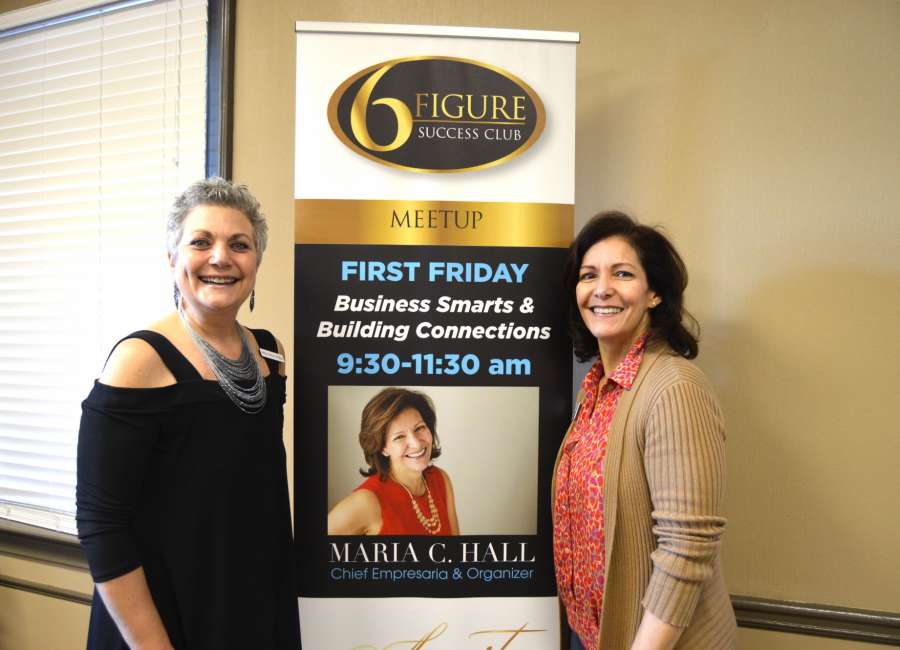 Coweta, Carroll and Fayette professionals say they have been enjoying the "Six Figure Success Club Meetup," a partnership between the Newnan-Coweta Chamber and the Ignite Business Coaching.

"This is definitely a great option for networking," said Sheila Wyatt with Peachtree City Myofascial Release. Wyatt attended the kickoff meeting on March 3 and the most recent meetup on April 7.
Over half of the other attendees were at the April 7 meetup for the first time.
"It's a fantastic educational and personal experience," Wyatt said. "It's like training and learning."
Larry Tucker with Goodwill said the program coincides with his duties with Goodwill. "This is helping me learn to communicate better about what Goodwill does," Tucker said.
The goals of this new program are to showcase, motivate, educate, inspire and support entrepreneurs in Coweta, Fayette and Carroll counties (both chamber members and non-members); to grow chamber membership by increasing visibility with the local and surrounding business community; and to provide an opportunity for Newnan-Coweta Chamber members to be presenters at the monthly "Six Figure Success Club Meetup."
"This meetup will help you learn business smarts while building connections," Maria Hall, owner and chief empresaria (entrepreneur) of Ignite Business Coaching.
"Each month you will get to do a short infomercial about your business," Hall said.
"Business is about building relationships and making those connections. People want to know what you're all about before they decide to do business with you."
Topics for the monthly meetings are expected to include: business planning, pricing and packaging, business bookkeeping, branding and marketing, creating websites/WordPress, writing great copy, time management and productivity, client attraction techniques, networking skills, speaking to sell, presenting skills and social media.
Abby Hersch-Phillips, entrepreneur and consultant, was the speaker for the inaugural meetup and April 7 meetup.
Phillips presented a two-part mini-master series training that highlighted the what, when, where, why, who and how of networking. Phillips emphasized the importance of having a networking strategy in place and learning how to plan and prepare for transformational conversations.
"People do business with who they like," Phillips said. She said it is important to give the person you're talking to your full attention while networking.  
Meetings are held at the chamber office on Bullsboro Drive from 9:30-11:30 a.m. on the first Friday of each month. The monthly meetings will include time for registration and open networking, the welcome and announcements, organized networking, the speaker and/or program, and the upcoming meeting announcement and closing.
"Sweet Steps to Sold" will be presented by Ellie White-Stevens, marketing guru and creative director, Dirt1x.
Stevens will be sharing her secrets for why you need to have a case study for your business and how to get the best one. She will also share a dozen different ways to capitalize on a case study.
For more information, email info@newnancowetachamber.org or call 770-253-2270.