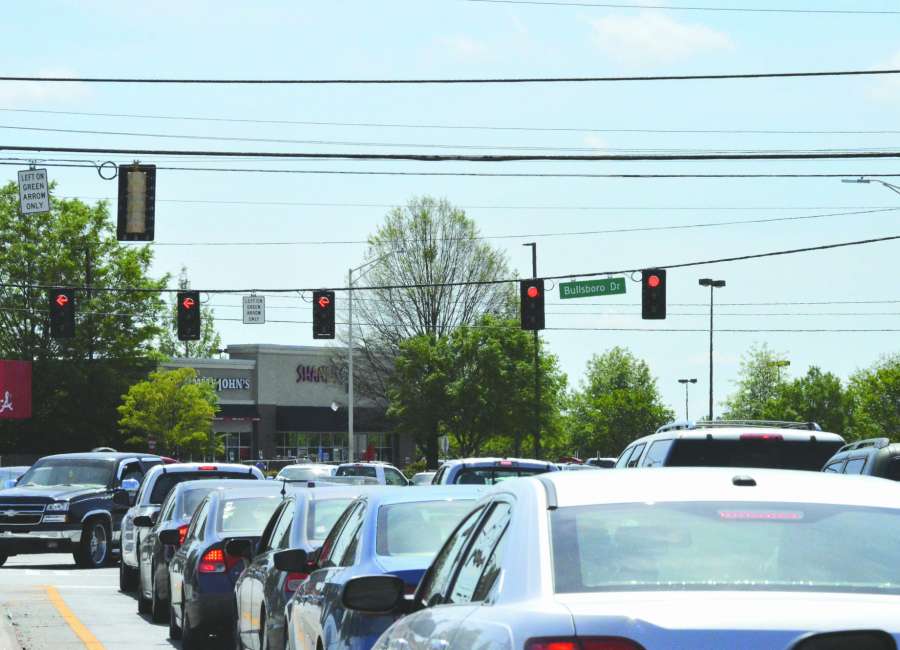 New signal timing for Hwy. 34, Hwy. 154 and the Newnan Bypass was supposed to be put in place Monday. But it wasn't.
Instead, plans are to implement the new timing plans this coming Monday.
The new signal timing plans affect a total of 42 intersections, and getting them all done in one day was a bit too ambitious – especially when the project started in Peachtree City. Because the section of Hwy. 54 in Peachtree City is so congested, fine-tuning that signal timing took a while.
"We've been over here all week trying to stabilize it through this section," said Major Carson, traffic engineer with Arcadis, the contractor doing signal projects for the Georgia Department of Transportation. As of Thursday afternoon, "It's going really well," he said.
New timing was put into place at Hwy. 34 and 54 and Hwy. 34 and Fischer Road, near the Fayette County line, on Monday, Carson said.
But the rest of the work will wait until April 24. The timing upgrade will start after peak morning traffic hours, he said.
Workers from Arcadis will go to the control boxes at each traffic signal and download the new timing program into the signal control box. There will be different timing plans based on the time of day – A.M. peak, mid-day, P.M. peak and night, Carson said. Workers will then observe how traffic flows and work to fine tune the timing plans.
To come up with the timing plans, the consultants put out sensors that take traffic counts to determine peak times. Turn movement counts are put into a modeling program, which determines the "split timing" needed for each traffic signal, according to Carson. The signals along the highway will also be coordinated with each other.
"We'll coordinate to try to get traffic moving through the entire corridor," he said. Priority will be placed on the "heaviest progression" at a certain time of day.
Finding out the new timing plans didn't go into effect Monday was a surprise to a few motorists who observed what seemed to be significant improvements in traffic flow on Bullsboro this week.
Carson said that state crews do routine maintenance and repair on traffic signals, and that could have led to some improvements.
"I can't confirm that anything hasn't changed, but I can confirm that the Arcadis timing team hasn't made any changes," he said.
After the implementation of the new timing on Monday, "We'll be out there the entire week doing the fine-tuning," Carson said. "We will try not to make it any worse than it already is. Hopefully we'll be able to make some significant improvements."