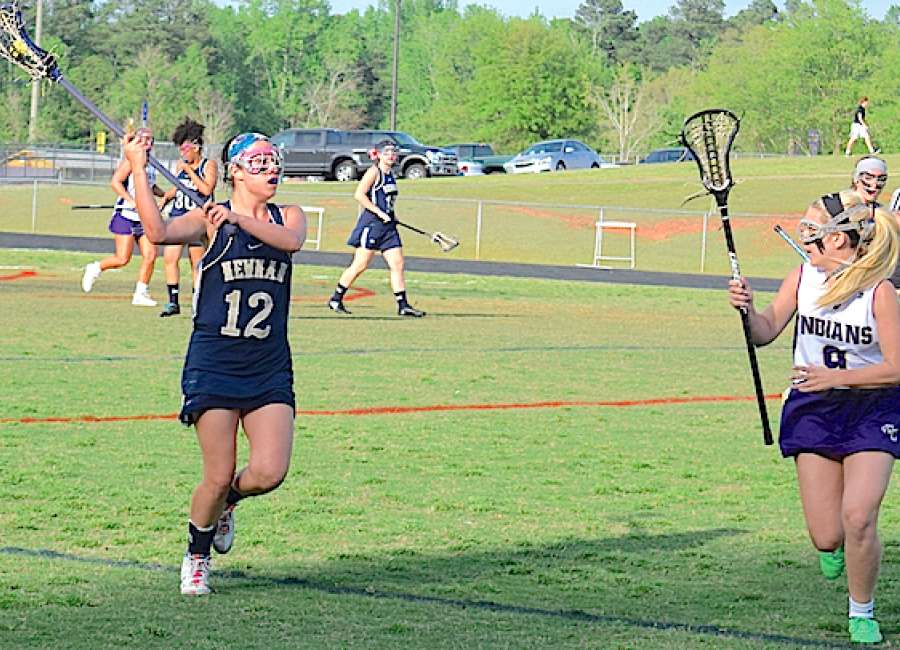 Coweta Cup play began in high school lacrosse Friday with two action-packed contests between county and area rivals Newnan and East Coweta at Garland Shoemake Memorial Stadium.

The Newnan Lady Cougars managed to defeat the EC Lady Indians for the second year in a row while the East Coweta Indians didn't blow a lead this year against their heated rivals.
EC 15, Newnan 10 (boys)
East Coweta got three goals each from Bailey Brogan and Madison Duffessy, and their teammate Jackson Elliot scored a key goal late in the fourth quarter to give the Indians a 15-10 victory over the Newnan Cougars Friday evening in the first stage of the 2017 lacrosse Coweta Cup.
The Indians improved to 7-3 overall while the Cougars dropped to 9-3. EC will host cross-county foe Northgate High at 7:30 p.m. Friday in the second round of the Coweta Cup. Newnan will play Northgate on April 28 at 7:30 p.m.
"This is a rivalry game, and we had to fight hard against Newnan to get the win," said Duffessy, a junior midfielder. "We came together as a family and brought the win on home."
EC's Brogan and Sean Morse scored to give the Indians a quick 2-0 lead, but Newnan's Tristan Daly scored the first of his three goals to cut the lead to 2-1. Brogan's second goal with 3:44 left in the period made the score 3-1 after one period.
EC erupted for six goals in the second quarter, with Duffessy leading the way with two goals in the period. Also denting the scoreboard for EC were Chandler Perkins, Elliot and David Neary. Luther Morgan and Daly scored for Newnan, but the Cougars trailed 9-3 at halftime.
Fireworks ensued in the second half of the match as both teams pushed and shoved each other throughout the third quarter. EC built an 11-4 lead thanks to goals from Perkins and Brogan, sandwiched around the third goal from Newnan's Daly. Clayton Garmany and Daly scored two straight goals for the Cougars to cut the lead to 11-6, but Morse scored off a rebound to give EC the 12-6 lead heading to the fourth quarter.
Newnan upped the pressure in the final stanza. Jack Carroll and Maurice Johnson scored for Newnan to make the score 12-8 with 6:23 left in the fourth. The Cougars stopped EC and looked to cut their deficit even further, but they turned the ball over and EC took advantage. Elliot scored minutes later to make the score 13-8 EC, and Morse scored for the 14-8 lead and end any thoughts of a Cougars comeback.
"When Newnan cut our lead to 12-8, I said to myself that we can't have a repeat of last year when we blew a 4-0 lead and lost to them," Elliot said. "That play we ran where I scored the 13th goal was called 'Purple' and we ran it well. My goal gave us the momentum and propelled us to a big win."
Garmany scored two more goals for Newnan, and Duffessy scored his final goal for EC with 15 seconds left in the match for the final 15-10 margin.
"I told the guys that Newnan always plays us hard, and my guys didn't stop working tonight. I'm proud of how we played from start to finish," said EC head coach Nick Crider. "It was a great team win."
Newnan 14, EC 11 (girls)
Kandace Benefield scored four goals and Amya Woods and Mallory Williams scored three each to help the Newnan Lady Cougars defeat the East Coweta Lady Indians 14-11 in the earlier Coweta Cup lacrosse match Friday evening at ECHS.
Newnan girls improved to 10-3 overall while EC fell to 3-9. EC will host Northgate at 5:30 p.m. Friday in the second round of the Coweta Cup, while Newnan will play Northgate on April 28 at 5:30 p.m. in final-round Cup action.
Benefield and Williams scored two goals each in the first half to pace Newnan to an 8-5 lead at halftime. Also scoring for Newnan in the half were Woods, Sarah Dougherty, Jordan Bunn and Savannah Cochran.
Emily Watson scored two first-half goals with an assist for EC, followed by goals from Jessi Atkins, Adelyn Ryan and Caitlyn Moore.
The action heated up in the second half. Woods and Scarlet Webb scored two quick goals to push Newnan's lead to 10-5 before Watson's third goal of the match made it 10-6. The Lady Cougars then went on a 4-0 run to lead 14-6, and it looked like Newnan was headed to a blowout victory.
EC, however, didn't give up. The Lady Indians scored five straight goals as Newnan inexplicably faltered on defense. Watson's fourth goal of the match started the rally with 7:58 left in the half, followed by goals from Alex Serna, Maura Ann Ray, Atkins and Ryan to make it 14-11 with 1:30 left in regulation.
Unfortunately for the EC girls, Newnan finally got possession and time ran out on them.
"It feels good to get the win over EC. This is the best we've played as a team all year," Williams said.
"I could've played better, but I'm glad we were able to get the win," said Benefield. "We have room for improvement, that's for sure."
Newnan head coach Robert Skinner believed his team played well, despite the lack of defense late.
"We played strong in the first half and early in the second half, but we had some consistency issues and defensive mistakes late and we have to clean those up," he said. "If we do that, we can make a state playoff run."