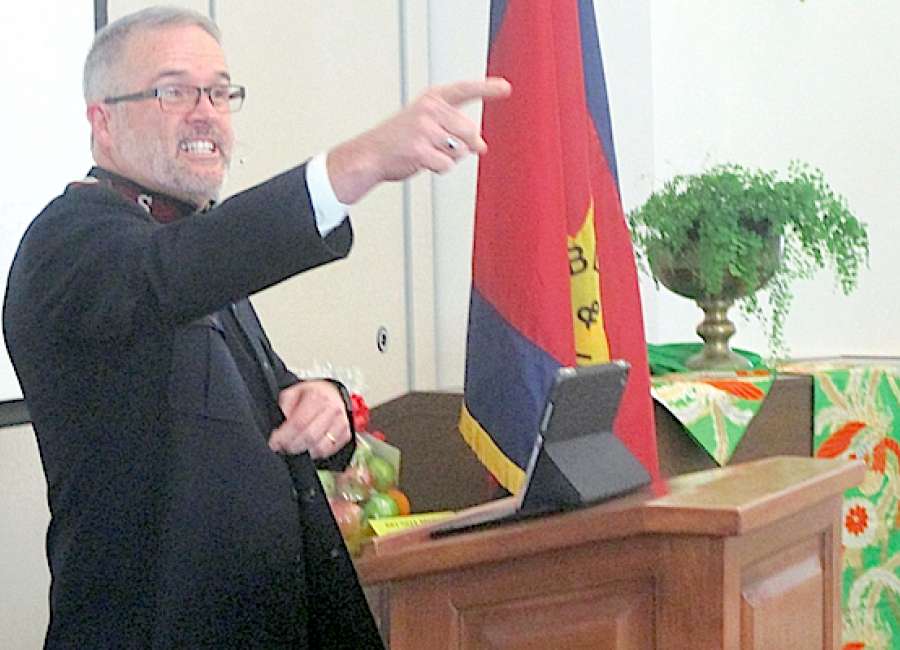 Major Rick Raymer told local Salvation Army supporters that they are doing great work.
Raymer, a fourth-generation Salvationist, was the keynote speaker for the Salvation Army's Newnan Service Center annual banquet on March 17 at Wesley Woods of Newnan-Peachtree City. "You here have joined with us," said Raymer, a native of Tampa who has served with the Salvation Army in Arkansas, Oklahoma, Texas, the Carolinas and Georgia.
"You have made a difference in Newnan," he told the group of about 90. "You really have made a difference for now and for eternity."
Raymer ticked off the statistics for the local service center during the past year – boxes of food for more than 400 families, 100-plus families helped with rent or utilities and 64 families/140 children helped through the Angel Tree ministry at Christmas.
"You gave them at least 1,500 articles of clothing for free," Raymer said.
"It's all because of people like you," Raymer said. "There's nothing like it.…  These are your neighbors. They live in your community, and you made a difference in their lives."
Raymer and his wife, Brenda, who attended the banquet, were commissioned as Salvation Army officers 1985. Raymer began his remarks by putting on a historic Salvation Army tunic.
"This tunic belonged to my grandfather, who I love and who had probably the most profound effect on my life. He was a man of holiness. I give God the glory for his impact on my life," Raymer said.
Reflecting on his upbringing, Raymer said, "It's a great heritage, and it's filled with the love of God."
He recalled the origins of the Salvation Army reaching out to the homeless. It began with a conversation between the ministry's founder, William Booth, and his son, Branwell, who saw men gathered around a barrel to keep warm under London Bridge.
That conversation has grown to a ministry in 128 countries.
He also recalled how the Booths adapted the tunes of drinking songs, using them to create songs of praise to God. "The men headed to the bars would hear the music and would come into William Booth's church. Many of them never touched another drop of alcohol," Raymer said.
He said the Salvation Army's approach – ministering to the mind, body and soul – changes lives.
"The goal is to get men and women back on their feet and reintegrated into society. At the Salvation Army, we really believe in restoration, in redemption and in salvation. Salvation only works through the person of a savior," Raymer said.
When a person going through a bad time encounters Jesus, He "can set their compass heading in a whole new direction," Raymer said.
He talked about what that spiritual process means in Coweta County.
"Because of all that you do, we were able to transform lives together in the name of our risen Lord," Raymer said. "We want to direct them to the hope of the world."