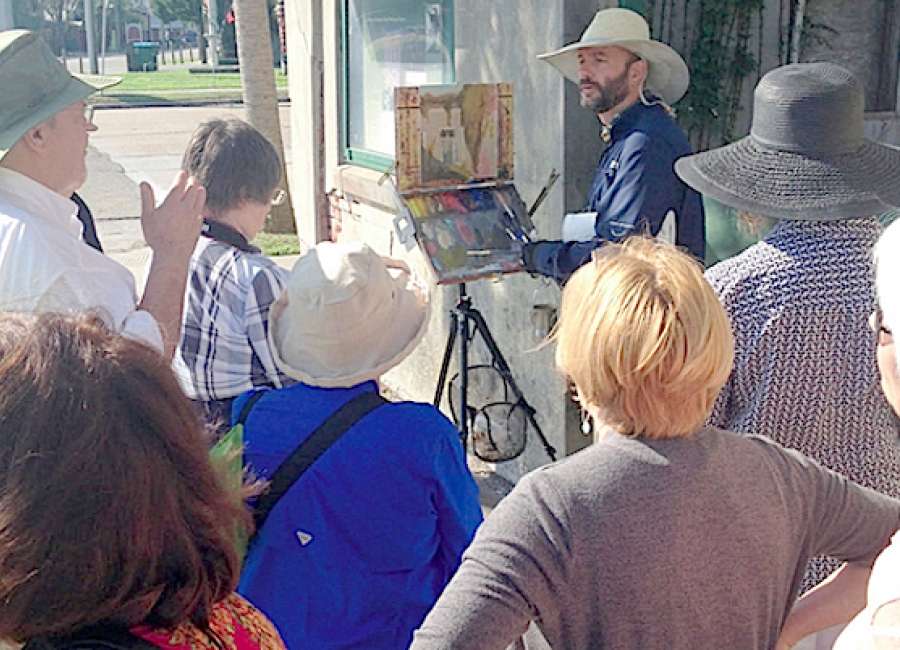 Plein air painting, according to Artist Daily, an online community geared toward fine artists across the nation, is about leaving the four walls of a studio behind to experience painting and drawing in the landscape itself.

Newnan boasts its own small community of plein air painters including David Boyd Jr., a Coweta native who explained that he uses the technique to be "in the moment" when painting.
"I use my plein air work as a way to 'capture a feeling,'" Boyd states in a bio included on the artist's personal website, www.davidboydjr.com. "I use my camera to record a moment. Back in my studio, I like to combine these to create large-scale paintings of those things I wish I could keep forever."
Boyd, along with a few additional local artists, will come together to enjoy and demonstrate plein air painting later this month. The event, Open Air Meriwether, is open to the general public, and will allow observers to watch plein air painters in action as they set up their equipment and paint in an open, outdoor environment.
"A major advantage of painting outdoors is that it eliminates daily distractions and engages the senses," Boyd said.
The painting event will take place April 28 and 29 in three Meriwether County cities. Artists will choose from a list of sites posted on the Meriwether Tourism Facebook page in the cities of Greenville, Gay and Woodbury.
"Up to 30 different artists will be out painting," Boyd said. "Newnan's Tiffany Thomas will join us, as well as Society of Seven members Brenda Sumpter, Sue Christman and possibly Martin Pate and Dana Johnson."
The event will end with a reception, according to Boyd, which is scheduled to begin at 2 p.m. April 30 at Artisans on the Square. The venue is located in the recently renovated historic Hill Brothers Corner, on the court square in Greenville. During the reception, the public will have the opportunity to view the works and even purchase the freshly painted plein air landscapes.
Spectators of all ages and artists interested in observing the art of plein air painting are welcome to visit April 28 or 29, from 8 a.m.-5 p.m. Visitors will be able to meet and greet plein air artists and purchase paintings April 30 from 2-5 p.m.
In addition to participating in several community art events, Boyd offers workshops in a variety of painting techniques at The Studio School at Three Hearts Farm. Plein air courses taught by Boyd are listed online at www.davidboydjr.com/workshops