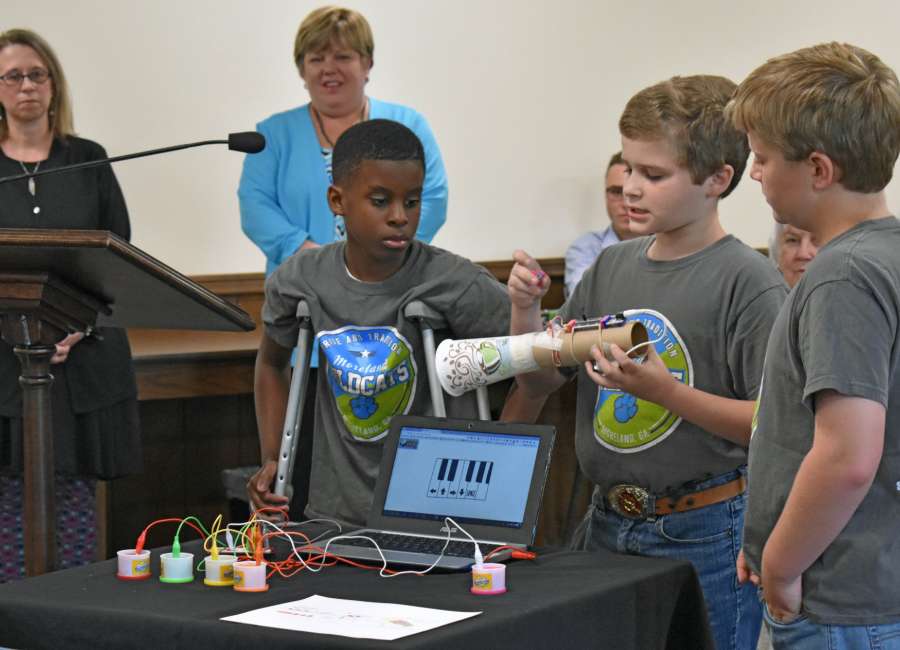 With a boost from a Bright Ideas grant, Moreland Elementary School media specialist Jo Nase helped students at her school create a piano out of Play-Doh.

Fifth-graders Jack Olvey, Warren Moore and Justin Davenport demonstrated what they learned during their unit on electricity and magnetism at the April meeting of the Coweta County Board of Education, bringing up board members Sue Brown and Amy Dees to test out the musical manipulative.
In Moreland's presentation, the students were charged with understanding more about the process of scientific inquiry as they investigated electricity, magnetism and the relationship between the two. They created different circuits using a variety of components to determine whether they conducted electricity.
Students put their knowledge to the test by actually putting a circuit together. With humans and Play-Doh – a conductor of electricity – they created a musical instrument.
The lesson took some special equipment not typically provided in schools. Nase applied for and received a Coweta-Fayette EMC Bright Ideas grant in October, which allowed her to purchase specialized equipment and software to successfully launch and complete the lesson.
Students attached alligator clips to a circuit board and connected the board to their school system-provided Chromebooks via USB. After inserting one end of alligator clips into Play-Doh, students learned they could hold the other end and tap on the conductive substance to create a musical note. They used the same procedure to create bongos.
Using littleBits kits, students also built circuits and used a battery and wire as a power source. It required the students to find correct pieces of circuitry and the correct direction of the current, as well as to make sure they were using a conductive material.
Moreland Elementary School's presentation was part of a series of demonstrations called Our Core Values. At each meeting of the Coweta County Board of Education, students from schools around the county present some of the new skills they have learned.
Principals and teachers prepare a lesson overview and allow the students to explain, giving those attending the meetings an insight into the learning opportunities educators are creating for Coweta students.