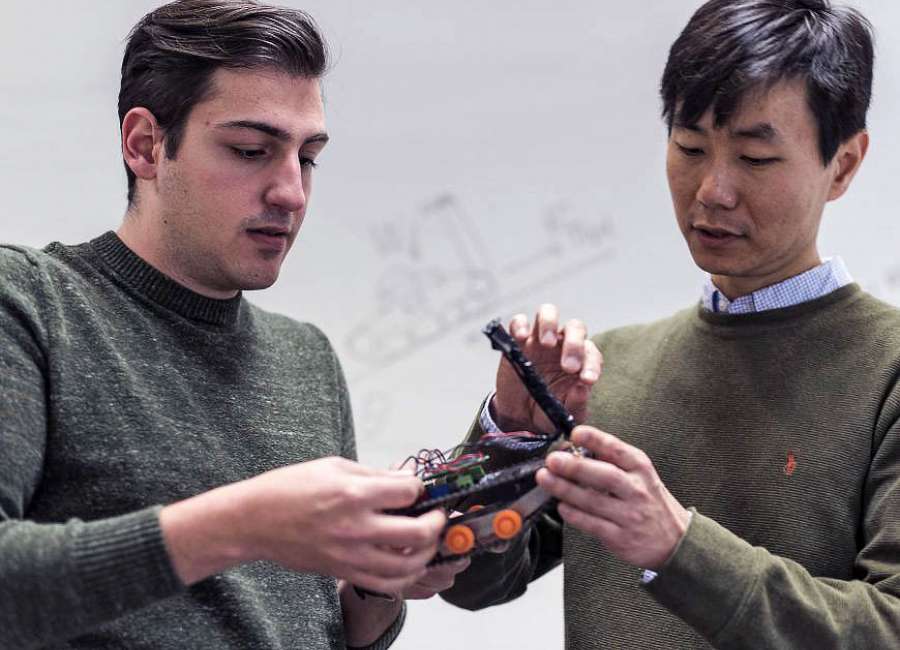 Photo by Bill Roa
Georgia State University Perimeter College student Savas Mavridis, left, is coached by engineering professor Dr. Dongiin Kim for a rover presentation leading up to the NASA program.
Savas Mavridis of Sharpsburg, a student at Georgia State University's Perimeter College, is one of 348 community college students from across the nation selected for the NASA Community College Aerospace Scholars (NCAS) program.

The program included six weeks of online coursework, after which Mavridis learned he is among the one-third of online scholars selected for an on-site NASA visit.
"The highest scoring students in the online portion are invited to attend a four-day workshop at a NASA center," said NCAS's Christian Fleming, an instructional assistant who mentored Mavridis during the online program. "In fact, Savas was one of the few students in the program to end up getting a perfect score."
Mavridis' on-site workshop is scheduled for April 10-13 at the John C. Stennis Space Center in Mississippi. While there, he and other students will work in teams to design a rover, guided by a NASA scientist/engineer who also will serve as a mentor to them.
"Students meet NASA employees and have the opportunity to have a rare glance at some of the projects and facilities at the center," Fleming said.
Mavridis is studying engineering at Perimeter College and hopes someday to build robots for outer space exploration.
"NASA is my inspiration," he said.