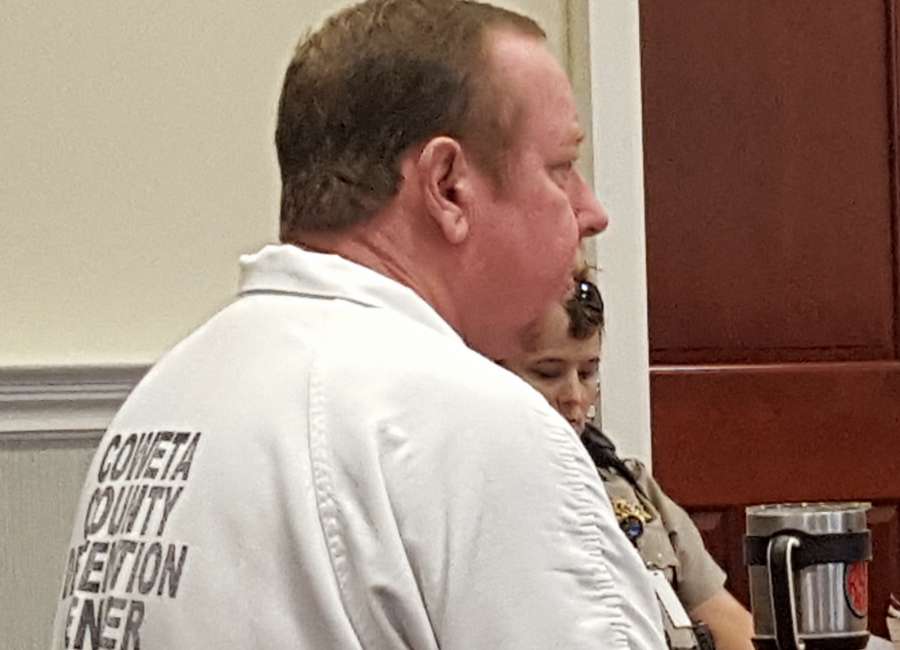 A man accused of fleeing after striking a bicyclist with a car made his first court appearance on Friday afternoon.

Robert Copeland Bishop, 51, was denied bond by Coweta Magistrate Court Judge Jim Stripling. Bishop is currently charged with aggravated assault, felony hit-and-run, failure to report an accident and failure to keep a safe distance while passing.
Authorities said Bishop allegedly struck a cyclist with his car on the evening of March 28. Witnesses reported the driver of red Honda Fit intentionally drove toward cyclist Tony Miles, striking him with the passenger's side mirror, which sent Miles falling to the ground.
Miles was transported to an Atlanta hospital following the wreck, but did not suffer any major injuries. He appeared in court Friday to testify what happened on the evening of the 28th.
"I'm still in pain, but feel a little better every day," Miles told the court.
After Bishop allegedly struck Miles with the side mirror of his car, Miles fell directly onto the road while his bicycle was sent off the side of the road. Miles said he suffered from a variety of abrasions, contusions and back pain.
Corporal Chris McEntyre with the Georgia State Patrol testified that a side view mirror found at the scene of the wreck matched the car belonging to Bishop.
Bishop's attorney, Scott Cummins, argued against the charge of aggravated assault, citing that even though Miles was struck by the car, he was not anticipating injury as stated in the definition of that charge in the Georgia statute.
At the time of the wreck, Bishop was on parole after being convicted of malice murder in 1987. Despite the violation of parole, Cummins asked the court to set a reasonable bond based on his cooperation.
"He knew what he was facing, but Mr. Bishop chose to turn himself in and accept responsibility," Cummins said. "If the issue with parole is resolved, this case may be heading to trial and it would greatly assist me if he was out."
Ultimately, Judge Stripling upheld the charge of aggravated assault and denied bond to Bishop, citing Bishop's prior conviction of a violent felony.
"Today was a very interesting hearing, with the victim and eyewitness testifying to some new and mitigating details of the incident that should be important during future consideration of the case," Cummins said.
"Mr. Bishop maintains that he did not intentionally strike the bicycle, but he greatly regrets that the accident happened and hopes Mr. Miles is doing okay."
****
Clay Neely: clay@newnan.com, @clayneely