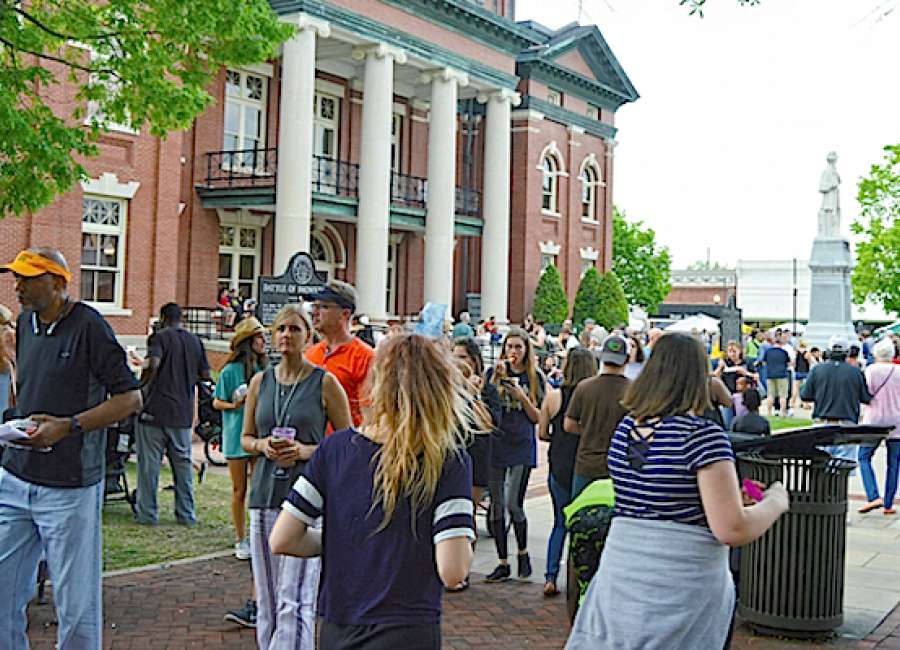 Coweta County residents and friends gathered in downtown Newnan Thursday evening for one of the city's most popular events — the Taste of Newnan.
With warm weather and thousands in attendance throughout the evening, the local community came together to not only show off the city's talented chefs and dining gems, but to enjoy the camaraderie and pride often found only in small-town living.
"The Taste of Newnan is our largest downtown event and a community favorite," said Main Street Manager Courtney Harcourt.
Though the event takes place in both spring and fall, the warmer weather seems to draw a larger crowd and encourages lingering. And with food options like burgers, pizza, frozen drinks, candies and ice cream, who wouldn't want to hang out awhile?
"It's just fun," offered Olivia Brown, a local teenager. "A lot of my friends from school are here, too."
Children of all ages played freely on the courthouse lawns, while adults looked on, plates of local fare in hand.
On the corner near the historic downtown Carnegie Library, a large stage held musicians who entertained Newnan crowds with live music, and nearby, a large trampoline and other county fair-type games were available for kids.
According to Harcourt, the event was expected to bring in nearly 7,000 visitors, and allows eateries the largest marketing opportunity available in the community annually.  
The fun continues downtown throughout spring and summer with several events hosted by Main Street Newnan. Screen on the Square will begin May 5, where a family-friendly film will be featured free to the public beginning at 8 p.m. on the South Court Square.
Main Street Newnan also offers a monthly Market Day, which is free and open to the public, on the first Saturday of each month from 10 a.m.-2 p.m. The next Market Day will be held May 6 where a showcase of local handmade and homemade products will be available for purchase including produce, fine arts, crafts, children's clothing, blankets, baskets, pottery and floral designs.
For more information on Main Street Newnan and to view upcoming events, visit the local program online at www.mainstreetnewnan.com