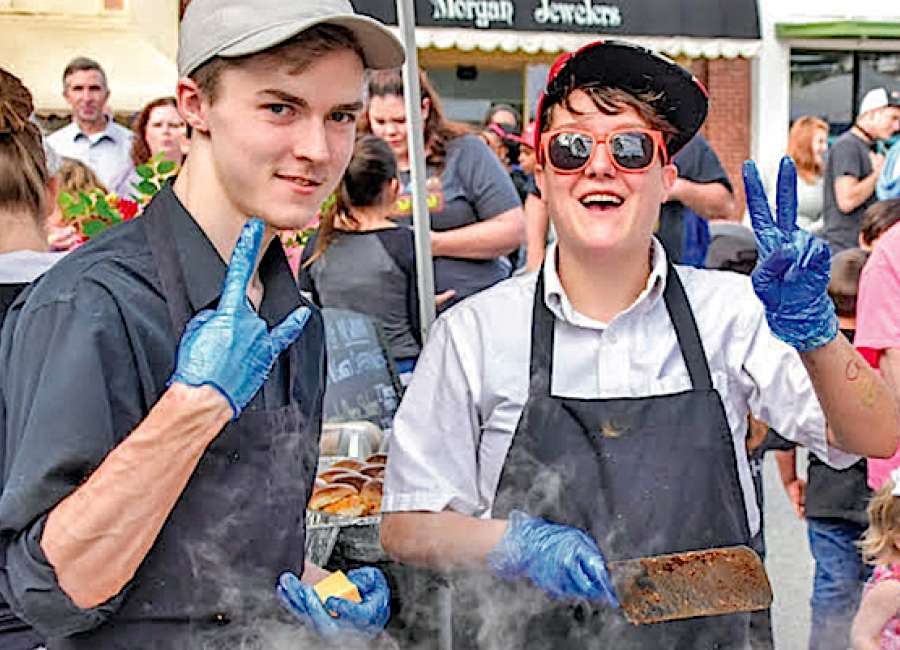 The county has played host to several recent events, from womanless beauty pageants to outdoor markets, live artist demonstrations and talented up-and-coming musicians playing right on the court square in Newnan. But for Coweta, the best is yet to come.

Spring isn't official in Newnan until dinner is served — downtown on the square.  
The Taste of Newnan will be held April 20 from 5 to 8:30 p.m. and will feature sample menus from restaurants and caterers across Coweta. More than 7,000 community members are expected to taste dishes — and desserts — throughout the evening from more than 40 local vendors. 
"The Taste of Newnan is our largest downtown event and a community favorite," said Main Street Manager Courtney Harcourt. "We have over 30 commitments from local Newnan and Coweta restaurants and an assortment of entertainment [for the evening]. Visitors can expect to taste speciality dishes from a variety of new vendors."
Taste requires no admission charge and food "purchases" are made with tickets. Each vendor will offer sample options for the cost of 1 to 3 tickets. Tickets are $1 each and can be purchased at any one of several booths located around the downtown square. Tickets can also be obtained ahead of time at several designated locations surrounding the courthouse until 12 p.m. on the day of the event. C.S. Toggery, Ace Beer Growlers, Dragonfly Running Co., Let Them Eat Toffee, Gillyweed, and Wildwood Trader will be among the local shops selling tickets. 
The community is invited to get up close and personal with a few up-and-coming musicians April 15 during Newnan Unplugged. 
Vinylyte Records, located at 28 South Court Square, will once again offer locals a small, intimate concert featuring the band American Express, singer/ songwriter Hunter Callahan, and the trio of Tyler Wallace, Gabe Neal and Daniel Toole.
Acoustic performances from talented county residents will begin at 7 p.m. and the event is free and open to the public.   
Hosted by the Newnan Coweta Historical Society, the Shakespeare Smackdown is a celebration of the 401st anniversary of the death of William Shakespeare. During this performance event, Newnan's Historic Train Depot will become an arena in which individuals and teams will compete by acting out acts and scenes from famous plays, equipped with props and even costumes. 
The rowdy, but artistic debate is both a participatory and a spectator sport. Fees for smackdown participants are $10 per individual and $25 for teams to be paid at the event. Those hoping to simply observe will pay $5 at the door, and members of the Newnan-Coweta historical society can enter at no cost. Competitors should register online at  http://goo.gl/forms/8N66OCs2WD 
For more information about the upcoming Shakespeare Smackdown, contact the historical society at 770-251-0207.
The Newnan Cultural Arts Commission offers several community events throughout the year, each meant to inspire creativity and culture in Coweta. Next up from the council is an evening of country music from Newnan's own Brian Wright. On April 15, beginning at 7:30 p.m., Big City Brian Wright will bring the "traditional sounds of country music" to the Wadsworth Auditorium at 25 Jefferson Street in Newnan. 
"I refuse to use an idea or rhyme because it fits or sounds cool," explained Wright in a recent release. "But, what I do is real. Reality is not always perfect."
Wright was inspired by classic country heroes like Merle Haggard, Waylon Jennings and George Jones, and plans to share his personal brand of "real" country tunes with Newnan. 
The Leonard Washington Trio will open for Wright. Comprised of lead singer and guitarist Blake Bryant, bassist David Van Drew and drummer Kirk Holt, the bluesy-rock band will start the evening off in a group formed by locals musicians.
Doors open at 6:30 p.m. and remaining tickets will be available to the door starting at $20 for general admission. Tickets for the Wadsworth event are also available at Let Them Eat Toffee, Coweta County Convention and Visitors Bureau, Matrix Insurance, Regions Bank, and Branch & Vine in Newnan, and online at www.brownpapertickets.com 
Art is up for debate in Newnan on April 18 as part of the Other Night School's Spring 2017 featured events. Held at the University of West Georgia Newnan campus, the spring series includes six evenings of discussion open to the public on topics such as music, philosophy, an art. 
At 6 p.m. on April 18, art and politics will be on the table for discussion with Dr. Nathan Rees in the Main Lecture Hall. The focus will be on the revolutionary era of the Enlightenment and will include a discussion about the impact of politics on art. Discover how even the most acclaimed works of art could serve as propaganda. 
Coweta's community leaders and businessmen and women are polishing their dancing shoes for another performance benefitting Community Welcome House, the only local domestic violence shelter for adults and children. 
Coweta's Dancing Stars returns to the Donald W. Nixon Centre for the Performing and Visual Arts in Newnan on April 20. The event, inspired by the ABC hit show "Dancing with the Stars," will return to bring local leaders, entrepreneurs, and outstanding community members together with professional dancers to compete in a "dance-off."
The evening will begin at 7 p.m. at the Nixon Centre, located at 1523 Lower Fayetteville Road in Newnan, and tickets for the event are available now online at www.communitywelcomehouse.org/... and at www.thenixoncentre.net 
A total of 11 community representatives have already been paired with dancers from county dance companies and voting is already underway. Visit the Community House website (listed above) to show support for your favorite star/instructor team. Votes are $1 each, and are unlimited.
The 2017 dancing combos are as follows: Ginger Queener of Coweta Community Foundation will dance with Kyle Kahn of Kyle Kahn studios, Jenny Fritz of Wells Fargo will partner with Mark Fritz of Charter Bank, sponsored by Star Dance Studio, Jeremiah Bame of Piedmont Newnan will join Jackie Terrail of 85 South, sponsored by Sharpsburg Dance Academy, Jimmy Ellison of Newnan City Church with dance with Abba Howard of Sharpsburg Dance Academy, Joy Barnes of Berkshire Hathaway will partner with Tuan Trong of Newnan Chiropractic, sponsored by Star Dance Studio, Kalea James of Fidelity Bank will join Patrick Meadows of Warrior Restoration, sponsored by Star Dance Studio, Lori Duncan of Blue Fern will dance with Brandon Tutman of Restoration Hardware, sponsored by Southern Arc Dance, Marvin Owens of the Cancer Treatment Centers of America will join Kim Melhouse of Tiernan & Patrylo, sponsored by Kye Kahn Studios, Scott Tolar of Newnan Utilities will partner with Jenny Rice of Georgia Power, sponsored by Star Dance Studio, Sue L. Brown of Coweta County School Board will join Gary DeGeorge Jr. of Atlanta Range and Ordnance, sponsored by Southern Arc Dance, and Trey Thompson of Lee Goodrum Pharmacy will join Monica Millians of the Southern Credit Union, sponsored by Sharpsburg Dance Academy.
Tickets are also available (cash only) at Piedmont Newnan Fitness Center, located at 26 West Court Square in Newnan. For more information regarding this event, contact Judi Alvey at 770-559-2381 or Samantha Brazie at 770-820-5559.
The month of May will bring a few additional opportunities to enjoy spring in Coweta with both indoor and outdoor events. 
A young volunteer for Lights for Linda, a local nonprofit benefitting the Leukemia & Lymphoma Society, will offer lemonade, cookies and bargains at an upcoming yard sale fundraiser. Fifth-grade entrepreneur Caroline Hawes will greet shoppers beginning at 8 a.m. during the SummerGrove Garage Sale on May 6. The sale will be located at 7 Beacon Crest. For more information on this and other, upcoming events, visit www.lightforlinda.info 
The American Cancer Society Relay for Life event returns to the county on May 12 at the Coweta County Fairgrounds. Cancer survivors, caregivers, volunteers and community members are invited to come together to raise awareness and money to free the world from the pain and suffering caused by cancer. Funds raised help the American Cancer Society provide free information and support for those facing cancer today and to fund research to protect future generations. The relay will be held at 275 Pine Road in Newnan beginning at 6 p.m. For more information and to register, contact Calle Wallace at 404-329-5730.