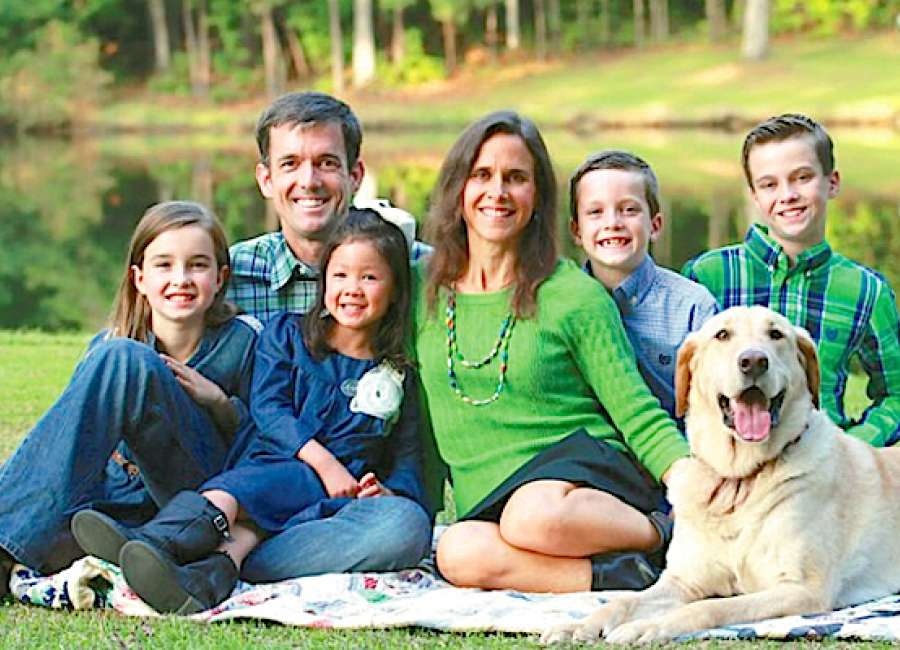 Kelly and Jason Preston organized Newnan's first charity run to help fund adoptions for local families in 2013, one year after adopting their fourth child, Jenna, from China. Now, five years later, the Prestons have helped several families in Coweta County to bring home infants and children both domestically (locally) and internationally.  

The first RACE for the Orphans was held April 2013, and though the run wielded little overall profit, Kelly Preston said she was overwhelmed by local support for the organization.
"We knew from that moment, that this was our family ministry," Preston said. "It was so overwhelming to see the community come together and to have such excitement about bringing our little girl home."
Preston recalled that it was in the midst of planning the first event that she came up with what would later become an acronym for RACE.
"I'll never forget sitting outside with my children on the morning before the first run and talking about the ministry and the event," Preston said. "It was then that we thought of what RACE could stand for. Raising Awareness, Compassion and Education for orphans.
For the Prestons, the process of adopting Jenna took a total of 17 months, a length of time surprisingly common when adopting a child from China. Preston said international adoption is an amazing experience, but one that takes time and money.
"I have found though that people want to help," Preston said. "There is a way. If you don't ask, you may be denying not only yourself a blessing, but denying those that are called to help with an even bigger blessing."
RACE for the Orphans has helped six families with both expenses and community support during the adoption process. The children who have been placed in loving homes in Coweta with the help of the RACE community include those from China, Ethiopia, and the U.S. Though some of the local families no longer live in the county, a few have offered updates on their lives and the lives of their adopted children.
2014 RACE grant recipients:
The Ausbuns
The Ausbuns journey to adoption began after losing the second of twins in their third pregnancy. Though the remaining child was born healthy, the family felt called to adopt. The Ausbuns were grant recipients in the 2014 RACE for the Orphans and began the process of adopting a daughter from China.  
"In 2014 our family was waiting to bring our daughter Esther home. She waited for us in an orphanage in China and was unable to walk or stand without assistance. Since her surgeries were not considered medically necessary, she was left with two displaced hips and both feet were clubbed, meaning she could only stand on her ankles. The RACE assisted us financially, as the adoption process can be extremely costly. Finances were the only barrier in our way to bring our daughter home. The RACE was such a blessing to our family, as it sped up our adoption process and allowed us to bring Esther home more quickly so that she was no longer left on her own, but belonged to our family."
The Karschners
"We started our adoption journey in March of 2013. We felt called to adoption and had tried for a few years to have biological children, without success. I am a nurse and my husband Drew was a youth pastor at Crossroads Church in Newnan GA. In December of 2013 all of our paperwork was safely in Ethiopia. Two weeks later, we found out we were pregnant with our daughter. We were selected as grant recipients for RACE for the Orphans in the spring of 2014. We happily ran the 5K, very slowly, as I was quite pregnant! Drew and I remained on the waiting list in Ethiopia for almost 2 years."
Kelly and Drew Karschner were unable to adopt due to troubling news in Ethiopia. The couple recently transferred their adoption process to seek a child from China, and the family is expecting their second biological child.  
2015 RACE grant recipients:
The 2015 RACE event raised nearly $19,000 and was used to assist Wade and Brooke Williams from Fayetteville in a domestic adoption. The couple was able to bring home a daughter from Florida. In addition, a grant was awarded to Mark and Tiffany Jordan who were awaiting the arrival of Mia from China.
The Williams
A RACE grant awarded to Wade and Brooke Williams allowed the Newnan couple to adopt a baby girl from the U.S. after 13 years of marriage and continuing struggles with infertility. The couple adopted daughter Olive in 2015.
The Jordans
"Since returning from China, Mia required several hospitalizations and a surgery to provide some lifesaving medical care, but she is healthy and well today."
The Jordan family now lives in Cartersville, where Mark serves as pastor for the Church at The Well.
"Since moving, Mia began attending a full-day state preschool program, and is receiving special instruction to help with her assimilation and to learn English. She is a little light in the classroom and easily makes friends and keeps her teachers on their toes."
The Deavers
The Deavers family has multiple adopted children and though the family had learned of a boy with needs very similar to that of their first adopted son, they didn't feel the family was financially able to care for another child — then the couple received a RACE grant in 2016 and brought their son home.
"In 2013, after only being home for one year with a dual adoption of two older children, we were sent the file of a little boy with special needs similar to our son Mei. Mei was our first adoption in 2010. We were asked to advocate for this baby since we knew his needs well. We spent two years trying to find a family for this little guy and watched numerous families start the process but not complete it. We were overwhelmed with the needs of our seven children and financially spent after three adoptions in a short period of time. In 2015, after sharing this baby's file for what seemed like the 100th time, we knew we were supposed to bring this child home. Race for the Orphans stepped in for our family at the absolute perfect time. We had spent months running the adoption marathon but Race for the Orphans literally helped us make it through the finish line without the anxiety of how we would finalize the adoption or afford all the needs an 8th child would present. We are so incredibly thankful for this organization and eternally grateful for their generosity to our family.  We could have missed this, the joy this child brings to our family, but thanks to Race for the Orphans, we didn't have to, our adoption was fully funded."
The Moody Family
As one of the 2016 RACE grant recipients, the Moody family was able to complete the adoption of a son from China who has special needs similar to that of the couple's third, biological son, Jude.
"Our family was excited to travel to China in November of 2016 to bring our son Maddox Charles Moody, or Max, home. Our time in our son's home country was a beautiful experience of bonding and enjoying his native culture. Since arriving home, Max has continued to bond extremely well and truly feels as if he has always been a part of our family. We have already been able to introduce Max to many of our favorite family activities including a UGA football game, hiking, camping, and the beach.
Max was born with Down Syndrome, like our other son Jude, who is just 3 months older. Max and Jude get along so well. They love to play with their kitchen set, dance to music, and imitate each other. Our older two children, Mikayla and MT, were able to travel to China with us and are incredible siblings to the younger two. They love to take them for walks, read to them, and teach them new tricks.
Our family is so thankful for Kelly and Jason Preston and their organization Race for the Orphans who played such a pivotal role in helping to finance our adoption. Their support did not stop there, however, they have continually checked in on us, prayed for us, and we were thrilled to see them at the airport when we flew home from China."
The 2017 RACE for the Orphans will be held May 6 at the Coweta County Fairgrounds beginning with a Tot Trot at 8:15 a.m., a one-mile Fun Run 8:30 a.m. and a USATF certified 5K race at 9 a.m. Runners, joggers and walkers of all ages are welcome to participate in the races, and strollers are also accepted.
Participants can register online now at www.active.com or by visiting the RACE website at www.racefortheorphans.org. Registration is $10 per individual for the Tot Trot, $20 for the one-mile Fun Run, and $25 for the 5K race.
The 2017 Race grant recipients are the Parker family of Villa Rica who are seeking to adopt a daughter from China; the Pate family of Newnan is seeking a local adoption after reaching the required three years of marriage; and the Wernersbach family of Fairburn who is in the process of adopting a boy from China.
"Jason and I want this to be for everyone," Preston said. "Those who want to walk, those who want to run a 5K for the first time, professional runner, and local families who want to come out and celebrate. This is all about helping to bring these children home."