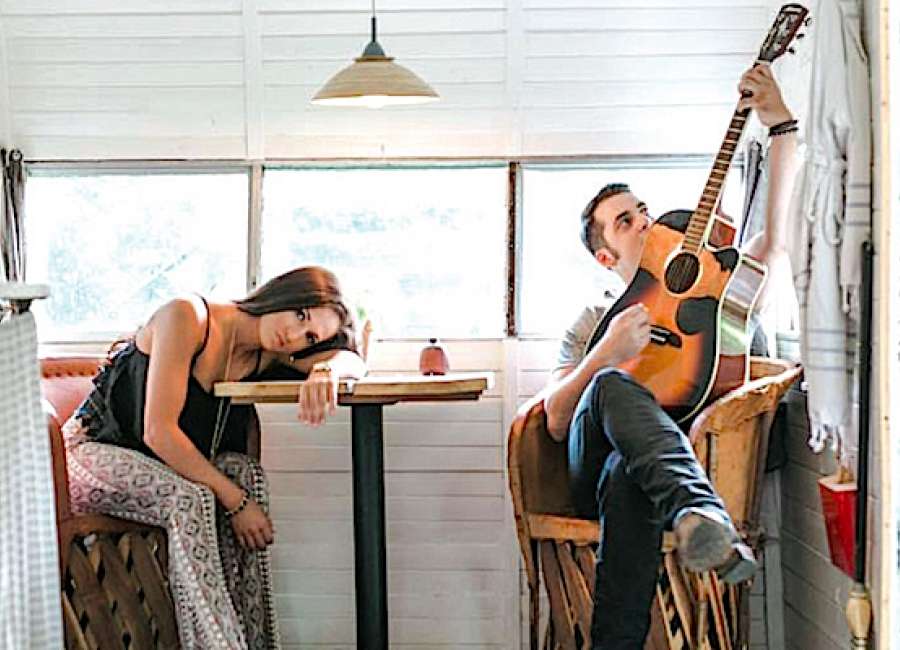 Despite being raised in a family of musicians, Shea and Sayre Henley didn't quite expect to be making a post-college life together in Music City.

Nor did the brother and sister from Newnan dream of releasing their first professionally recorded video single as a country music duo on none other than Country Music Television. But as of this week, the pair said they're excited to announce to the world that their mutual dream of making music has begun, ready or not.
"Of course, music has always been a part of our lives," said Sayre, the younger sibling and female vocalist of the music duo known simply as Henley. "But Shea was always into rock, and I preferred country and pop."
Sayre was determined, however, to bring her brother – five years her senior – to her side of the music divide and convince him to work together to create something they could both enjoy.
As Shea completed college in Texas, Sayre was concluding her senior year at Northgate High School in Coweta County. Her plan was to meet her brother in the Lone Star State and make music with him while working toward her own degree.
"I told Shea country music-loving people love the family thing and that we should write country music together," Sayre recalled.
The two had already been working toward that shared goal, as Shea would often write in the modern country music style his sister enjoyed, lending a hand in projects she was involved in back at home.
"He really wasn't that hard to convince," Sayre said with a laugh. "He started writing immediately."
The then-19-year-old made her way to Texas, and the two began writing music together and performing popular country-inspired songs on YouTube for friends, family and a growing fan base.
"They were always really close and rarely fought with each other as kids," said Sheri Henley, mother of four, including Shea and Sayre. "Shea has always been very protective of his little sister and would do just about anything for her."
The brother and sister combo became well-known in North Texas, and it became clear to the family and friends that the two had that "something special" together.
"We came together and discussed it, and we decided to strike while the iron was hot," Sheri explained. "We helped them leave Texas and move to Tennessee. We wanted to get them to Nashville – to get Sayre on the scene while she was in her twenties."
The duo was introduced to a manager and producer, both family friends. And the rest, as they say, is history.
Once in Tennessee, Shea and Sayre were asked to keep mum about the recordings in the works. The intention of their manager was to have the pair pull back a bit and let fans wonder what the siblings were up to. Then Henley would return a short time later with a bang – their first single – a music video and a spot on CMT.
Sayre said even though the wait was a bit frustrating, it was worth it.
"When friends and fans asked, we just let them know that things were in the works," she said. "We couldn't post YouTube covers or post songs we were writing. We just kind of dropped everything we were doing."
After some time in the dark, friends, family, fans and even former classmates from Georgia expressed their excitement after CMT released Henley's first single and music video, "As Young as We Are" on Tuesday.
"... a fresh and contemporary sound and style, perfectly summed up with their single 'As Young as we Are,' an anthem to carefree youth... '" country radio commenter Samantha Stephens wrote of the release Wednesday at CMT.com. "... encouraging us to take chances, make mistakes, even stock up a few regrets. Because they know that's part of the stories and the memories that never grow old."    
The recording, featuring Sayre as lead vocalist and Shea as guitarist and back-up vocalist in addition to a professional band, is available at a variety of online music sites including Spotify, iTunes, Amazon Music and CMT.com.
The music video was created and produced by the Country Music Television network as part of the CMT Artist Discovery Initiative launched in 2015. The program connects independent, unsigned music artists with CMT talent representatives who help the latest promising musicians launch a career.
With the help of program agents, Shea and Sayre have recorded five songs in a process Sayre said is likely not as lengthy as most would imagine, but that is "definitely stressful."
"Recording can be exhausting," Sayre said. "Some people love the process, and I can't really say that I don't. But it is work and can be stressful."
The professional band, provided by CMT, is nothing short of unbelievable, Sayre said. The process begins with Sayre and Shea offering a rough vocal performance for the accompanying band. The musicians listen to the duo sing, and in a matter of hours, the band will complete a recording for the song.
"It's the singing that takes the longest," Sayre said. "So many outside factors like weather can mess with vocals, and it can take some time to make our best recording."
The duo agreed to allow CMT all-access to the music video for the first full week, according to Sayre. After that, she and her brother will begin to market the video on their own, gaining fans by sharing the video across all music and social media platforms.
"Then we will get back in the studio and record another video," said Sayre, who said the process will include working with CMT representatives. "We will keep going with this song, push the video on our own, cut a new single and start looking for a record deal."
According to Sayre, watching the video for the first time brought a sense of pride she never expected.
"It is amazing to know that this is your music, not a cover… this is something you created together," Sayre explained. "We are still just doing what we love, but on a new level.
"Our musical experiences together and with family have always been fun," she added.
Sayre described how she and Shea sang backup at intimate performances led by their parents – both former professional musicians.
"The first time Shea and I made recordings of music, we were in the garage my dad had converted into a home recording studio," Sayre recalled. "We made a recording for the senior cheerleaders and football players at Northgate – I was just reminded of that the other day. It's so cool that people recognized us in this video and remember things like that."
For the next single, Sayre said she and Shea may be trading places, with Shea performing the lead vocals and Sayre singing harmony.
"Shea may also play drums on the next single," Sayre said. "He is an incredible drummer."
As for what lies ahead, Sayre said she knows in five years she still will be performing. She said she hopes it will be on tour as the opening band for a famous country music group.
"Or maybe Shea and I will be headlining our own tour," she said. "Definitely we will have a record deal."
According to Sayre, though Shea almost certainly envisions the two performing on stage for large crowds, when she sees the future, she imagines gathering for music awards.
"I've always been so excited for the first music award show we get to attend," Sayre said with a laugh. "Just to be surrounded by artists and know that, even in a small way, we are one of them – that would be amazing."