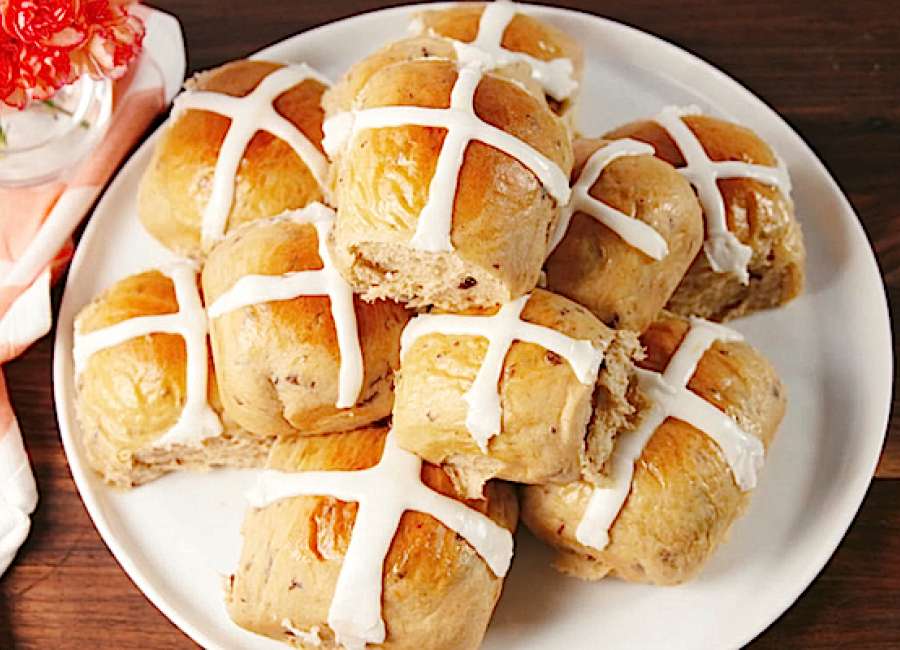 Between hunting for eggs and putting together trendy and unique Easter baskets for the little ones, it may be likely that more than a few items were overlooked on this weekend's to-do list. But, don't fret, there is still just enough time to pull together a last-minute appetizer, dessert or side dish for the gathering.

Whether celebrating with a potluck-style dinner with friends, or a ham-focused traditional meal with family, no Easter meal would be complete without hot cross buns. Even the children can be involved in the making of these sweet rolls, and with a preparation plus baking time of just three hours, adding these goodies to the menu is still possible.  
Hot Cross Buns
INGREDIENTS
1 c. whole milk, warm
2 1/4 oz. packages active dry yeast
1/2 c. sugar
1/3 c. butter, melted
1 large egg yolk
1 tsp. pure vanilla extract
3 c. all-purpose flour (plus more for kneading)
1 tsp. kosher salt
1/2 tsp. ground cinnamon
1/4 tsp. ground nutmeg
1/2 c. dried currants, plumped in hot water then drained
1 tsp. lemon zest
Egg wash, for brushing
FOR THE GLAZE
2 c. powdered sugar
2 tbsp. whole milk
1/2 tsp. lemon zest
DIRECTIONS
In a medium bowl, combine milk, yeast and a pinch of sugar. Let sit, without stirring, until foamy, about 20 minutes. Whisk butter, egg yolk and vanilla into the yeast mixture. In a large bowl, whisk together the flour, remaining sugar, salt, cinnamon and nutmeg. Make a well in the center of the flour mixture and add the yeast mixture. Stir with a wooden spoon until the mixture is a thick, shaggy dough. Stir in currants.
Turn the dough onto a lightly floured surface and knead until the dough is soft and elastic, 8 to 10 minutes. Shape the dough into a large ball.
Grease the inside of a large bowl with butter and put the dough in the bowl. Cover with plastic wrap and let rise at room temperature until doubled in size, about 1½ hours.
When the dough is ready to form into rolls, butter a 9"-x-12" baking pan. Turn the dough onto a lightly floured surface and pat it into a large rectangle. Divide the dough into 12 portions with a sharp knife or pizza wheel.
Shape each piece into a roll, tucking the edges under, and place each roll seam-side down into the butter pan. Cover with plastic wrap and let rise in a warm place until the rolls have doubled in size, about 45 minutes.
After the second rise, preheat oven to 375°. Brush the tops of the buns with egg wash. Bake until the rolls are golden and puffy, 22 to 25 minutes.
Make glaze: Whisk together powdered sugar, milk and lemon zest until smooth. Transfer to a medium Ziploc bag and make a small cut in the corner of the bag. Pipe a thick cross shape over each bun. Serve warm or at room temperature.
If the glazed ham, side dishes and even desserts are all accounted for at the upcoming Easter gathering, go easy with a tray of deviled eggs. This year though, make those creamy egg appetizers with a little extra pop — add a bit of bacon and spice.
Bacon-Jalapeno Deviled Eggs
INGREDIENTS
12 large eggs
1/3 c. mayonnaise
Juice of 1/2 lemon
1/4 c. chopped cooked bacon
2 tbsp. shredded Cheddar
1 1/2 tbsp. yellow mustard
2 tsp. chopped jalapeño (seeded if desired)
kosher salt
Freshly ground black pepper
Directions
Place eggs in a single layer in a saucepan and cover with 2 inches of water. Bring to a boil, then reduce heat and cook, covered, 1 minute. Remove from heat and let sit, covered, 14 minutes, then rinse under cold water.
Crack shells and carefully peel under cool running water.
Halve eggs lengthwise, then spoon out yolks into a small bowl and place whites on a serving platter. Using a fork, mash yolks, then stir in mayonnaise, lemon juice, bacon, cheddar, mustard, and jalapeño and season with salt and pepper.
Spoon mixture evenly among egg whites and serve.
It's difficult for many to think of the Easter holiday without conjuring the image of those creamy Cadbury eggs so many of us have celebrated with since childhood. For an extra-special dessert, try a chocolate mini cupcake with a buttercream frosting reminiscent of those special Easter treats. And, to make last-minute baking easy, this recipe uses a box cake mix sure to make preparation short and sweet.
Cadbury Creme Egg Cupcakes
Ingredients:
24 paper cupcake liners

Batter for 24 cupcakes. Box mix works fine, or simply use your favorite chocolate cupcake recipe, it's your call.

48 Mini Cadbury Creme Eggs (24 frozen) - You'll use the frozen ones inside the cupcake batter. Freezing the eggs keeps them from completely vanishing inside the baked cake.

1 batch of buttercream frosting

yellow dye

Large Round piping tip or snip the end off of a piping bag.
Directions:
Scoop batter into paper liner 2/3 of the way full. Place one frozen Mini Cadbury Creme Egg into the middle of each cupcake. Use a spatula to spread the batter over the egg.

Bake according to the recipe you are using. Allow cupcakes to cool completely.

While your cupcakes are cooking, make your buttercream. My favorite recipe can be found within this Fundamentals Buttercream Frosting Post.

Remove about 1 cup of buttercream from the mixing bowl and dye it yellow.

Assemble your piping bag fitted with a large tip and pipe a large circle around the perimeter of the cupcake.

Fill in the center of the circle with the yellow buttercream and top with a Mini Cadbury Cream Egg.
  Another option for a last-minute sweet treat are these Reader's Digest Peanut Butter Easter eggs which can be made in under 35 minutes, plus chilling time.
Ingredients
1/2 cup butter, softened
2-1/3 cups confectioners' sugar
1 cup graham cracker crumbs
1/2 cup creamy peanut butter
1/2 teaspoon vanilla extract
1-1/2 cups dark chocolate chips
2 tablespoons shortening
Pastel sprinkles
Directions
In a large bowl, cream butter; gradually add the confectioners' sugar, cracker crumbs, peanut butter and vanilla. Shape into 16 eggs; place on waxed paper-lined baking sheets. Refrigerate for 30 minutes or until firm.
In a microwave, melt chocolate chips and shortening; stir until smooth. Dip eggs in chocolate; allow excess to drip off. Decorate with sprinkles; return eggs to waxed paper. Chill until set. Store in an airtight container in the refrigerator.