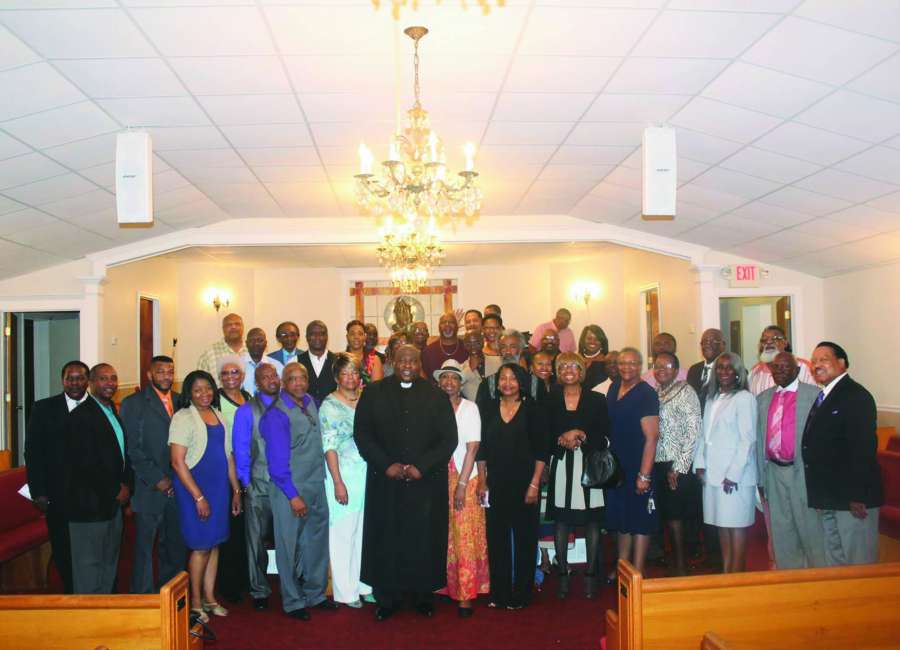 Losing a job is rarely easy, and for those who have spent decades at one company, the change can be even scarier.

Dr. K.G. Bailey is a former employee of the Kmart Distribution Center and now serves as a pastor at White Oak Grove Baptist Church in Senoia. His church hosted the annual Kmart Reunion Day on April 23 in an effort to reunite all the former employees of the distribution center, which closed in January 2015.
The company closed the center to better its distribution network and service its retail businesses at a time when it has fewer stores.
Bailey is a Newnan native and worked for the distribution center for over 10 years. A Gulf War veteran, Bailey left the Army in 1995 and came home seeking a new career.
"Kmart was one of the top-paying jobs in Newnan at the time, you could reach full pay in two years," Bailey recalled. "However, you started off at $7 per hour, and that was pretty hard coming from the military and making a good salary."
It was worth the work, Bailey believes. The co-workers were friendly, the benefits were great, and the company had a good rapport with employees – often organizing games after work and being engaged within the community. So, the employees were used to spending time together outside of work.
The same year Bailey returned home, he began working in the church. He began preaching at his home church in Moreland in 1995 before starting his own in 2000. Through his years serving at Kmart, he was close with many of his co-workers.
"Your job is such an important part of your life," Bailey said. "You spend more time there than at home so you form very close relationships with the people you work with. It's your second family."
Over the years, Bailey became almost a spiritual representative for the company and co-workers.
"Any time there was some kind of tragedy in the community, I would be called upon to pray over the intercom and talk with people," Bailey said. "It was something I was humbled to do and took it very seriously."
During his tenure at the distribution center, Bailey watched as people were slowly whittled away. In 1998, he noticed the company beginning to downsize, often offering early retirement for some employees.
In 2007, the company offered to give employees a one-year break with an offer to return the following year. Bailey took the offer but never returned, deciding that his calling to the ministry was too strong.
"God wanted me full-time," Bailey said. "I stepped out on faith. I was grateful for Kmart, though. It was a blessing to me and helped my family raise two daughters."
Bailey remained in touch with his co-workers over the years, often hearing about how things were going at the distribution center. When the company announced the closure of the center last January, Bailey began hearing concerns from around the community.
"Many of those folks were in the scope of retirement age, so it was incredibly hard for them to process," Bailey said. "Many were offered a severance package the year before last, but they didn't take it."
Sears Holdings Corporation, which owns Kmart, offered eligible employees who received severance to apply for open positions in the company, which could have meant relocating to another city or state.
"But after so many years, these folks have their family and roots here in the community," Bailey said. "I didn't see many of them moving away for a new opportunity."
Through talking with family and friends of employees, Bailey decided to host a special day at his church in April 2015 to speak directly with those affected by the closure.
The idea behind Kmart Reunion Day is to bring a message of hope and peace to those whose lives were changed by the closure and to bring all the former employees together to spend time together, just like they did while working together.
"I'm 46 years old now and started at Kmart when I was 25," Bailey recalled. "There are folks who had been there much longer than I was, and the idea of them having to start all over is something they were are struggling with."
Just as Bailey hoped, the event has become a success and many of the former co-workers look forward to the event.
"Everyone really enjoys it. We had people share amazing testimonies," Bailey said. "They really enjoyed food and fellowship this year."
Carl Strozier worked for Kmart for 26 years. He and his wife attend the event every year.
"The event was very nice as usual," Strozier said.
Bailey said many employees from the previous events were in attendance at the reunion. Local businesses and professionals, as well as church members, donated gift cards to give to the former employees.
"I couldn't do this without my faithful members," said Bailey. "They served dinner after the service."
Bailey said the success of the employees after the closing of Kmart is very encouraging.
"One of the most important things I hope people will understand is the power of character," Bailey said. "It sticks to you, no matter the circumstances life hands you. You have to keep moving. The storms will be there along the way but you just keep on driving."
Now the former Kmart workers are looking toward the 2018 reunion. "We want to make it bigger and better each year," Bailey said.