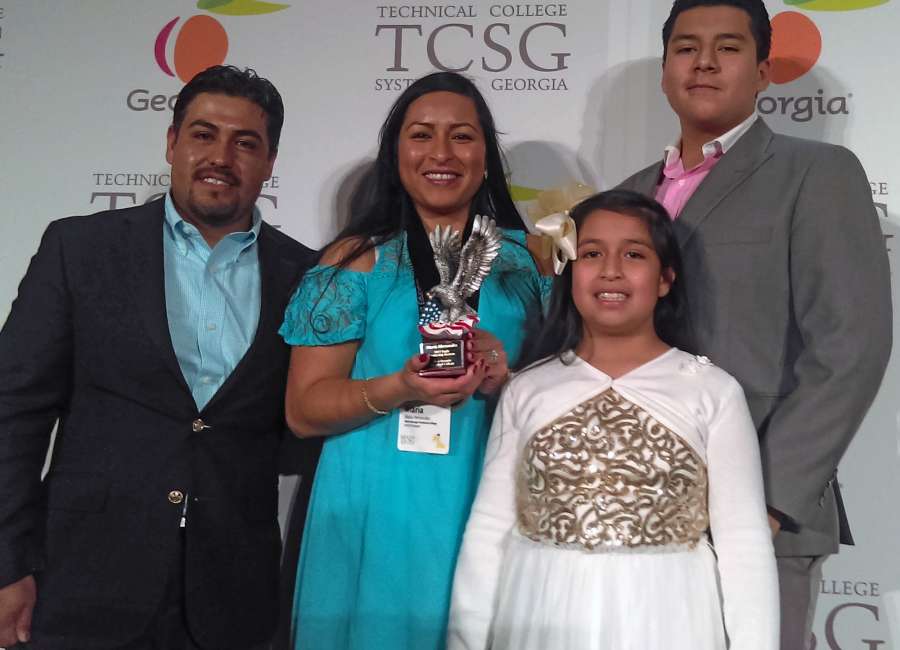 Maria Hernandez of Newnan recently represented West Georgia Technical College at the 2017 Exceptional Adult Georgian in Literacy Education (EAGLE) leadership conference.

Hernandez, a paraprofessional at Ruth Hill Elementary School as well as a parent volunteer, received West Ga. Tech's EAGLE Award for growth and commitment to education. She was among 26 adult education students out of the approximately 50,000 in the state chosen for the award, which is sponsored by the Technical College System of Georgia.
Her parents immigrated to the United States when Hernandez was 15, exhausting their financial resources, so Hernandez went to work instead of school. Twenty years later, as a stay-at-home mother of two children, she entered the West Georgia Technical College Adult Education program in October 2012, earning her general equivalency diploma in 2016.
Hernandez learned of the achievement recently, saying she was "honestly surprised" to hear she was selected as the college's EAGLE student.
"I felt so honored that I was chosen," Hernandez said. "I tried my best when I was a student at WGTC, and I had the best teachers I could have who worked with me every step of the way. When my former teacher called me and asked if I'd be willing to represent the school as the EAGLE winner, I said, 'Of course.'"
It took more than three years for Hernandez to complete her GED.
"One of the most remarkable things about Maria is that she was determined to pass the test in English, even though she had the option to take it in Spanish," said Karen Kirchler, vice president of adult education at WGTC.
"I feel so blessed and privileged to represent WGTC as well as Ruth Hill," Hernandez said. "It was a great honor for me to be nominated by my GED teacher, Katy Allison, to represent West Georgia Technical College Newnan Campus."