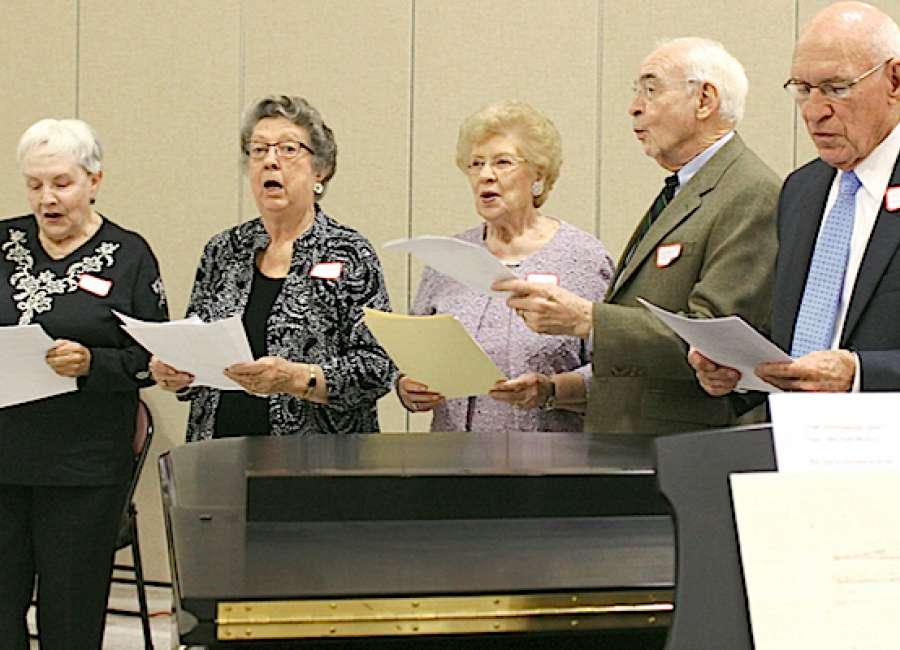 The Friendship Class at First United Methodist Church of Newnan is celebrating the beginning of its second 50 years.
The Sunday school class held a 50th anniversary celebration on Feb. 26 with a festive dinner in the church's parish hall. Class member Sue Royal said more than 75 people attended.
The class was organized in January 1967 by Dan Rice, who was then serving as the church's pastor. The new class was started with a goal of discussion by participators, not spectators. "Of the 16 charter members, only Alex and Faye Davis remain active today," Royal said.
Rice was transferred to another church in June 1967, and Lois Wyrick became the teacher and leader of the class. She "served faithfully for 25 years," Royal said. "Ronald Pinson then became teacher and taught for 19 years."
After the class reluctantly accepted Pinson's resignation, a process began with members rotating leadership of each Sunday's class.
The intergenerational class of couples and singles has strongly supported church and community programs, as well as foreign missions. A theme often shared by Wyrick was: "Always ready to help has been our logo."
Eddie and Kathy Wilson have been a member of the class since 1984, soon after their youngest daughter was born. "We had visited a couple of Sunday school classes but hadn't found the right fit yet," Kathy Wilson said.
"It was suggested we might like the Friendship class. We were a few minutes late when we got to the class. The door was closed already. I opened it a bit and pulled it back closed," she remembered.
She turned to her husband and said, "We can't go in there. It's all old people in there."
"Several class members were retired and – to my 29 years, they were old," Wilson said. "But we did go in and have been members ever since. The class members truly lived up to their name of Friendship Class."
In February 2007, it was decided to rename the class as the Martha Fuller Class in honor of a church member who lost her life on a mission trip to Honduras. Recently "Friendship" was put back into the name.
"Friendship is the essence of the group," Sue Royal said.
At the celebration, Greg Oothoudt, class president, welcomed everyone. Entertainment included songs by the Misfits, a class singing group. A history of the class was read, and memories were shared.
The committee that planned the celebration included Jackie Cox, Wilma Crabtree, Faye Davis, Susan Harris, Louise Jones, Sue Livingston, Oothoudt, Pinson and Royal.
Royal said new members have continually added vigor and vision to the class. Joe and Gwen Moore are among the newest members – having joined the group about 18 months ago.
"We were initially drawn to the church because our youngest son, Kerry, and his wife,
Mary, are members, and because we were excited about the music ministry there," Joe Moore said.
"We became members of the Martha Fuller Friendship Class about two years ago when
Paul and Beverly Watkins invited us to be a part. We found a warm and friendly group
of people who not only welcomed us but made sure we were fully engaged in all the
activities, from Bible study and service projects to socials," he explained.
The Moores report they like the small-group atmosphere of the class within a large church where there are many opportunities for worship and service.