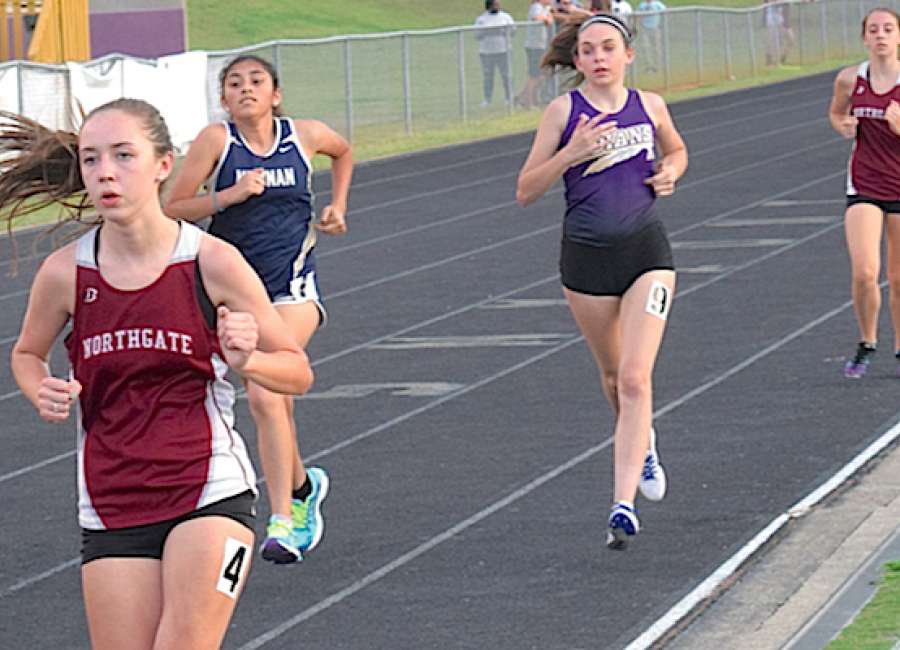 To say the East Coweta High Indians and Lady Indians' track and field teams were dominant Tuesday evening at the Coweta County Track and Field Championships would be an understatement.

The East Coweta boys and girls combined to win 25 of the 31 events, and together they scored a total of 191 points. The next closest county team in combined total points was Newnan High with 61 points, followed by Northgate High with a total of 22. The meet was held at Garland Shoemake Stadium.
While nearly every EC track and field athlete did well Tuesday, some Lady Indians and Indians had standout performances on their home track.
Lady Indians senior Aja Manning won five medals Tuesday, finishing first in the girls 4x100 relay, the girls 100 meter and 300-meter hurdles and placing second in the girls long jump and the girls 4x400 relay.
"It feels great for the girls to win the county track meet for the third year in a row. I'm happy that I was able to help my team win by performing well in all my events," said Manning, who also starred on the EC girls basketball team in the winter. "I really want to do well at our upcoming region meet so I can make state again. I had fun last year at state, and I want to go back again."
EC's Gerald Green won the boys 100-meter dash Tuesday with a time of 10.95, followed closely by his teammate Dantarious Chun at 10.99. The two speedsters combined with teammates Reggie Jones and Dalton Crosby to win the boys 4x100 relay with a time of 41.98.
Miya Dean of EC was the queen of the girls distance running, winning the 800-meter run with a time of 2:40.52 and winning the 1600-meter run at 5:46.17. Her teammate Holly Hind won the girls 3200 at 13:06.84. EC's Paishence Collier ran well in the girls sprint events, finishing first in the 100 at 12.98 and second in the 200 at 26.61 while also finishing first in the girls high jump at 4-feet-10.
In boys distance running, the spotlight shone on the EC tandem of senior Lamar Weeden and freshman Kyle Harkabus. Weeden won the boys 800 run at 1:57.77 while Harkabus finished first in the 1600 at 4:32.88. They both ran with teammates Crosby and Brayden Carey to win the boys 4x400 relay at 3:28.69. Braden Ray of EC won the boys 3200 with a time of 10:52.35.
"I enjoyed competing against Newnan and Northgate, and it was great to win the county meet again. This meet will help us get ready for our region meet," said Weeden, who qualified for the state meet last season. "My goal at region is for our team to set personal-record times and personally, I want to get my times lower. I want to run a 1:52 in the 800 — that will make me feel real good."
Other area athletes who performed well Tuesday evening were Zahria Owens of Newnan (first place, girls 200 and 400), Katrice Jackson of Newnan (first, girls long jump), Tyriq Hussie of Newnan (first, boys 200), Nicole Hagley of Northgate (first, girls triple jump) and Neriah Townes of Northgate (third, girls 100). The Newnan girls 4x400 relay team of Owens, Tamara Blake, Markia Talley and Rachel Woods also placed first.