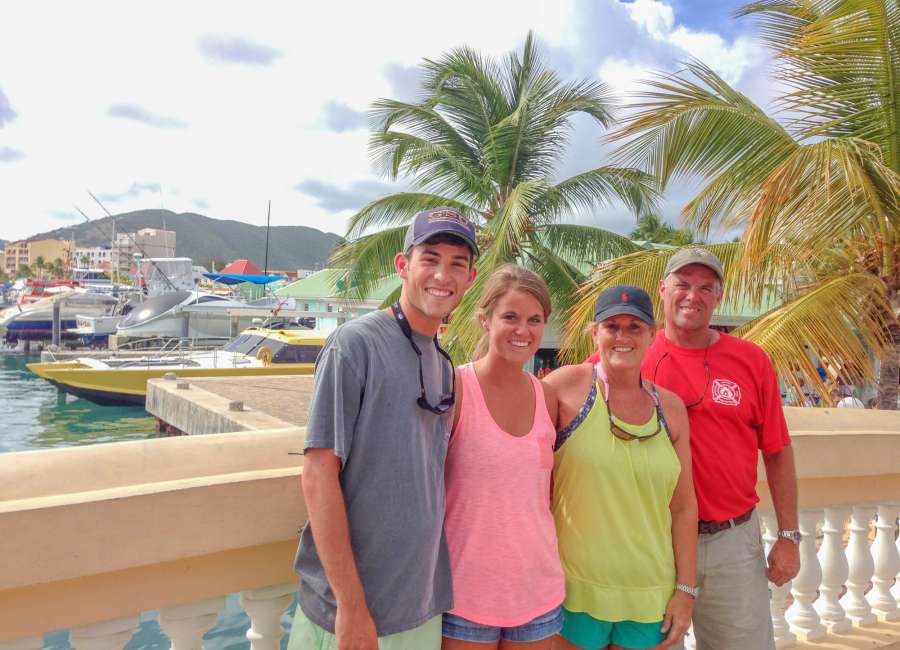 On Wednesday morning, two families described the raw and permanent outcomes drunk driving has caused in their lives.
In Coweta Superior Court, the families of Neil Fernander and William Johnson listened as Katie Renee Pyles pleaded guilty to two counts of vehicular homicide, driving under the influence, failure to stop at a stop sign and open container.
In a non-negotiated plea, Judge Travis Sakrison sentenced Pyles to a 30-to-serve-25 years sentence for her role in the deaths of Fernander and Johnson last summer. 
On June 20, 2016, Johnson was a passenger in a truck driven by Pyles when she ran a stop sign outside Moreland, colliding with the truck of Neil Fernander, who was traveling south on Ga. Hwy. 54.
Pyles, 32, was the only survivor of the crash. 
At the time of the crash, Pyles was found to have had a blood alcohol content of .157 – nearly twice the legal limit. Before she was transported to the hospital, Pyles allegedly told rescue workers she had been drinking and was sorry.
Inside the courtroom Wednesday, it was standing room only as the many friends, family members and associates of the two victims waited to see if justice would be served. 
Speaking to the court, the family members of Neil Fernander described in vivid detail the seemingly endless brutality of their continued existence without him.
"It was like a bad dream," said wife, Brenda Fernander. "Only we wake up every day and find it is all very, very real."
Brenda, along with children Ashley and Justin Fernander, recalled the immediate and longterm fallout of losing Neil.
Both children were entering into new chapters in their lives at the time. Justin had begun a new job after graduating college, while Ashley had just moved into her first apartment.
Father's Day was the last normal day of their lives, according to Ashley. The following day, when the siblings received phone calls to return home, they knew something was wrong.
Because of the serious nature of the mysterious phone call, Justin immediately called his father.
"We talked three to four times a day every day," he recalled. "I always called Dad when I needed someone to talk to."
When both children reached their grandparents' house, they were informed of the loss of their father. In the wake of the tragedy, Ashley moved back home to live with her mother.  
All three testified of suffering from recurring nightmares, anxiety and the fear of losing each other. Each day is spent trying to comprehend life without Neil, according to Brenda.
"We clung to each other as that was all we had – 296 days of grieving takes a toll on a body," she said.
Ashley will no longer have a father to walk her down the aisle when she gets married. Justin will no longer go into business with his father, and Brenda will never experience what kind of grandfather Neil would have been.
"He was a generous man with a big heart whose Christian foundation ruled his life," she said. "His life revolved around his family and helping others."
Because Fernander was an organ donor, 32 people were recipients of his generosity.  
"Whoever got his heart got a big one," Brenda said. "Even in death, with nothing left to give, he could still give life to someone else."
Members of the public safety community in Meriwether County where Fernander served as a volunteer firefighter also emphasized his selfless nature. 
Former Deputy Sheriff Jason Ritter spoke of Fernander's dedication to ensuring members of the community received top-notch care. 
"It's not about the thousands of miles he put on his personal truck, but the countless drops of sweat that came from his forehead," Ritter said, "He shared tears with other families who were suffering, and our community has lost a true pillar. We can get more firefighters, but we can't replace Neil."
The second victim in the wreck, William Johnson, also left behind a family who is torn without him. Pastor David Johnson, William's uncle, conducted his nephew's funeral service. 
As the season turns to Easter, the message of forgiveness was present. 
"She (Pyles) should be sentenced but forgiven," he said. "Living without Will is hard enough without the bitterness of holding a grudge. God has forgiven us. She needs to pay, but love conquers all."
Pyles' attorney, Jermario Davis, empathized with those who were affected by his client's actions and echoed the sentiments of Pastor Johnson.
"If you carry the grudge and hate, it only makes the pain worse," he said. 
Davis paused for a moment, and emotionally confessed the loss of his own grandfather in a car crash. Knowing the pain caused by the accident, he emphasized that only forgiveness helped him push past the grief.
"We see her (Pyles) and only get a snapshot of who she is – a person who killed two people," he said. "But she's a victim of alcohol abuse who also lost her mother. It's unfortunate she didn't seek treatment, but she didn't get in a car hoping to kill two people."
Davis asked the court for mercy on his client, citing her willingness to take full responsibility for her actions.
Pyles tearfully addressed the court and the families seated in the jury box. Speaking without a prepared statement, she emotionally described her own experiences from the wreck, and her ongoing remorse.
"You have lost a husband, father, best friend and one of my great friends," she said. "Nothing I can do will bring them back and no matter what, I have to live knowing I did that.
"I would have traded places with them in a heartbeat."
Prior to sentencing, Assistant District Attorney Kevin McMurry reminded the court of Pyles' two previous alcohol-related arrests.
In April 2015, Pyles was involved in a single-vehicle car crash where investigators later revealed her blood alcohol content was .136. The following spring, while on bond for the crash, she was arrested on a disorderly conduct and obstruction charge. 
Several weeks later, she was involved in the fatal crash.
"These victims leave a legacy," McMurry said, indicating to the standing room audience inside the courtroom.
"This was entirely avoidable, and she should be held accountable," he said. "These are not families who are bitter and hateful, but they believe in consequences."
McMurry asked the court to impose a sentence that reflected their loss and to send a message to other drunk drivers in the community.
Sakrison acknowledged the extremely emotional circumstances of the case.
"Everything about this is tragic," Sakrison said. "The justice system is not equipped to give you what you want or need. It doesn't right wrongs or comfort victims and defendants. It's only a process that closes this chapter."
Citing Pyles' previous history with alcohol abuse, Sakrison denied first-offender treatment in his sentencing. 
"There is a lot of discussion of forgiveness and mercy, but that's not my role at the end of the day," he said. "The previous arrests should have been a wakeup call that could have saved other people's lives."
Following the sentencing, Brenda said the Fernander family had been prepared for this day and ultimately say they believe justice was served. Brenda said they were grateful for the district attorney's office and that a "slap on the wrist" sentence was not an option.
According to Brenda, Neil often said, "If anything ever happens, I hope you have my back."
"It won't bring them back, but there's some closure in knowing we were their voice and had their back," she said. "We knew it was in God's hands, and we can say we did our part."
****
Clay Neely: clay@newnan.com, @clayneely