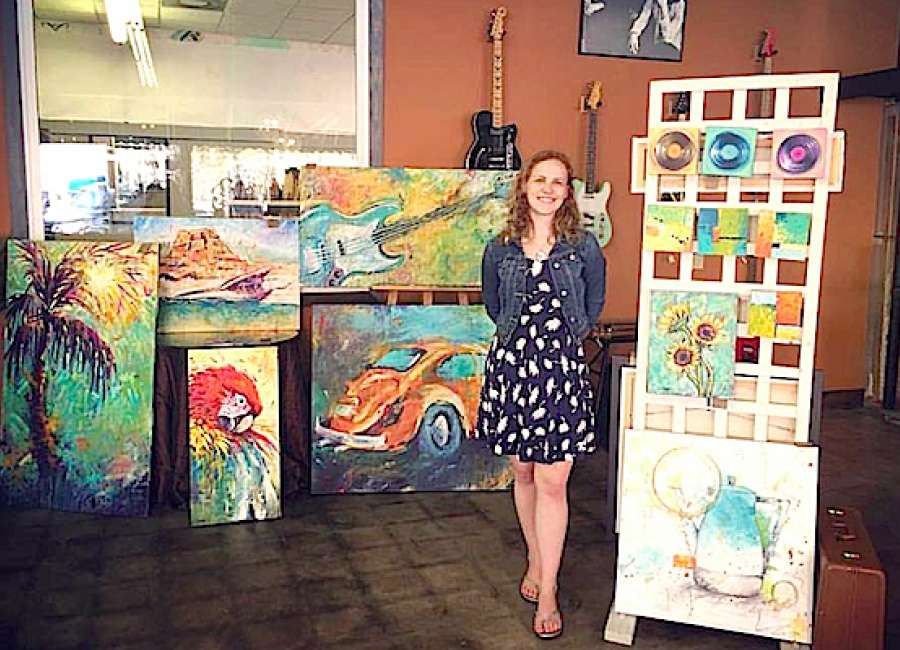 Downtown Newnan was full of art, conversation, entertainment and food during the spring Art Walk hosted by merchants and Main Street Newnan March 24.

More than 30 locations throughout downtown participated, showcasing more than 40 artists during the four-hour evening event.
"The Art Walk Event is our celebration of local art, and is hosted twice a year in downtown Newnan," said Paige Deweese, special-events coordinator for the city of Newnan.
During the Art Walk, businesses extended their hours to host store-front exhibits and demonstrations by a variety of artists.
Complimentary tastings and hors d'oeuvres were also served by some the local businesses, and some merchants hosted specials and giveaways.
Southern Arc and Kyle Khan Dance Studio performed on the court square.
Many merchants said they participate because they get to meet many new people from the community.
Jon Brown owns Brown's Guitar Mill on South Court Square, which shares a space with Vinylyte Records, a store fully-stocked with new and used vinyl records. This was Brown's first time participating. The guitar maker hosted artist Tiffany R. Thomas.
Brown's Guitar Mill has been open since January and specializes in custom guitar builds as well as repairs of all stringed instrument.
Brown said the two businesses decided to participate a the urging of their wives.
"Anything that happens with the square they want to be part of," he said.
Brown said the event was good for business.
"We enjoyed, and it was really good," Brown said. "It brought in a lot of foot traffic and  people who wouldn't normally come in here."
Wildwood Trader on Greenville Street, which offers wood home pieces and other decor, hosted artist Dr. J Wayne Jenkins who sold a painting he completed during the event.
Cody Jones, who manages the store, said the event "was worth it."
"We did well in sales and foot traffic," he said.
Jones said the store also participated in the Holiday Sip 'n See in December when downtown merchants offered holiday specials, so they were confident the Art Walk would be successful as well.
Jones said the store's owner Ted Casey, who formerly managed Ken's Bargain Outlet in downtown Newnan, was convinced the event would be successful because the success the outlet experienced.
"Anything after hours downtown does well," Jones said.
Three Newnan Times-Herald staff members – Maggie Bowers, Bronwyn Coffeen-Mercer and Marianne Thomasson – offered their creations for sale during the Art Walk. Newspaper columnists Scott Ludwig, Toby Nix, Matthew Pierce and Lee St. John were also on hand to greet readers and sell books by Ludwig and St. John.
Thomasson brought dish gardens featuring miniature plants. Bowers and Coffeen-Mercer had visual art to display.
NTH Graphics Manager Debby Dye said the Art Walk was a good time and went well because of the cooperativeness of employees.
"Marianne's dish gardens, Maggie's and Bronwyn's paintings and the columnists made our newspaper shine once again." she said. "It was nice to hear all the compliments about our newspaper and our magazine from everyone that came."
The next Art Walk will be, Sept. 8.