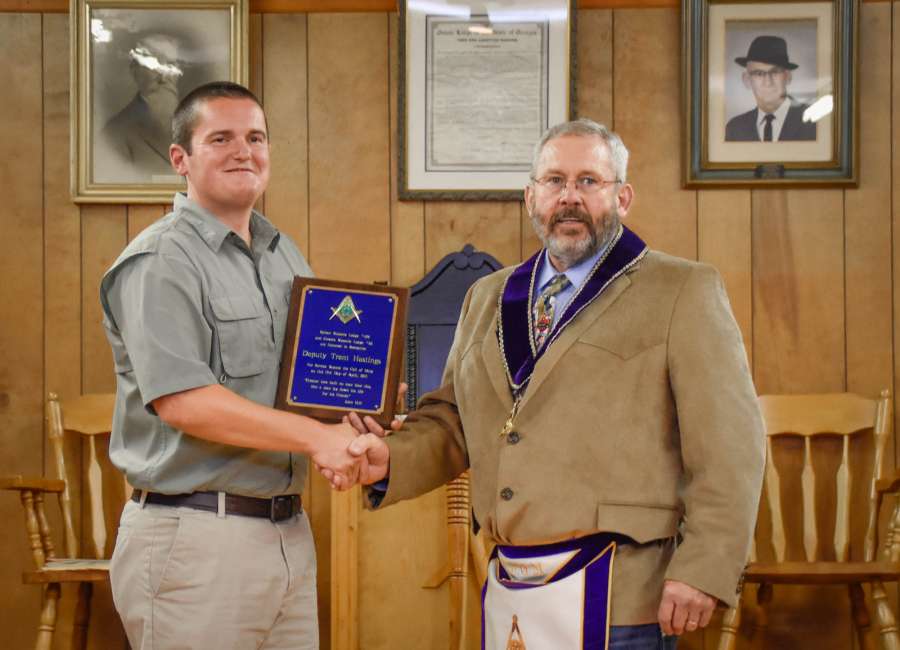 "A prime example of a public servant" was how Deputy Trent Hastings was described by members from both the Sylvan and Coweta 60 Masonic Lodges as he was recognized for his heroism in saving a man from a burning building last year.

The award – a joint effort between the two lodges – was given to recognize outstanding non-Masons who have distinguished themselves through their service to the community. About 25 people packed Sylvan hall to congratulate Hastings.
In November 2016, Hastings was working a burglary patrol in the south end of Coweta County when he heard the report of a house fire in Grantville. He immediately responded and upon arriving, discovered there was already one firefighter inside the house attempting to rescue a wheelchair-bound occupant.
When Hastings heard both men screaming for help, he rushed inside the burning building.
He was joined by Deputies Andy England and Todd Brown who also entered the burning home, along with firefighter Darrell Neece.
The man was pulled to safety outside the building and was then flown by helicopter to Grady Memorial Hospital to be treated for second- and third-degree burns. Hastings and England were transported to Piedmont Newnan Hospital to be treated for smoke inhalation but were released later that day.
Mason and Deputy Josh Jordan introduced Hastings and described the unique nature of the job that calls on those who readily engage in their "fight" instead of "flight" when a crisis like a fire occurs.
"When you go to the police academy, no one takes an oath to run into burning buildings. That's why we became police," he joked.
Earl Byrom, District Deputy to Grand Master of Grand Lodge of Georgia, presented Hastings with the award.
"There's no doubt, God was with you that day along with the family," he said. "We know how Coweta County is growing, so we're indebted to the young officers who protect us and save lives. We're truly blessed to live in a county as protected as we are."
Hastings graciously accepted the award, but cited his actions to basic human instinct.
"When you hear someone screaming for help, what else do you do?" he asked. "When that happens, you have to try. You don't sit back and watch it play out."
Freemasonry is an ancient fraternity comprised of upstanding men who believe in God and are devoted to their country, families, neighbors and each other.  Masons do not recruit members, but welcome candidates who share their ideals.
Coweta Lodge No. 60, chartered in 1847, is one of the oldest Masonic Lodges in Georgia.  Two of its members have been Governor of Georgia, William Y. Atkinson and Ellis Arnall; and many of its members have been instrumental in the development of Newnan and Coweta County.
Located on Sewell Road, the Lodge has about 80 members and meets the second and fourth Tuesdays of every month at 7:30 p.m., with dinner and fellowship at 6:30 p.m.
Charted on Nov. 2, 1899, the Sylvan Lodge is located on old Carrollton Highway, and was founded by Sylvanus G. Allen. Their main charity is Masonic Children's home in Macon. The lodge is comprised of 75 members and meets on the first and third Monday of each month. Their meetings are held at 7:30 p.m., with dinner and fellowship at 6:30 p.m.
****
Clay Neely: clay@newnan.com, @clayneely