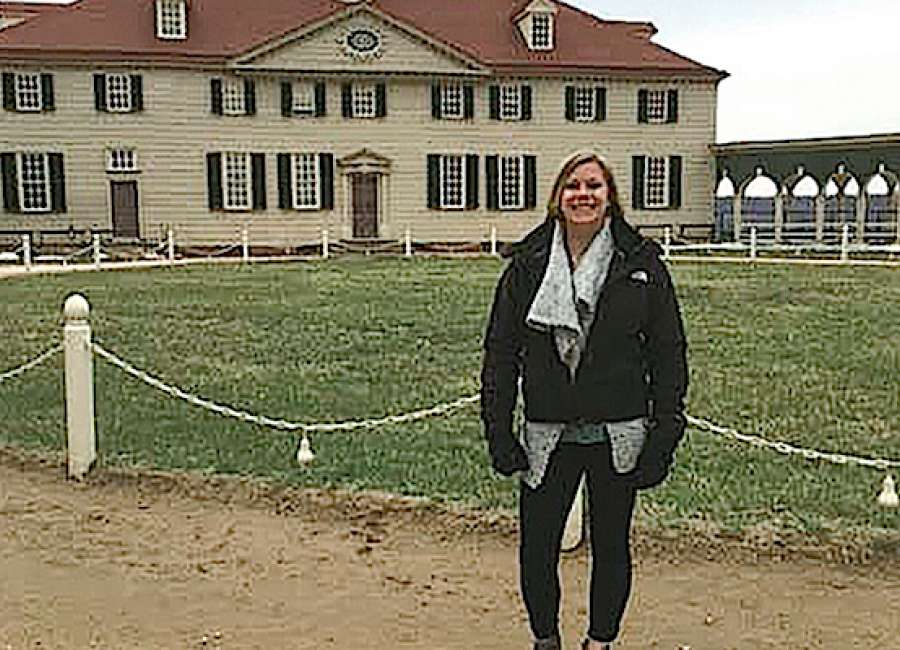 – By MARIANNE THOMASSON, marianne@newnan.com
Chrissti Widdowson has always been interested in George Washington.
She gained many insights into the world of America's first president when she was immersed in intensive study of Washington and his wife, Martha, during a 4-day seminar at his mansion in Mt. Vernon, Va. Widdowson, who is a fourth-grade teacher at Coweta Charter Academy in Senoia, recently attended The George Washington Teacher Institute's "Martha Washington and the Women of the 18th Century."
She found the application to the program on Facebook and also wrote an accompanying paper about how it would influence her teaching. She was awarded a full scholarship to attend the conference, including airfare.
The conference was led by noted scholar Dr. Kimberly Alexander, adjunct professor at the University of New Hampshire. Participants collaborated with Mount Vernon's knowledgeable historians, curators and educators while on site. They were given tours of Mt. Vernon – but not allowed to take photos inside, saw slave quarters and slept in newer buildings on the property.
Mrs. Washington was the mother of four children who all died before she did. The children were fathered by Mrs. Washington's first husband. She and George did not have any children, according to Widdowson. Mrs. Washington always spoke of her grandchildren with joy.
"She was host to 300 or so guests out of 365 days. There were people coming and going all the time," Widdowson said. "Mrs. Washington was proud of President Washington, who was a caring man and laid the foundation for our country. She stood in his bedroom when President Washington drew his last breath." Widdowson said.
Both were buried in the 'old cemetery,' which has a wooden door. They were moved to a nicer crypt in later years.
Mrs. Washington's day-to-day activities included freshening rooms and hosting teas and coffees. She did cross-stitching for the seats of 12 chairs, which took several years.
Mrs. Washington's dowry included more slaves than the future president already owned. There were six locations where the the 200 slaves worked. They could farm, work in the mansion, make thread and clothing, cook and the work in the distillery making bourbon.
In the slave quarters, men and women had wooden bunk beds and children slept on the floor. "They were given two outfits a year. Some were allowed to have gardens and raise chickens," Widdowson said.
"President Washington freed his slaves in his will. Martha was afraid the slaves were 'waiting for her to die,'" Widdowson said.
Widdowson makes history come alive by dressing like the character. She has a doll of Washington. Next year she plans to send the doll home with each child and let them write a paper on it.
In addition to studying Mrs. Washington's experience as woman during the founding of the United States, Widdowson explored the experiences of 18th-century woman of all backgrounds through the use of documents, images and material culture. She attended daily sessions in the 45,000-square-foot Fred W. Smith National Library for the study of George Washington, which opened in 2013.
Institute participants from around the country included K-12 teachers, librarians and media specialists. This year 160 educators will benefit from the George Washington Teachers.