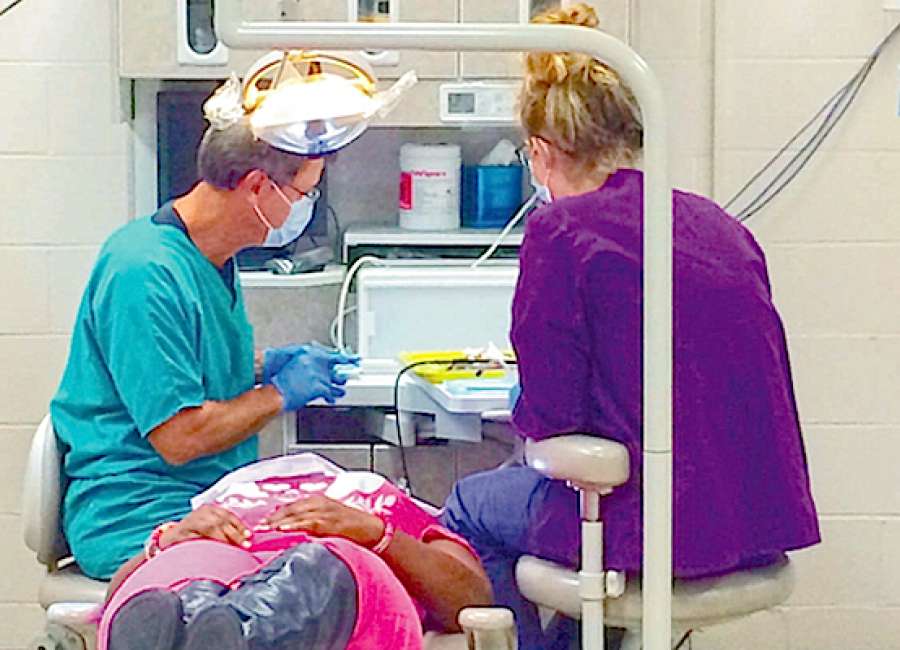 Thanks to volunteer dentists and an innovative collaboration with West Georgia Technical College (WGTC), Central Educational Center (CEC) and Coweta County Schools, Coweta Samaritan Clinic (CSC), patients have access to basic restorative dental care.
Three Monday evenings each month, WGTC dental assisting students work alongside volunteer dentists providing dental care to clinic patients in the WGTC Dental Lab located at CEC. Since the program began in the fall of 2014, 150 clinic patients have been treated during 350 patient visits.
Nancy Carson, DDS, a regular volunteer at the dental clinic observed, "Not only are we helping the
people who cannot afford to get the dentistry, we are working with students who are in the program
learning to be dental assistants. They are well trained and get practical experience working on real patients in a fairly relaxed environment."
"Students are able to utilize the skills taught in class at the CSC Dental Clinic," commented WGTC Dental Assisting Program Chair, Kimberly Nolan. "It has helped prepare them for the workplace on a much larger scale than just a classroom setting can."
One of the clinic's dental patients who was struggling to pay for needed dental care said, "They took me in and it was amazing. I don't know where I would be without them."
Recently, thanks to the efforts of Drs. Charley Cheney and Meredith Gardner, ten clinic patients are being fitted for dentures. When delivered in the next few months, the dentures will provide patients with both functional and cosmetic benefits which contribute to increased self-confidence. One excited patient commented that she had not smiled in over a year.
Volunteer dentists who have served in the dental clinic in the past year include Nancy Carson, Charley Cheney, Todd Cox, Meredith Gardner, Frank Huff, Tom Moynahan, Ben Popple, Brent Stiehl, Patrick Yancey, III and Patrick Yancey, IV. Lou Graner, Executive Director of CSC, commented, "The Board and staff of CSC express heartfelt thanks to the dentists and the WGTC dental assisting students whose volunteer efforts make the dental clinic possible. And thanks to WGTC and CEC for making the space available to the clinic."