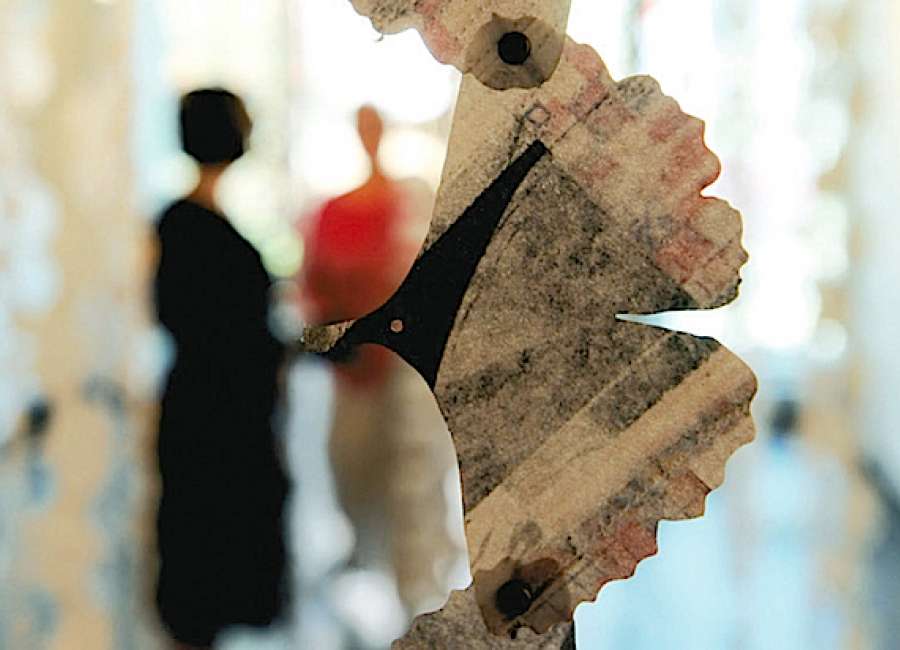 According to Christina Laurel, choosing her path as an artist wasn't difficult, it simply happened a bit later in life than expected.
Like her avenue into the arts, Laurel's work doesn't fit into any standard frame. The most recent Newnan artist-in-residence will leave the Gray Cottage this weekend, moving on to her next adventure. But in her wake, Laurel has left a zen-inducing, diaphanous art installation – a first for the downtown ArtRez homestead – and a legacy of information about the craft and process to many locals.
"Working in the Gray Cottage has been wonderful," Laurel said of her short stay in Newnan honing her craft. "It's nice to have a live/work space combined where I can work past midnight if I choose."
The artist spent much of her time in Newnan teaching about the fascinating, and often temporary, practice of creating art installations. Laurel explained the concept and much of the process at a lecture that was open to general public and took place at the Newnan Carnegie Library.
"I don't know why I do this to myself," Laurel said of the process of conceptualizing and eventually bringing a work of art installation to fruition. "But I get an idea and then I think, 'I simply have to go through with this.'"
Laurel explained that her work began with a fascination with Asian culture, one that started with a love of traditional elements such as the kimono and the fan, and extended to the complicated art of papermaking – and encompassed everything in between.
Inspired by the Edo period in Japan, Laurel used a variety of paper in earlier works, where she created mixed-media works and collages. The artist studied more Japanese culture, including paper-making and origami.
"Paper-making originally began in China," Laurel explained to guests at the Carnegie's What is an Art Installation presentation. "Rice paper has nothing to do with rice, it's simply the name of the plant used to make the paper."
Laurel passed around butterfly-shaped cutouts snipped from a sturdy but flexible Japanese paper. The butterflies were the focus of an early installation in which the artist created suspended "cocoons" burgeoning with hundreds of floating butterflies.
Initially, Laurel's sinuous, hive-like structures contained the winged insects beneath paper and netting. The creations cast shadows and gave the gallery space a quiet, calming movement. Later, however, Laurel said she let the butterflies out of the "nets" and began to experiment with allowing viewers a more tactile experience.
"There are many elements to consider when it comes to creating an installation," Laurel explained. "Everything from lighting – casting moving shadows – to sound to texture."
It became obvious to the artist that she preferred creating works on a more human scale and enjoyed works that viewers could relate to and even touch.
"I began trying to create an environment and an experience," she said.
Laurel admits that though she hopes to evoke a particular response from her audience, generally one of peacefulness, calm and wonder, she cannot control the viewer's experience.
"I can't control your response, but why would I want to?" she asked mid-lecture. "In fact, I usually learn more from your response that I do from my own experimentation."
Figuring out how to execute an idea for a large-scale installation can be difficult, according to the artist, and often, there is pressure to complete the piece after investing time and passion into its concept.
"You could have the greatest idea in the world," Laurel said. "But if you can't engineer it, the work can't be executed."
Laurel noted that she has never tracked her time in creating an art installation. The artist spends her working hours searching for new ideas and inspiration, attempting to bring previous concepts to life through engineering, and enjoying what many might consider the painstaking process of tending to the millions of details of each lengthy process – folding thousands of bits of paper into origami animals, or cutting endless butterfly shapes from sheets of textured paper.
"It could take up to two years to bring the idea for an installation piece from concept to fruition," she said.
One thing the artist mentioned she'd like to stray from is the task of climbing ladders. Laurel hopes to bring more of her installations to a level nearer the viewer – and down from the ceiling. This wish is what inspired Laurel's Newnan art installation, "Emergent: a lily pad installation."
Paper lily pads are affixed to the walls of the Gray Cottage studio and are joined to a panel along the center of the room's floor. Some pads boast prints of Laurel's 2-dimensional work, while others remain in their natural, slightly transparent Japanese shoji paper state.
The lily pad, according to Laurel, is a living entity whose roots are submerged in the earth beneath the water. The plant's growth, however, propels it through the water and into the air above. The properties of the lily pad and, subsequently, Laurel's Gray Cottage studio art installation, are inherently calming.
"In terms of the installation here, I wanted to imply movement without overhead suspension," Laurel explained. "Even though lily pads in nature are attached to the earth, they do create a sense detachment and seem to float along slowly and in a very calming way."