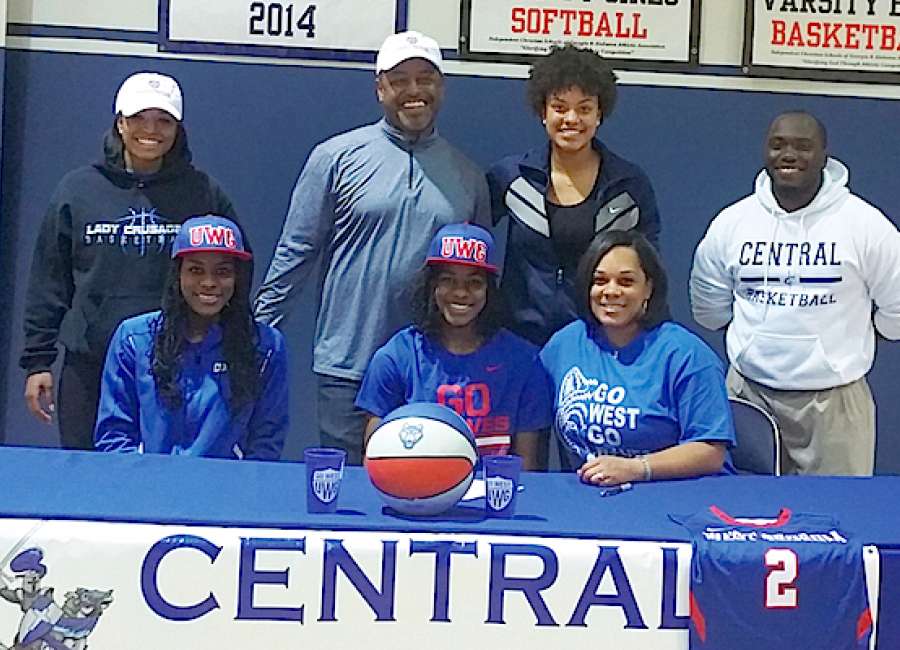 Ever since the Carter sisters stepped on the basketball floor for Central Christian three years ago, CeCe and Sarah have been the cornerstone for the Lady Crusaders' success.

Their impressive basketball resumes include leading the team to back-to-back GICAA state titles, including this year's undefeated 24-0 season.
The twins' basketball careers aren't over yet, nor is their time playing together.
CeCe and Sarah will now take their skill to the next level after agreeing to play for NCAA Division II University of West Georgia in Carrollton.
CeCe will head to the school on a full-ride scholarship, while Sarah will begin her career as a prefered walk-on with the hopes of playing her way into a scholarship, too.
The two are excited that they get the opportunity to play college basketball together.
"This is a amazing," CeCe said. "I have wanted to play college basketball since I was a little kid, and to get the chance to continue playing with my sister is really special."
Sarah echoes many of CeCe's thoughts.
"This is just a blessing," Sarah said. "To be able to play at a school like West Georgia and to stay together is really great."
Central head coach Justin Stephens knows it won't be easy trying to replace the twins.
"What can you say, they helped take this team to a new level," Stephens said. "They both have had incredible careers."
CeCe ended her senior season leading Central in just about every offensive category. She led the team with a 20 points-per-game average. She also hardly ever came off the floor, playing 486 minutes in the 24 games.
Sarah ended her high school career averaging eight points and eight rebounds per game.
Stephens is excited the basketball-playing siblings are going to continue their careers together.
"This is a great opportunity for both of them," he said. "Sarah wasn't really sure what she wanted to do. CeCe was getting all the publicity, but I told Sarah, if she kept working, something would happen."
Both the sisters fell in love with the West Georgia community, including the way that head coach Scott Groninger and his staff handled the recruiting process.
"They stayed in contact with us through the our senior year," CeCe said. "We would hear from some coaches at other schools one time and that would be it."
They will join a West Georgia team that finished 15-13 overall and 13-9 in the Gulf South Conference during the 2016-17 season before ending their year with a 70-62 loss to West Florida in the GSC tournament.
CeCe and Sarah aren't the last of the Carters who will play at Central. Younger sister Ana did her part in helping the team win the state title last season, averaging just over eight points as a sophomore.