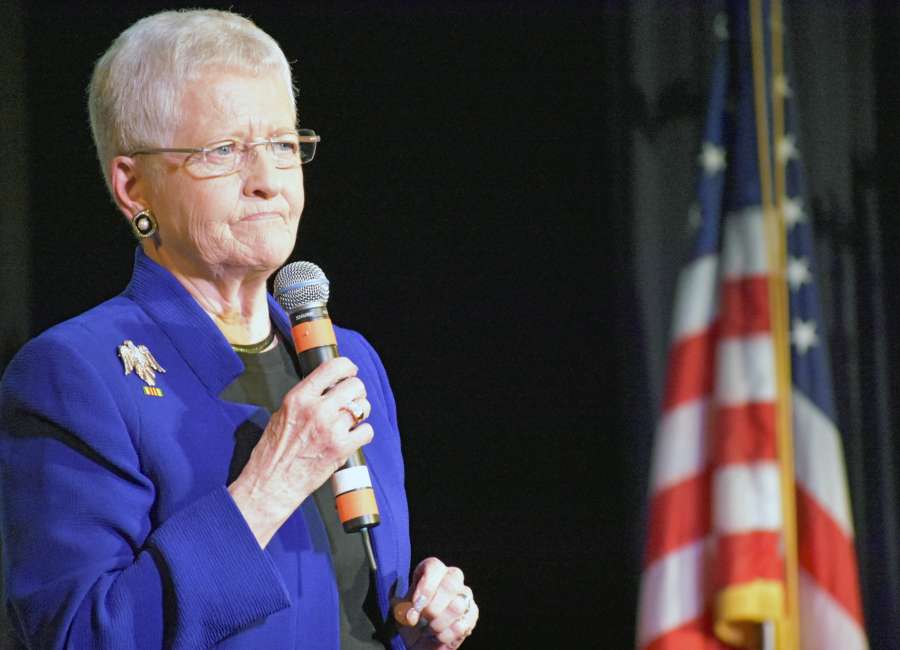 Donna Rowe wants people to know the truth about the men and women who served in Vietnam.
"The liberal, progressive press, the Dan Rathers of the world, had painted us as dropouts, drug addicts, misfits, all draftees," said Rowe, a former Army triage nurse who served for 369 days in 1968-69 at the 3rd Field Hospital in Saigon. "Let me just set the record straight."
Speaking at Newnan High School as part of the NHS History Series, Rowe said the people with whom she served were educated, "clean, honest and faithful."
"We were, up until that time, the best educated military this country had ever put to war," Rowe said. "As a triage nurse in Vietnam, I was trained to know if they were doped up. I was going to give 'em more stuff, and I could have killed them. In my 369 days in that triage area in Vietnam, I never saw one addict. Not one."
There against their will as a result of the draft? No way, she said.
"Seventy-four percent of the men who served volunteered," she said. "And 100 percent of the women volunteered."
As for the derisive "baby-killers" accusation hurled at service members as they returned home from the unpopular war?  Well... a photograph in the nurse's old scrapbook proves differently. Once upon a time, Rowe said, her life changed because another life was saved.
11,000 pairs of boots on the ground
Rowe, a Daughter of the American Revolution Medal of Honor recipient and the first woman inducted into the Georgia Military Veterans Hall of Fame, was one of 265,000 women who served in the Vietnam War. Of those women, 11,000 served active duty – "boots on the ground." Eight – all Army nurses – were killed in the line of duty.
"How did I end up in the Georgia Military Veterans Hall of Fame? How did I end up being the one who got the DAR Medal of Honor? How did that happen?" Rowe said. "That happened because I did the right thing at the right time in Vietnam that any good Army nurse would have done. So when I accept these honors, I'm accepting them for every woman that served with me during the Vietnam War."
And while Rowe says the story of her "right thing at the right time" could have been told 1,000 times about other people, hers will be told for decades at the Smithsonian Institute in a featured clip from a documentary on the Bell UH-1 Iroquois, the Huey helicopter that became an icon of the Vietnam War.
'In the Shadow of the Blade'
The late Col. Al Rowe, president of the Georgia Vietnam Veterans Alliance, was one of many vets who took part in the filming of the 2004 documentary "In the Shadow of the Blade" at Kennesaw State University. His smartly dressed wife, Mrs. Donna Rowe, unenthusiastically tagged along on that chilly, wet October day to watch the dramatic landing of a Huey.
"A man came up to my husband, big camera on his shoulder, and said, 'Oh, Col. Rowe – I want you to lead all your veterans out onto the field and signal in the helicopter," Rowe said. "Al said, 'Sure, I'd be glad to.' I said, 'Great, Al, get us just a little bit closer to a helicopter landing on a wet, grassy field. You know what that looks like, Al? Chicken pox. Green chicken pox, all over your body.'"
Rowe stood watching the faces of the veterans as the Huey landed.
"The wop-wop-wop-wop-wop of that helicopter started to come, and you could see in the faces of all of the Vietnam vets every memory they had of that helicopter," she said. "To them, it meant they're coming to get me out of here, they're bringing me my mail; they're bringing us more ammo and supplies; they're coming to get our dead.
"To me, an army nurse, it meant 'Oh my God, more blood, more mud, more screaming. Because I was on the bad end of the trip."
When he found out Rowe was a veteran, the director brought her into the project, asking if she had any photos. She did, in that black-bound scrapbook.
"I hadn't touched that scrapbook in 34 years," Rowe said. "I made that scrapbook and put that war away."
When Rowe returned to the film site, the director opened up the book to a photo of the young nurse holding a baby.
"He said, 'Tell me this story,'" Rowe said. So she did.
Saigon, May 15, 1969
The hospital was on high-priority patient requirements because the facility was running low on supplies. U.S. military first; U.S. civilians second; Allied forces third; host country/South Vietnamese military fourth; and absolute last, Vietnamese civilians. There were other hospitals in Saigon, military officials reasoned, but 3rd Field was the only military hospital in Saigon.
Rowe said eight full helicopters – five to 10 patients per helicopter, depending on the pickup – were on the way. There were 20-30 men in triage already. And then the radio began to squawk.
"Tail number 191, request immediate permission to land," the chopper pilot said. "Have severely wounded infant baby on board."
That baby was fifth priority, but Rowe said she suddenly remembered her mother's words to her.
"My mother said to me when I was leaving for Vietnam, 'Donna, whatever you do, do what is right and come home safe,'" Rowe said. "Well, in my mind, what was right was to receive and save that baby. I knew the (priority) command, but I as a lowly little captain overruled the command because that was the right thing to do."
Saving Baby Kathleen
An ambulance rushed the severely wounded infant from the helipad to triage. Rescuers had been forced to break the arms of her dead mother to retrieve her, and her village had been wiped out by the Viet Cong. The baby was the only survivor.
"This baby had frag in her chest and frag in her abdomen,"  Rowe said. "She was about four months old – she fit from my palm to my elbow – and we were losing her, plain and simple."
Rowe started an IV and intubated the baby, calling on the pediatric training she'd received at Boston Children's Medical Center. The x-ray didn't look good, however, so Rowe made another decision.
"I grabbed the Catholic chaplain and I said, 'Baptize this baby,'" she said. "She had no place to go. She had no village. They were all gone, all dead except her. And we supported a Catholic orphanage."
With men at both ends of the baby's gurney, Rowe breathing for her on one side and a doctor preparing for surgery on the other side, the chaplain had a problem.
"He said, 'I have no holy water, Donna!' and I said, 'Father Sullivan, when the water hits your hand, it's holy. Baptize this baby!
"He ran his hand under the spigot as we turned to go into the operating room," Rowe said. "He put his hand on her head and said, 'I baptize thee…' He looked at me and I said, 'Name her Kathleen.' Al and I were going to name our first daughter Kathleen. I'm kinda glad I gave the name away, because we ended up with John, Peter and Richard."
"Baby Kathleen was baptized," Rowe said. "Baby Kathleen lived."
33,301 names on the wall
Eighteen was the average age of Rowe's men, she said, and 18 is the age of 33,301 of the men whose names are on the Vietnam Memorial wall in Washington, D.C. It's also the ages of two of the men on Baby Kathleen's baptismal certificate: Richard Hock, a Catholic from Kennesaw, Ga., who was at one end of her gurney and Darrell Warren, a Mormon from Salt Lake City, Utah, who was at the other end.
Rowe said they're heroes, as are many others in Baby Kathleen's story.
"This baby lived because of the 1st infantry division that made a sweep into that village," she said. "This baby lived because one of those platoon members was not afraid to go and pick her up, even though the Viet Cong would booby trap children and dogs because they knew our men would help them.
"They entered into a firefight after they called in that (Huey), and that the pilot came in anyway – Tail No. 191, piloted by David Alderman, a true hero of the Vietnam War, who flew into hell and picked up a baby to save that baby's life," she said.
"And then my men," Rowe said. "The combat medic on board that kept that baby alive, the specialist at the back of the that ambulance, those nurses down on ward 2A – those were the men and women I served with. That's the story that got me in the movie."
But the real story is the good that came from the terrible, unpopular war, she said.
"That story could have been told 1,000 times about the great men and women and the great things they did in Vietnam," Rowe said. "The orphanages they 'adopted,' the feeding of hungry children and villages, the rescue at the fall of Saigon – who do you think was flying those choppers? It certainly wasn't John Kerry.
"So when you heard the John Kerrys and the Jane Fondas call us baby killers, I'm standing before you to tell you that was a lie, and Baby Kathleen proves it," she said.
A happy ending and a request
Baby Kathleen, adopted in the United States, found the American "family" she'd been searching for since she was 13 through a newspaper story about the movie. She met the people who saved her life, and the woman whose life was changed.
"That story is why I am who I am," Rowe said. "It's a chapter in my life that changed my whole life."
Rowe regularly makes the rounds of the speaking circuit, telling the story of Baby Kathleen. She accepts no compensation, she said, but she does have one request.
"We came home to a country that hated us, turned on us because they listened to the media," she said. "So when you see our sons and daughters in uniform, I want you to thank them, because by thanking them, you're truly turning around and thanking their Vietnam vet parents."